I woke up early in my spacious suite at the top floor of the Holiday Inn & Suites Downtown Winnipeg.
I gazed out at my unobstructed view of the Manitoba Legislative Building. Had I really been in Northern Manitoba the day before? It all seemed like a dream. Even more surreal was the reason why I was up so early: I was going to be on Winnipeg's Breakfast Television, substituting for Travel Manitoba's Lindsay Egan on their "Manitoba Time" segment. Fortunately it went well, despite my initial nervousness. And if you're curious, you can watch it here.
Then I packed up my suite and packed it all into my Ford Fiesta, and headed west down Portage until it turned into Hwy 1, and continued onward. At this precise moment, I discovered that I had Sirius Satellite Radio in my car and tuned into CBC Radio 3 on my drive. It was so fitting being on the TransCanada in the heart of the country listening to Canadian indie folk rock. I digress.
Riding Mountain National Park
Riding Mountain National Park is three hours from Winnipeg. It's all flat prairie once you get to Neepawa, and then it's rolling hillsides. Absolutely gorgeous country. Just as you enter the park, you head uphill and you realize, this is not at all the topography you anticipated to see in Manitoba.
On my way into the park, I drove through the town of Onanole and saw some cute looking cafés and restaurants. I thought, "This must be it! This must be where I'm staying and the main drag of Riding Mountain National Park." But no. Just a few minutes further past the park gates, you enter this idyllic townsite of Wasagaming. It was like a scene from a storybook!
First thing I did was meet up with Richard Dupuis, the Visitor Experience Manager at Riding Mountain National Park. If you're going to get a personalized introduction to Riding Mountain, Richard is your man!
Due to good timing, we immediately hopped on The Martese for a boat ride on Clear Lake. The tour is about an hour and 20 minutes, follows a third of Clear Lake's coastline, and is fully narrated. It was a fun and relaxing way to learn about Clear Lake, Wasagaming, and Riding Mountain National Park.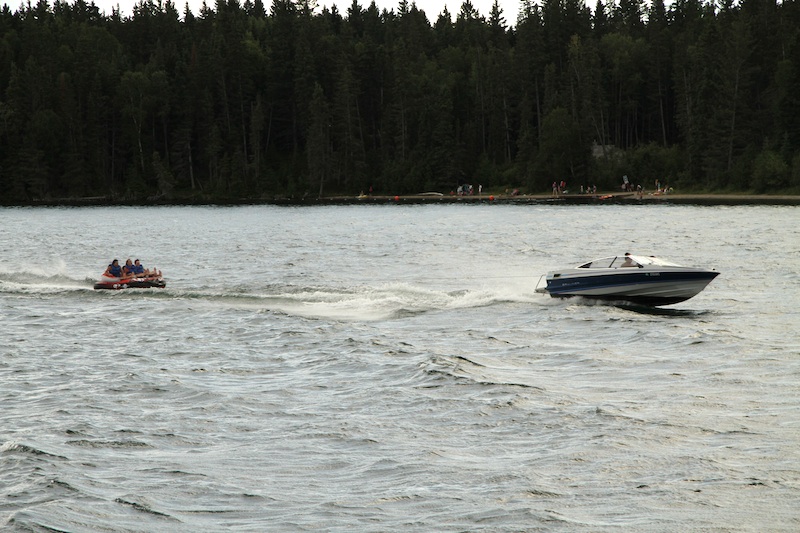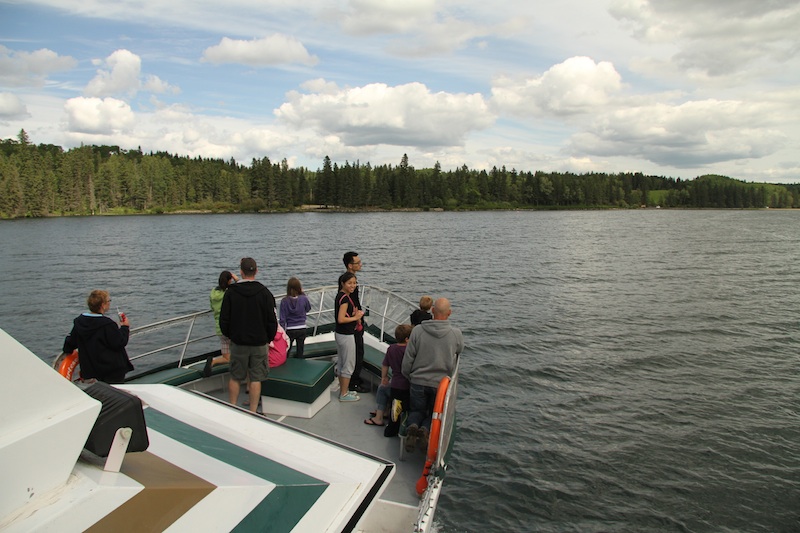 After the boat ride, we grabbed a coffee in town and did a quick driving tour around Wasagaming and the campsites before popping into the Visitor Centre. The Riding Mountain Visitor Centre also acts as an interpretive centre on the wildlife and ecology of the park.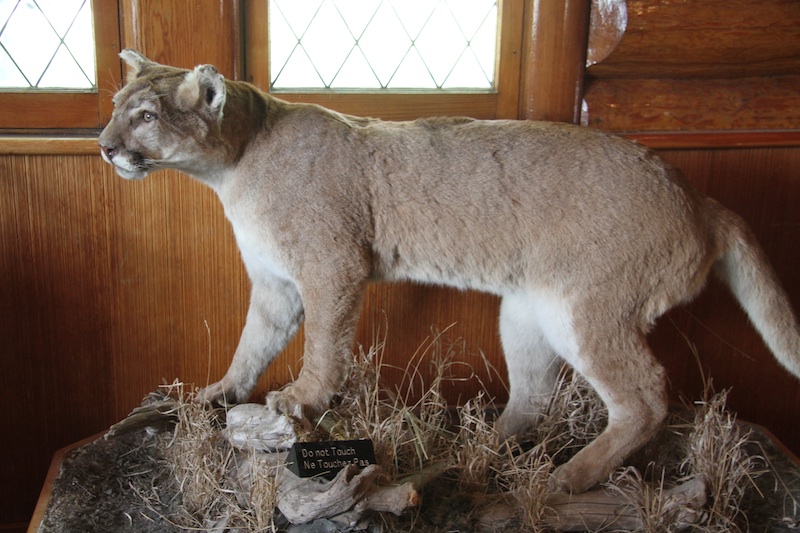 As Richard and I parted ways, I drove back to the campsites. That night I was going to be camping in an oTENTik!
Call it glamping or deluxe camping, but oTENTiks are a relatively recent addition to Parks Canada's campsites. They're A-framed cabins with three beds, furniture, and a wood-burning stove, all on a raised floor. You bring your pillow, your sleeping bag, but you don't need to bring a tent.
It was still too early to call it a night, and I hadn't yet eaten dinner, so I took Richard's recommendation of walking back into Wasagaming along Clear Lake.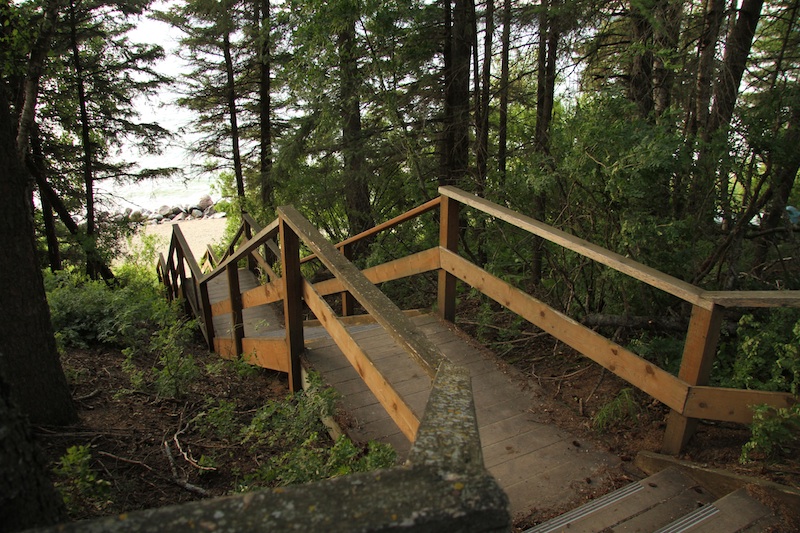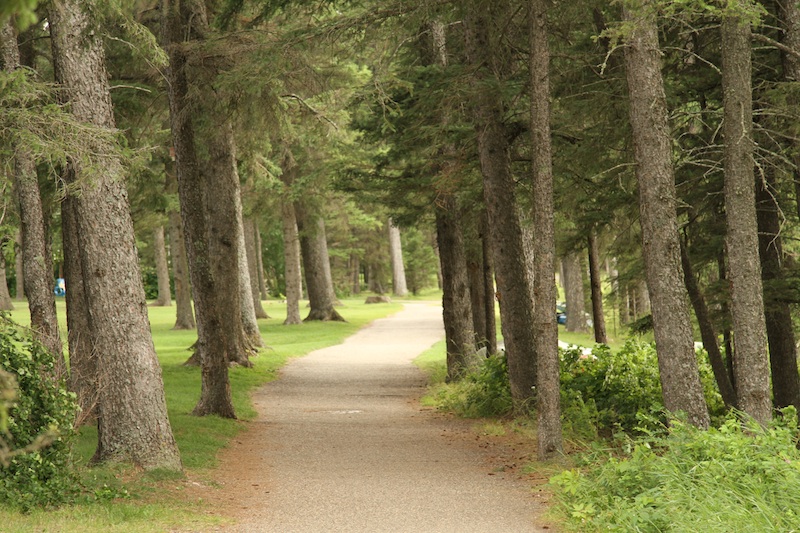 I walked back into the town where I browsed through numerous shops, and even saw the largest log cabin movie theatre! But I was hungry, so movies weren't on the agenda for me that night.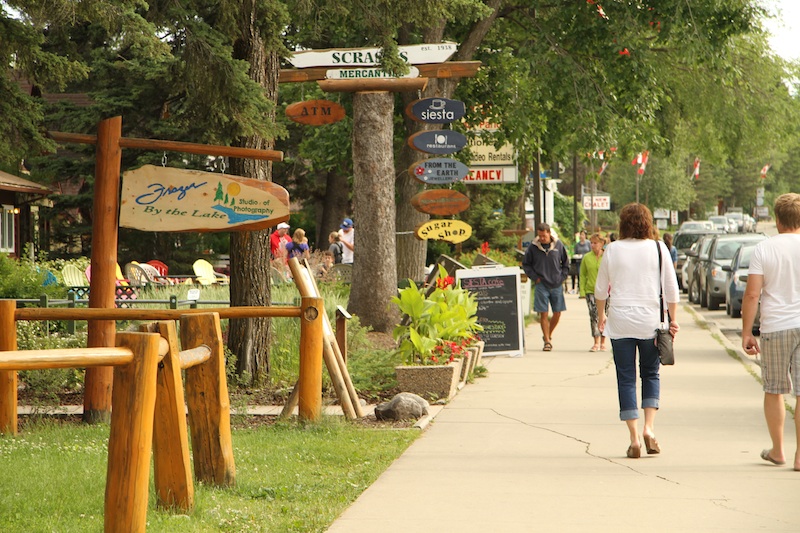 For dinner, while many of the restaurants in Wasagaming looked good, I decided to drive over to the golf course where I had dinner at Duff's Steak House, the new restaurant at the Clear Lake Golf Course.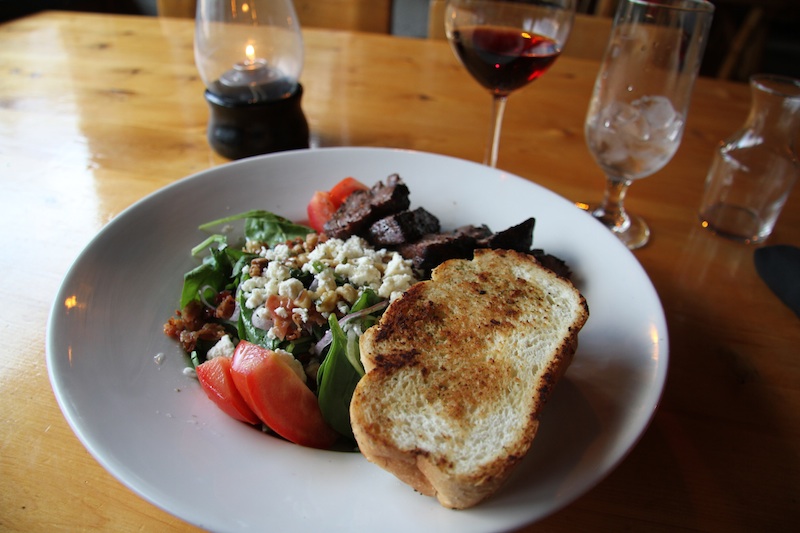 I enjoyed a sirloin steak salad with a glass of red wine, and enjoyed the beautiful sunset over Clear Lake. Thanks to everyone on Twitter who recommended it to me, as I probably wouldn't have discovered it otherwise.
Back at my oTENTik, I decided I wanted to light a campfire, but I realized I was short of kindling. I crumpled my only piece of newspaper into a little ball, and set up a stack of wood, struck a match, and saw the kindling go up in flames. And then nothing. I struck another match, and then another. The wood failed to light. The air was damp, it was dark, and the mosquitos were voraciously devouring my ankles. I decided to call it a night.
The next morning I woke up bright and early, pre-6am. I looked at my fire pit and noticed about 20 matches from my failed attempt at the fire the night before. I imagined the giggles from the caretakers coming to clean up my site. Although I could have easily slept in later, I was up at the crack of down to meet up with Pat Rousseau of Churchill Nature Tours for one of the most enjoyable wilderness viewing experiences of my trip.
Having myself worked at a whale watch company as a student, I knew that wildlife viewings were always a chance, and you might not see anything at all. I was accepting of this and my expectations were set accordingly.
We set off in Pat's pickup truck and drove slowly through Riding Mountain National Park's wilderness. While we didn't see any moose, we did see two black bears and a whitetail deer.
We spent a lot of quality time talking about the local ecosystems, including the local wildflowers and herbs.
We also got really close to the bison who live here at the park. We were in the pickup truck when I took this picture. You don't want to be standing alone with a bison this close.
During our outing, I learned that Pat was the park warden at Riding Mountian NAtional Park for many years, and also is a guide in Churchill during polar bear season. His wife is Inuit and he speaks Inuktitut. He has two grown daughters. It goes without saying, he knows his stuff. In fact, he reminded me a bit of my dad, a retired science teacher who would often take me and my sister into the forest to teach us about local botany and wildlife. Pat seemed to recognize my enthusiasm and passion for nature, tasting wild bergamot, foraging for wild Saskatoons and cherries, and identifying animal tracks.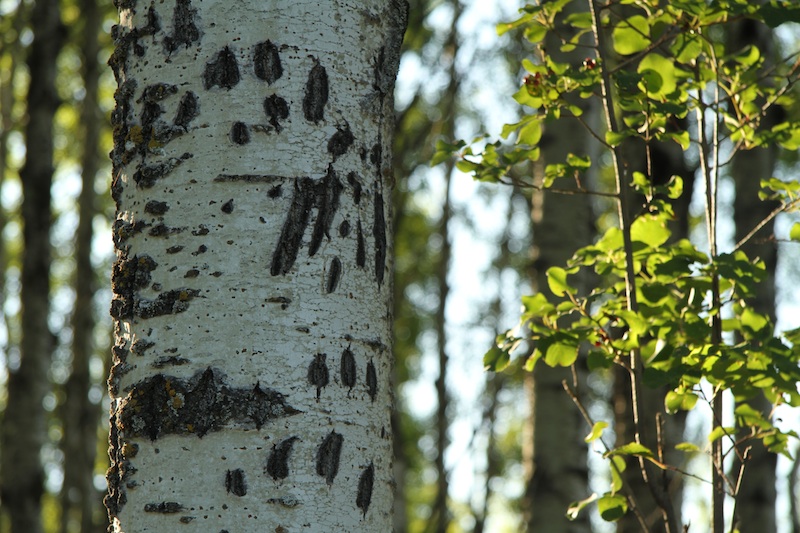 All in all, we had an absolutely marvellous time together and I was sorry to have it end. But there were new adventures on my horizon and more of Manitoba to discover.
A big thank you to Richard and Pat for your hospitality and for sharing your passion for Riding Mountain National Park with me. My visit, though brief, was definitely one of my favourite discoveries of Manitoba during my month-long journey.