When asked about my favourite experience in Manitoba, York Factory was it.
I likened it to being in a National Geographic documentary, and it really wasn't that far off. To get to York Factory, you first must fly from Winnipeg two hours north to Thompson. You transfer planes and then fly 30 minutes east to Gillam, population 1,200.
From Gillam, we – Travel Manitoba's Dené Sinclair and I – met up with Clint, owner and guide of Nelson River Adventures, who met us in his pickup truck towing his boat. From Gillam we drove 45 minutes down a gravel highway, over a massive dam, through the boggy northern Manitoban landscape until we reached the Nelson River.
Clint launched the boat into the river, and off we went.
To say this area is wild is an understatement. There was literally nobody else around. It was so remote, Clint showed us how he was going to check in at various points during the trip, so that his contact in Gillam would know that we're safe. He also showed us how to use the satellite phone to call for help if we needed to. This was serious stuff.
As we motored down the Nelson River, we'd spot bald eagles soaring over the trees. We stopped on an island to refuel, Clint strapping a rifle to his back, telling us that we couldn't leave his sight. We're in polar bear country now.
The island we were standing on had wild raspberries, blueberries, and Labrador Tea. There were seals in the river, watching us playfully. On the island was a memorial plaque, celebrating an English explorer, Thomas Button, who had navigated the same river while in search of the Northwest Passage… in 1612!
Back on the boat, we continued downriver. We'd spot a black bear spying on us, scampering up from the river and into the woods.
And then there were two white heads, swimming away from us. It was a polar bear mother and cub. Incredible.
It was a hot and sunny summer's day, yet here were polar bears. The river, wide and shallow, felt familiar like the Fraser, but the polar bears' presence reminded me that I wasn't anywhere close to home.
A short while later, two more polar bears, yet another mother and year old cub, were swimming away. They fear the sound of the boat and rightfully scram into the bushes. We admire the polar bears from a distance, the little one trying to jump on its mother's back, until they're in the safety of the grass.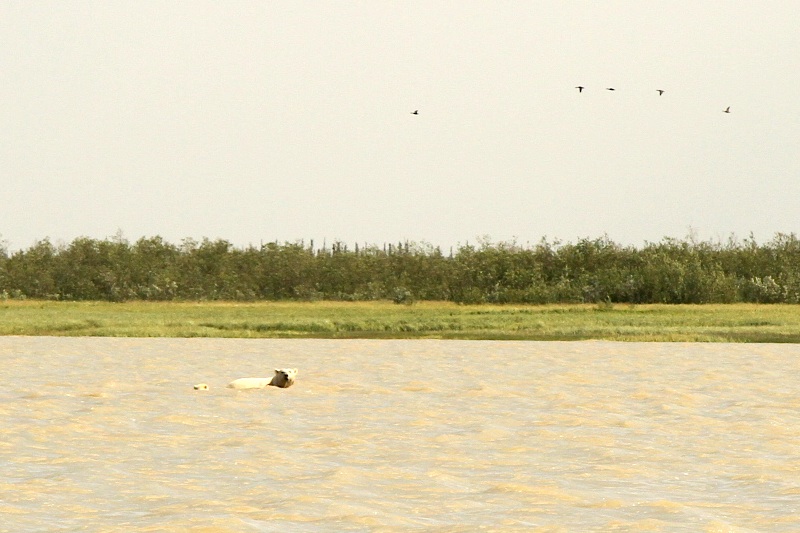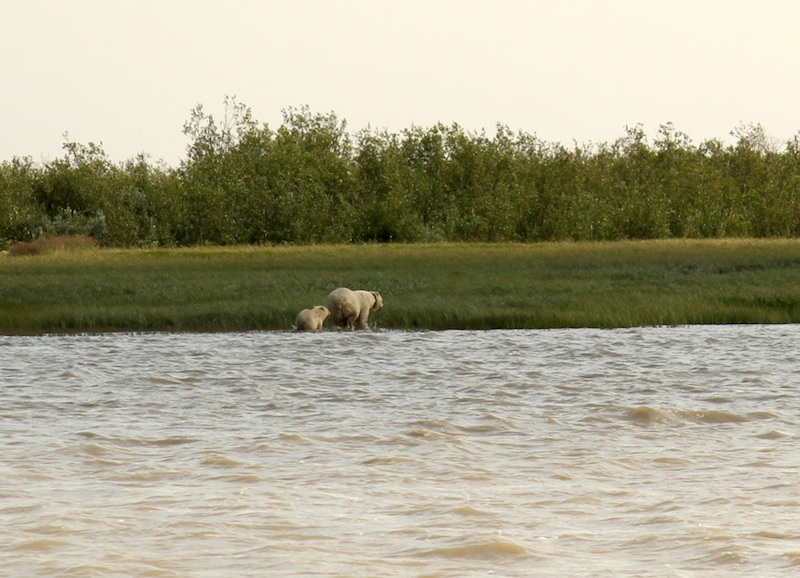 We pass by long-abandoned railroad infrastructure of Port Nelson, and a shipwreck, and eventually find ourselves in the Hudson Bay.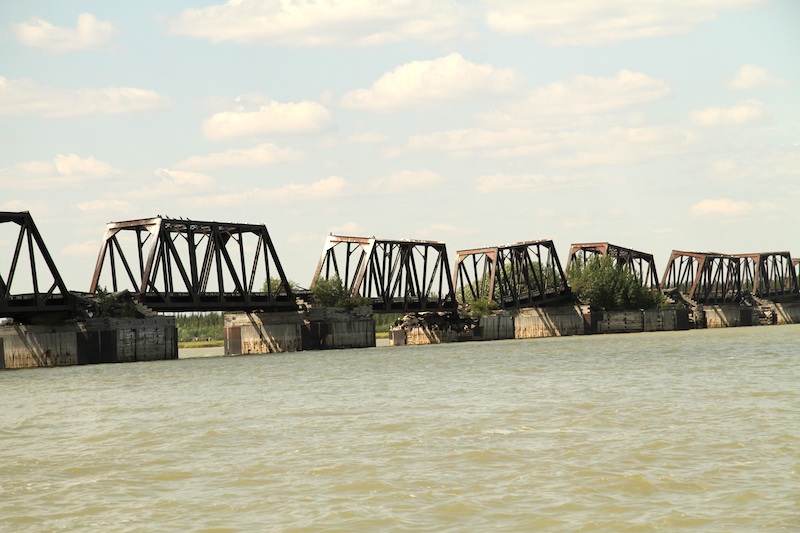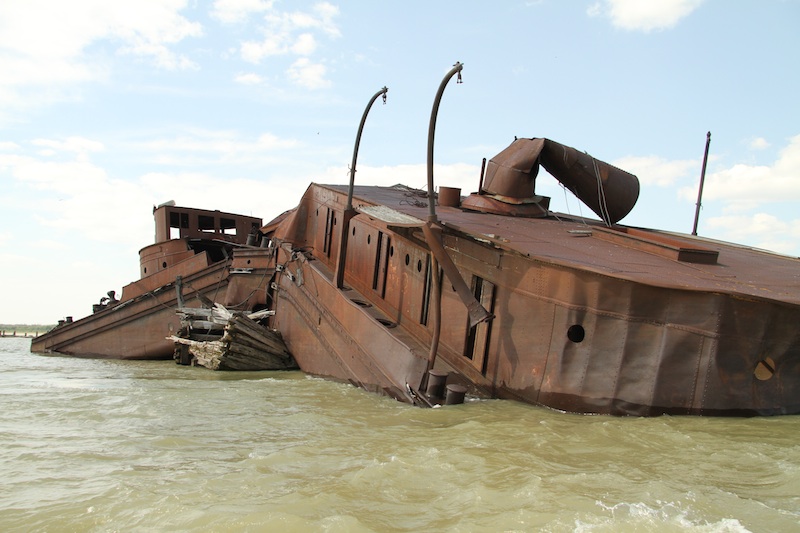 The river by this point is so wide, you can't tell where it ends and where the Hudson Bay begins.
"Do you see that?" says Dené. "Do you see those flashes of white? They look like whitecaps, except they last a little too long to be whitecaps."
Yes, I do.
"Those are belugas."
Belugas!
There are dozens of them, everywhere, all around. They don't have dorsal fins so you see a flash of white in the front of the boat, then to the side. And then another. And then another. And another. And another. It's unreal.
We're out in the shallow depths of the Hudson Bay and round the bend into the estuary of the Hayes River. We're almost there. Tides are crucial to our journey, and we must arrive at our destination at a precise time so that we're not left stranded by a beached boat on our way back. Clint speeds ahead and my army green patrol cap goes flying – my donation to the Hudson Bay.
A short while later we arrive at the dock. We're at York Factory.
Clint docks the boat and straps the rifle to his back. We collectively climb the stairs. Dené, who had wanted to visit York Factory her entire life, is in awe. So am I.
Clint goes back down to the boat to set up a BBQ for lunch. "I'm going to cook some burgers. Nothing fancy." We're told not to stray far from the stairs. We're in polar bear country. Clint leaves his rifle nearby and we enjoy the view.
York Factory was one of the most important Hudson Bay Company fur trade posts, by the way. For 275 years it was in use, the goods factory for the Hudson Bay so that they didn't have to keep shipping back to England for supplies. This was the hub for the entire Hudson's Bay Company, and they would use York boats to transfer goods down the Hayes and Nelson Rivers. It's now a National Historic Site, the most remote national historic site in all of Canada, I'm sure. There are caretakers who live on site, but they're not around today. They've given Clint the keys to show us around, but first, lunch!
Clint had a full BBQ set up and made us jalapeno cheeseburgers, inspired from a Diners, Drive-Thrus & Dives TV show. They're so amazing, I devour two. Clint opens a jar of homemade pickles, and tells us there's homemade rhubarb cake being heated on the grill for dessert. We swoon.
The tour of York Factory is somewhat surreal. Once upon a time this place was a village, but the high tides of the Hayes River have eroded much of it away.
There are only a handful of buildings left, including the main storage building that we're going to tour. In 50 years, they anticipate, everything will have eroded into the river.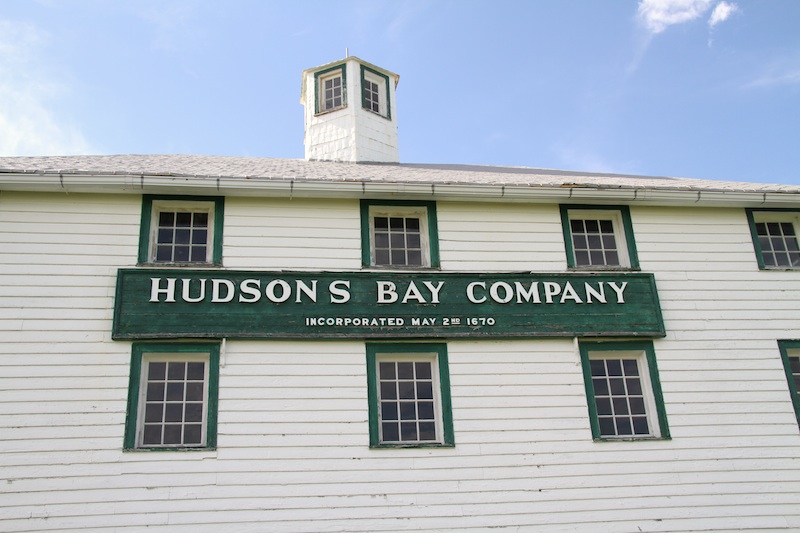 York Factory is not your traditional National Historic Site. It is not your traditional museum. There is no admission. There is no staff. There are no exhibits hiding behind glass walls. The building inside is unpolished and raw – left in the original state it was used in.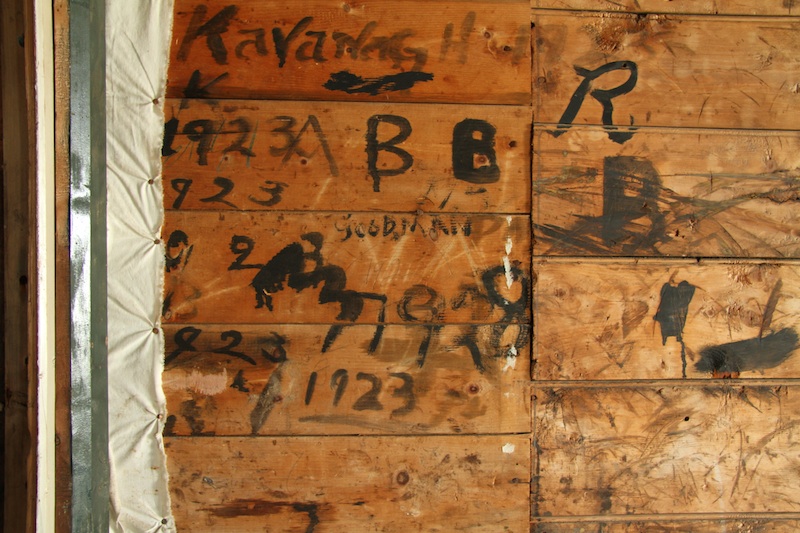 There are tables set up with found objects, items found from the river, eroded away. We spend some time downstairs and climb up the wooden steps to the second floor. My jaw drops. There are dozens of tables with thousands of found items, everywhere.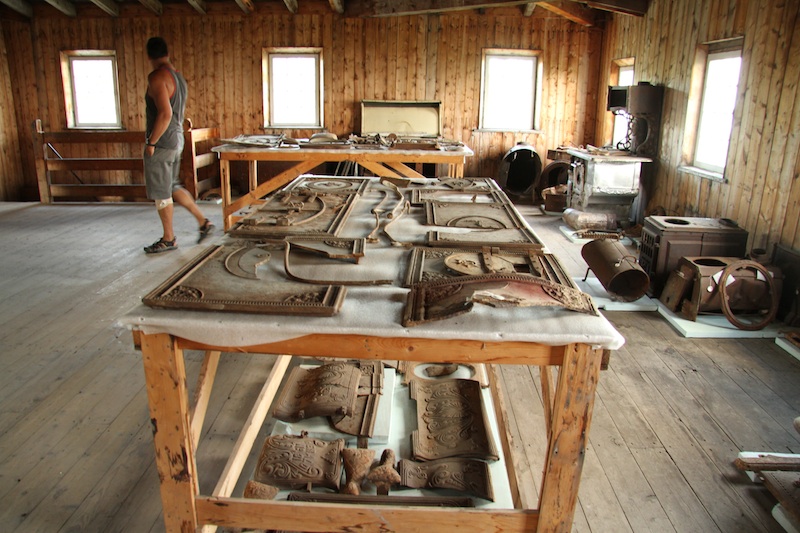 There are iron stoves, and cannon balls. There are glass bottles and dishes and the bones of animals. Nothing's stopping us from touching any of this, although we're respectful of the artifacts. It's fur trade archeology at its finest, for anyone who dares to visit.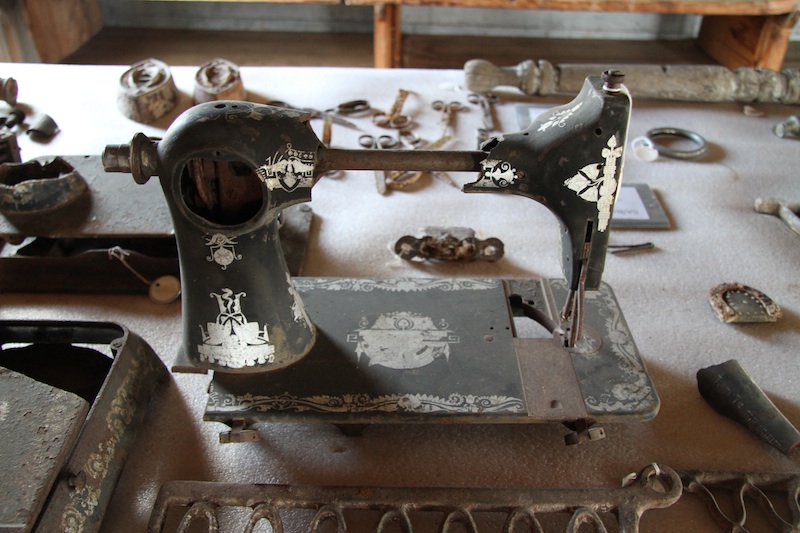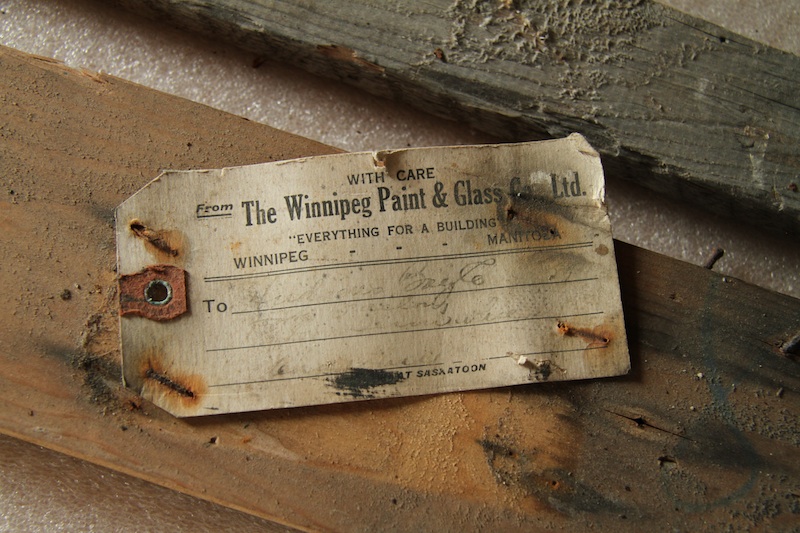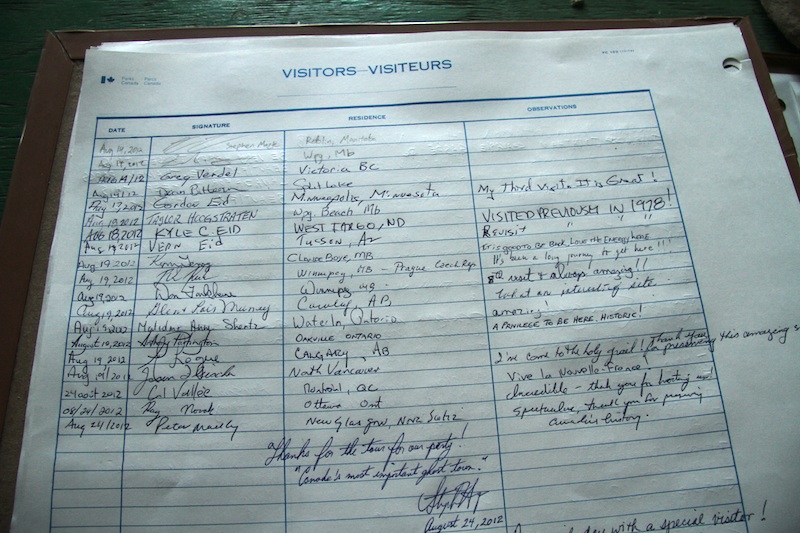 We're limited for time, so we take a walk along the boardwalk, avoiding stinging nettle while swatting mosquitos. A tree frog sits on the ledge and watches us as we walk down to an abandoned graveyard.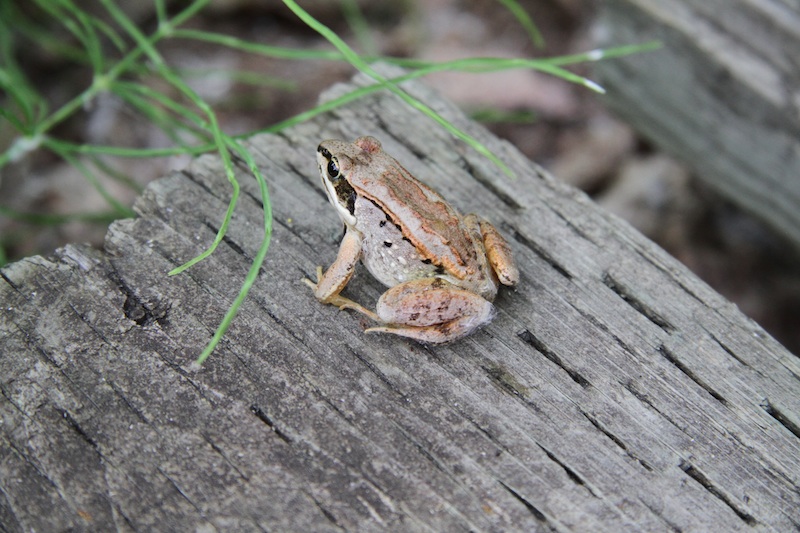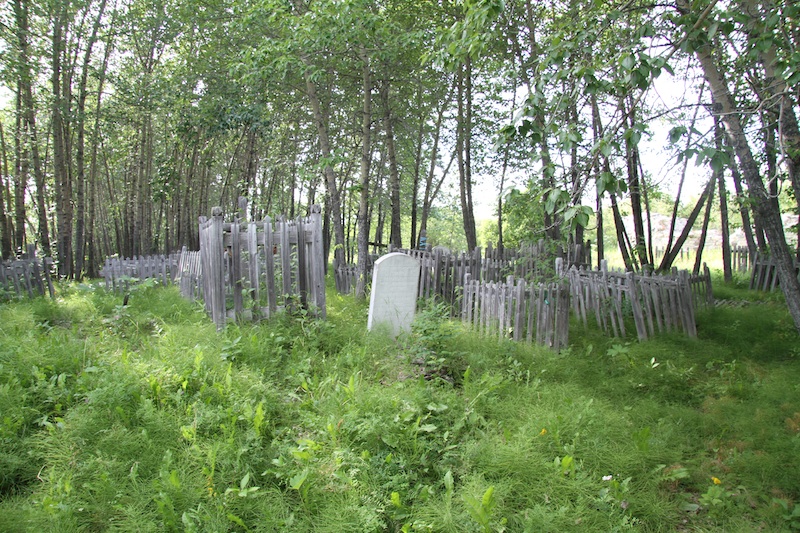 The tide by then was getting dangerously low for the boat, so that was our cue to go. Clint, Dené and I say our goodbyes to York Factory. We don't know when we'll be here again, if ever. In 50 years from now, it may no longer be around. Then again, nor may I.
A tremendous thanks to Clint for the adventure of a lifetime! This is a memory and experience I'll treasure forever. Dené, you rock! I'm so happy to have shared this experience with you.