Thursday was a national holiday in the Netherlands. Everyone had the day off. Amsterdam, as a result, was packed full of people EVERYWHERE, and it was the day I decided to learn how to ride a bicycle in this city.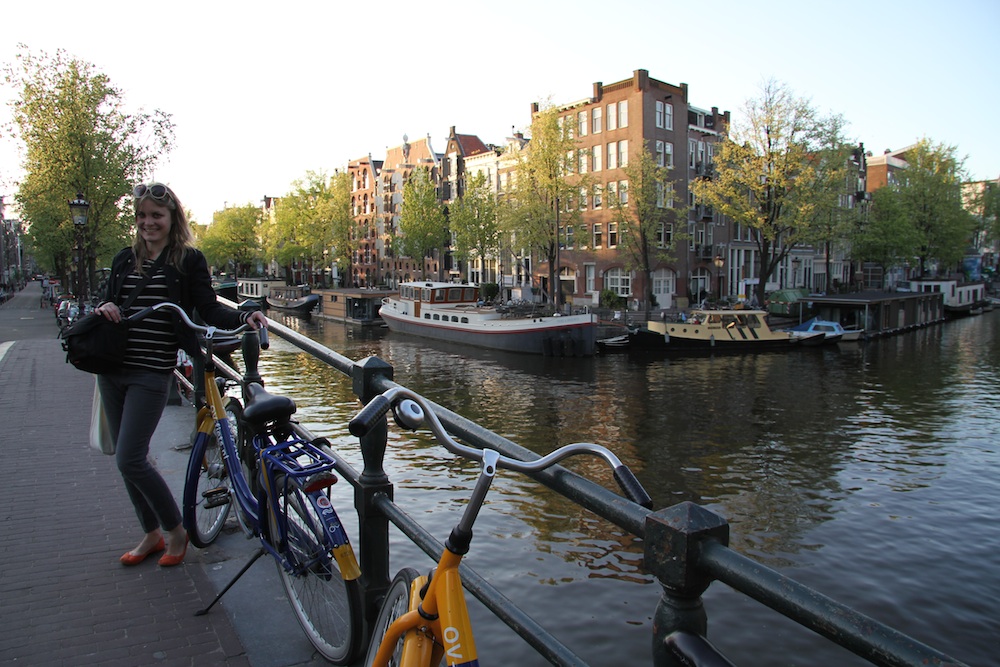 Of course, I do know how to ride a bike. But to ride a bicycle in Amsterdam means learning how to adjust to riding a cruiser that's probably too big for you; a bike that has no gears or handlebar breaks, but a backpedal break system instead. This sounds simple at first until you realize it's not quite so sudden stopping and starting at intersections on these bikes, which becomes especially sketchy when you're dodging tourists and other cyclists as you manoever your too-big bike over canals and around sharp bends. I mean, when you get off your bike, your backpedal brakes no longer function, so you can actually lose control of your bike if you're not careful. My bike didn't even have a bell to warn of my potential impending disaster, but it of course worked out fine.
Earlier in the day, I explored my own neighbourhood of de Pijp on foot, strolling up along Van Woustraat until reaching Albert Cuyp Market.
Albert Cuyp Market is an ongoing outdoor flea market selling everything from cheap shoes, clothing, and toiletries, to some authentic Dutch treats like wheels of Edam cheese, herring broodje, and fresh stroopwafel. In many ways it reminded me of the Richmond Night Market where everyone knows that the real gem is the food, so food is what I stayed with. While herring's on my horizon, I opted for a broodje (baguette sandwich) from the prosciutto vendor instead.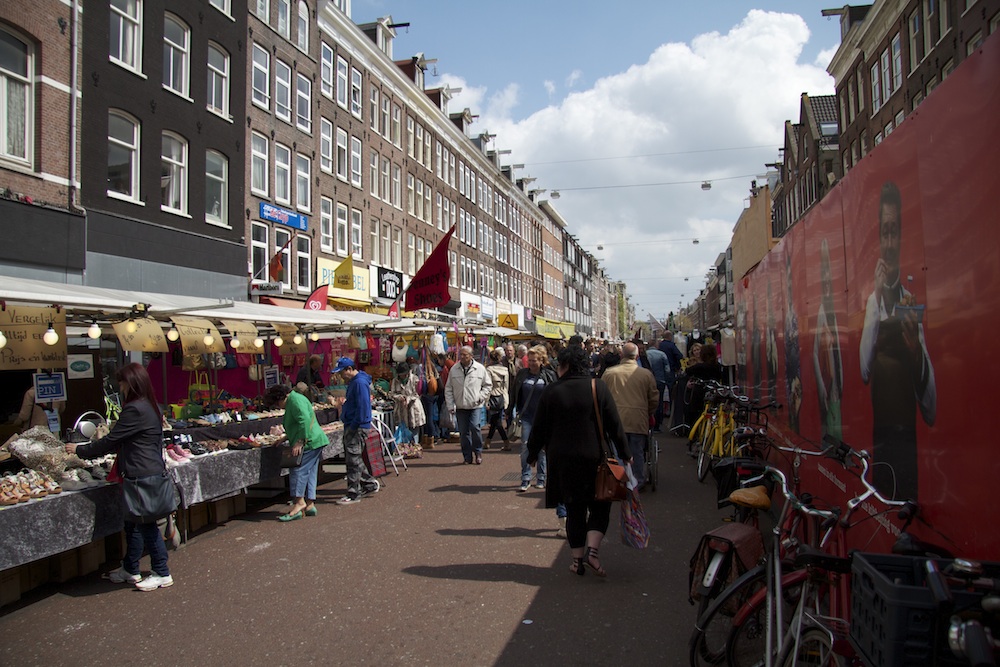 The sandwich was good, but I was still hungry, having not had a proper breakfast. I escaped from the market and found myself around the corner on Van Woustraat at a local diner, Broodje Popov where I took a seat at the bar in the window, ordered a coffee and a hot chicken broodje with a side of sambal sauce, then read my book while watching the world go by. I felt at home here.
After lunch I walked from Van Woustraat over to Leidesplein, a major shopping street, but also kinda touristy. It takes about 10 minutes to walk here. Here are some of my photos on the walk over, beginning with a shot down Van Woustraat my de Pijp neighbourhood.
Quintessential canal scenery along the way.
And here's the super busy Leidsegracht, the main street with Leidseplein (the main square) off in the background, a few blocks away.
On the way, however, I popped into Europe's oldest comic shop, Lambiek.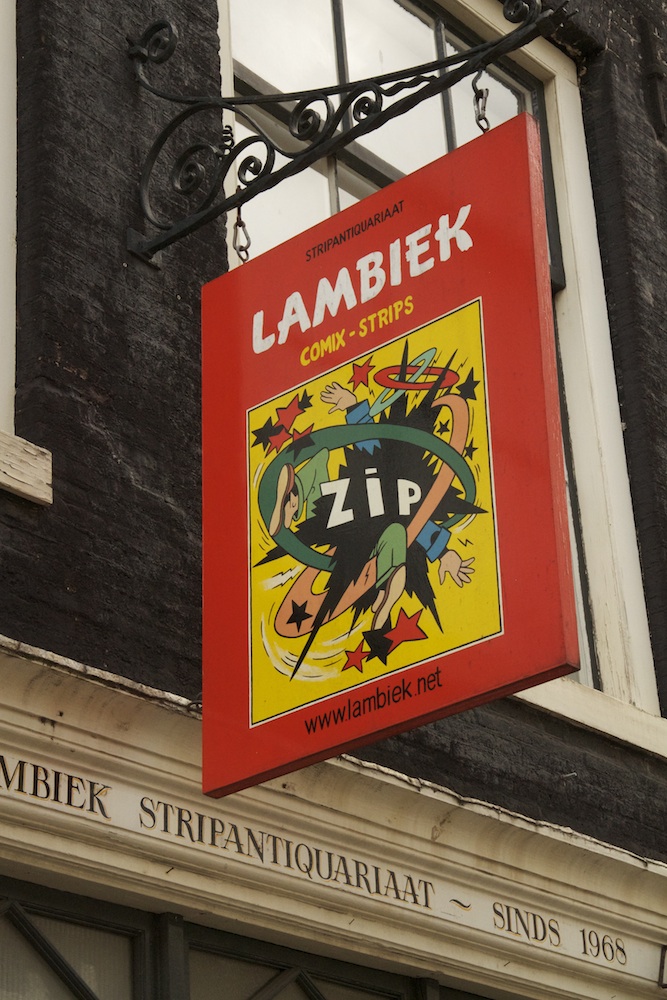 I think this is Garfield out front, but he's seen better days.
I also accidentally found myself at the Amsterdam Flower Market. Bulbs and bulbs and tourists and bulbs – one block long! It's actually quite impressive.
My reason for heading in that direction was to buy a travel adapter kit at the iMac store at Leidseplein, which I did. And it was also convenient that a tram to Central Station was immediately out front. At 3:20pm, I hopped on the tram and met up with Isabel, my Amsterdam-based colleague, who was waiting for me at the OV-Fiets depot where she was renting me a bike for the day.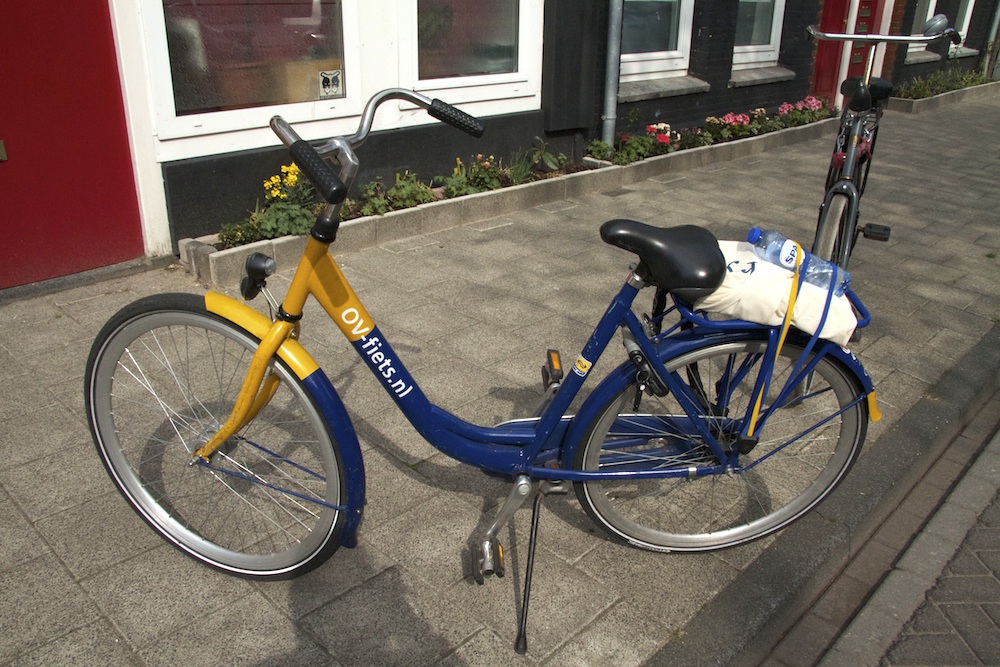 Isabel is amazing. On her day off, she volunteered to show me around the city by bike. "But I enjoy cycling through Amsterdam" she assured me. "It's relaxing." And it is. Of course, a national holiday Thursday was crazier than most days, so we had to adjust to more people on the roads and entire packs on the bike paths, but it wasn't anything we couldn't manage.
We explored the Jordaan and the Negen Straatjes (nine streets) as well as Vondelpark (Amsterdam's biggest city park with tulips and cherry blossoms in bloom) and the Museumplein (home to the Rijksmuseum and the Van Gogh Museum). Ultimately, we ended up at Westerpark (again) for the second-ever De Moeder Van de Rollende Keukens… which in my non-existent Dutch translation means FOOD TRUCK FESTIVAL!
Isabel's friend Danielle was meeting us (pictured below, left, with Isabel), as well as two of Danielle's friends.
Thousands of people showed up, seeing how the weather was summery and gorgeous. The vibe was amazing with everyone soaking up the sun, live music playing, and the smell of deliciousness lingering in the air. Here's what it looked like everywhere you went…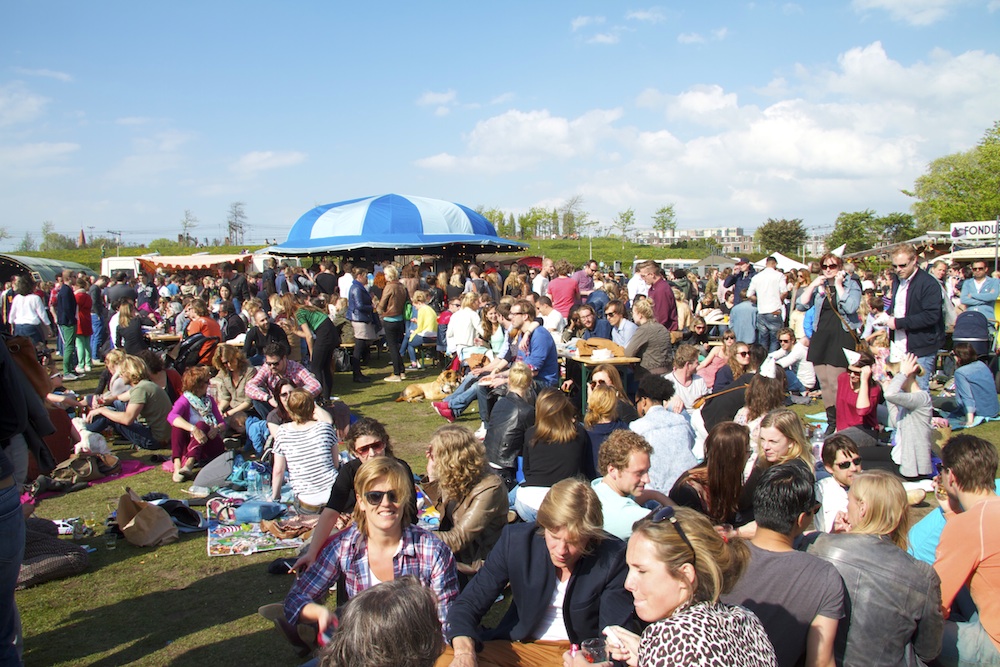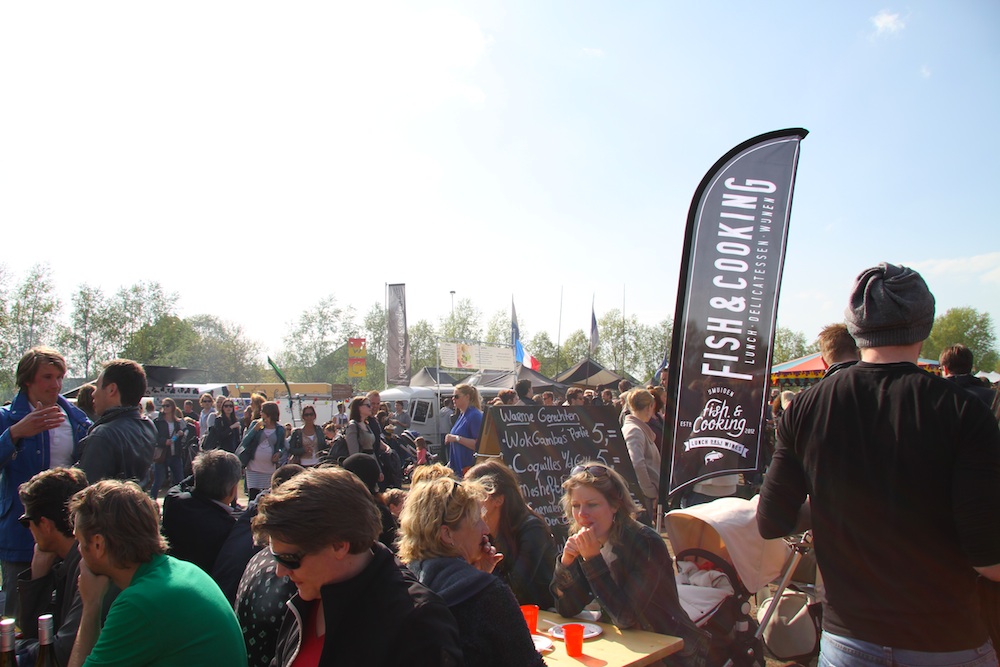 If you didn't like crowds, it was not the place to be! But if you liked people-watching, or experiencing an authentic Amsterdam local event, it couldn't get better than this.
There was all kinds of food – vegan pitas, corn on the cob, roast pork on the spit, buttermilk fried chicken, Belgian waffles, frozen yogurt, fruit smoothies, Texas BBQ, lobsters, oysters, prawns, Mexican, Greek – it was there.
Even Jamie Oliver had representation!
At first I tried an Indonesian "kip saté" – kip being Dutch for chicken, and saté referring to the Indonesian gado gado peanut sauce, which was topped with bean sprouts. This dish was served in a bread cup, and it was slightly odd that nobody seemed to want to eat the bread, but the chicken slathered in the peanut sauce was satisfying nonetheless.
My second dish was a vegetarian gyro with onions, arugula, tomato, garlic tsatziki, and a tofu number that I could have sworn was BBQ chicken, but it was probably a vegetarian tofu superfood. It was delicious, and I was full from there on.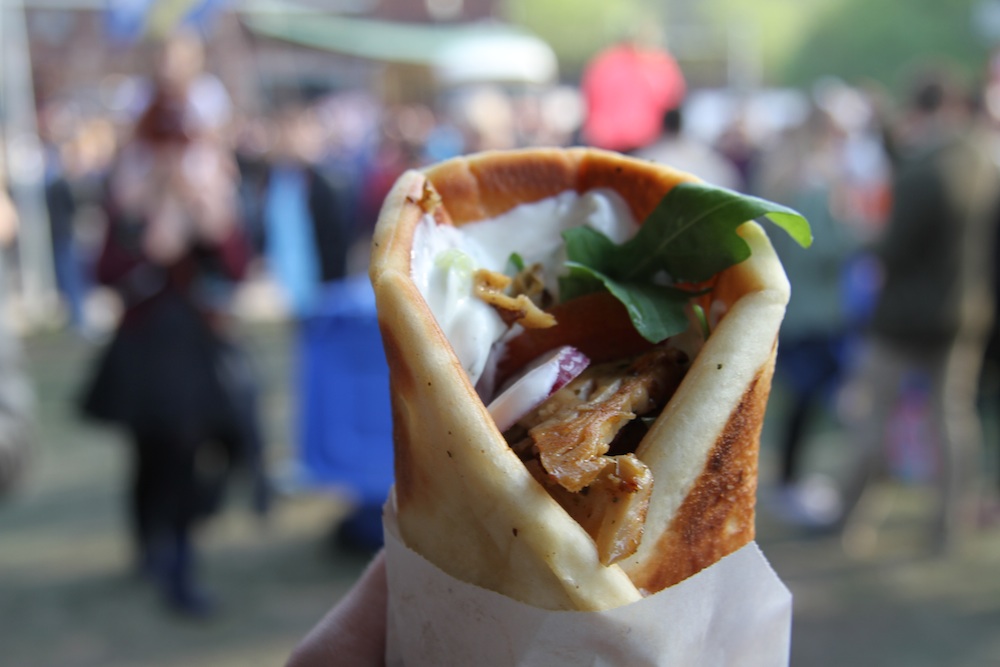 We hung around the festival for a little while longer, but decided to get going once the sun went down. As we left Westerpark, I remarked at the vast numbers of parked bicycles, something you take for granted in Amsterdam, but it's pretty amazing at how mainstream cycling is. It certainly outnumbers cars!
From Westerpark, we rode our bikes a short distance east into the Jordaan and popped into Tabac, a local pub. Since it was the "golden hour", I couldn't help but snap a pic of the ever-so-lovely canals.
Tabac turned out to be a pretty cool space.
I decided to order a Belgian beer, La Chouffe, my first Belgian beer of my vacation. After all, I learned to ride a bicycle in Amsterdam. What more do you need to celebrate?