Visit Seattle invited me to spend two days in Seattle as a part of their #2DaysinSeattle campaign. Don't know what #2DaysinSeattle is? Read my previous blog post, "So you're spending #2DaysinSeattle."
Saturday was day two of our two days in Seattle. See our Friday recap here.

Our mission for the day?
To visit Ballard.
That was it. Out of my countless visits to Seattle in the past, I had yet to visit Ballard. I was determined to change this.
Room Service at Hotel Max
We usually go to Linda's or Cyclops for brunch whenever we're in Seattle, but we decided to spend some time enjoying our sexy little suite at the Hotel Max, and so we ordered in room service. There's something so grand about room service, isn't there? Mimosas, a breakfast of asparagus and wild mushroom fritatta, and then banana coconut pancakes for dessert. It was the perfect way to kick off the day. That, and copious amounts of coffee. Yum!
We lounged around on the bed in our bathrobes, reading magazines, watching TV, and mapping out where we wanted to visit in Ballard. I compiled a list of bars, restaurants, cafes, and music shop suggestions, noting the opening and closing hours just in case. Feeling properly prepared,  we hailed a cab and gave the driver the address to what I decided would be our first stop of the afternoon.
Cafe Besalu
I wanted to start our Ballard experience at a local cafe because I was seriously craving French pastries, and Cafe Besalu was recommended to me by Visit Seattle specifically for that purpose. I knew that Cafe Besalu was only open until 3pm, so if we were going to visit, it had to be our first stop of the day.
It took about 20 minutes to get to Ballard from our hotel by taxi. "Can we walk there?" Shawn asked earlier, and it became very apparent as we crossed a bridge in the cab that no, Ballard is certainly not within walking distance from downtown Seattle. Google Maps shows that this journey's 5.5 miles (8.8 km).
It started to pour rain half way through our ride, and I realized we left our umbrella back at the hotel. It didn't matter. As our taxi pulled up to the Cafe Besalu, the rain legitimized our reason for a French pastry after a very decadent brunch.
We discovered the small neighbourhood haunt was a popular place on Saturdays for families and couples. Despite the crowds, the servers were friendly and it never felt chaotic. Shawn grabbed us a table by the window and I ordered us two Americanos and some of their famed French pastries. I noticed that anytime anyone ordered a plain croissant, the server would ask if they'd like some homemade plum jam, which I thought was a cool detail.
Other families were enjoying what looked to be amazing quiches and onion tarts, while my pain au chocolat rivalled the best you'd expect from France.

No sooner did we finish our pastries did the rain stop. Cherry blossoms were in bloom across the street and the rain had stopped. It was obviously time to get outside to finally discover Ballard.
Bop Street Records
It was a short jaunt down the hill to NW Market Street, a major retail and restaurant strip in Ballard. We had driven through Market on our way to the cafe and had recognized a few of the shops that were on our list, including Bop Street Records.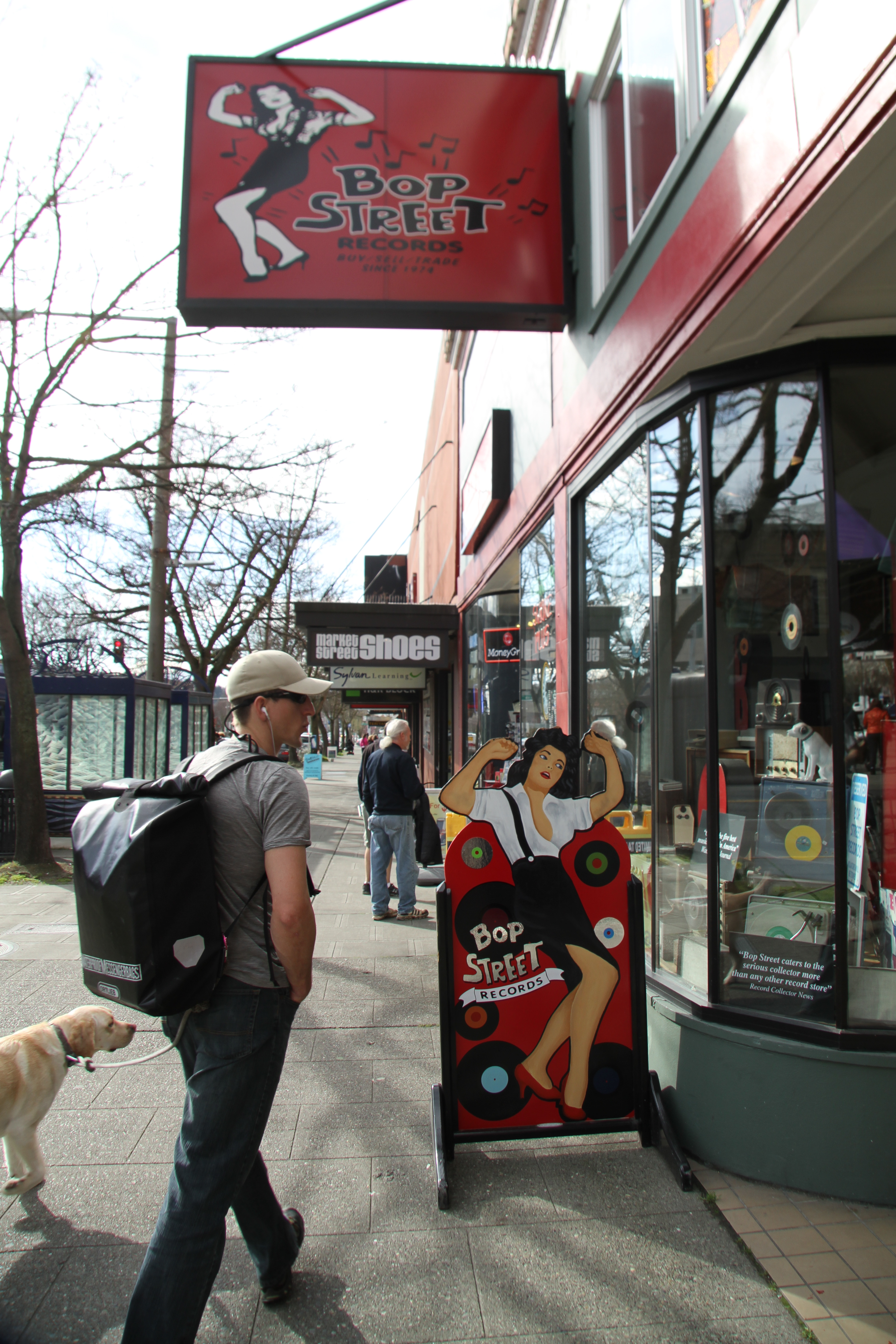 As soon as we walked in, we were greeted by a guy at the counter who asked if we were looking for anything in particular – standard record store protocol, sure. But when we expressed our desire to simply look around, he then asked if we had ever been to Bop Street Records before. We said it was our first time. That's when it all began.
The man at the counter called over to his colleague who then led us around on a short tour, giving us a personalized introduction to the entire store. We were told in detail about Bop Street's history, that this is their second location, that their former location had autographs on the walls of famous bands who had visited them; that they specialize in vintage records, how they organize their records by decade in addition to genre, how the Wall Street Journal named them "one of the five best music stores in America", how they have an entirely separate room for jazz records, and so on. We were introduced to Dave, the owner of Bop Street Records, who's been in the record selling business since 1974. While a 10 minute introduction to a music store might considered overkill, in Bop Street's circumstance, it was actually pretty amazing.
For two hours we scoured the collections at Bop Street. It was like being in a radio station's archives. I found an old Oliver Nelson record with a song that I've been seeking for years ("Elegy for a Duck"). I found the soundtrack to one of my favourite sci-fi movies (Blade Runner) which I've never been able to find before. I picked up Prince's Purple Rain just because I thought it would be fun to have. I also grabbed an old A Flock of Seagulls record from the $10 bins because the first track was "Wishing (If I had a Photograph of You)", one of my guilty pleasures. Despite my "vintage" picks being somewhat contemporary, I had tons of fun browsing, especially the 1920s records, and the hundreds of children's records, from the old 1950s-era albums of my parents' childhood, to the 1980s records of my own.
Two hours and $130 later…
Ballard Avenue Historic District
After two hours of non-stop record shopping, I simply felt like being outside in the *gasp* Seattle sunshine. And it was happy hour. We needed a drink.
Up to now we had only really seen NW Market Street, which is fine, but didn't grab me and excite me the way I had anticipated. I also knew from my list of addresses that Ballard Avenue was where we wanted to go next, where the majority of Ballard's distinguished bars and restaurants were located. Whether we'd end up at the The Walrus and the Carpenter or The Noble Fir, it didn't really matter.
A few moments walking down Ballard, and it became obvious that we were entering new territory. For anyone familiar with Vancouver, it felt a bit more like Gastown's Water Street, without the touristy schlock. The asphalt turned to brick. The buildings aged back to the 19th century… and they housed incredibly alluring restaurants and bars… bars with happy hours, even on a Saturday! It became apparent that this was the Ballard everyone had been talking about.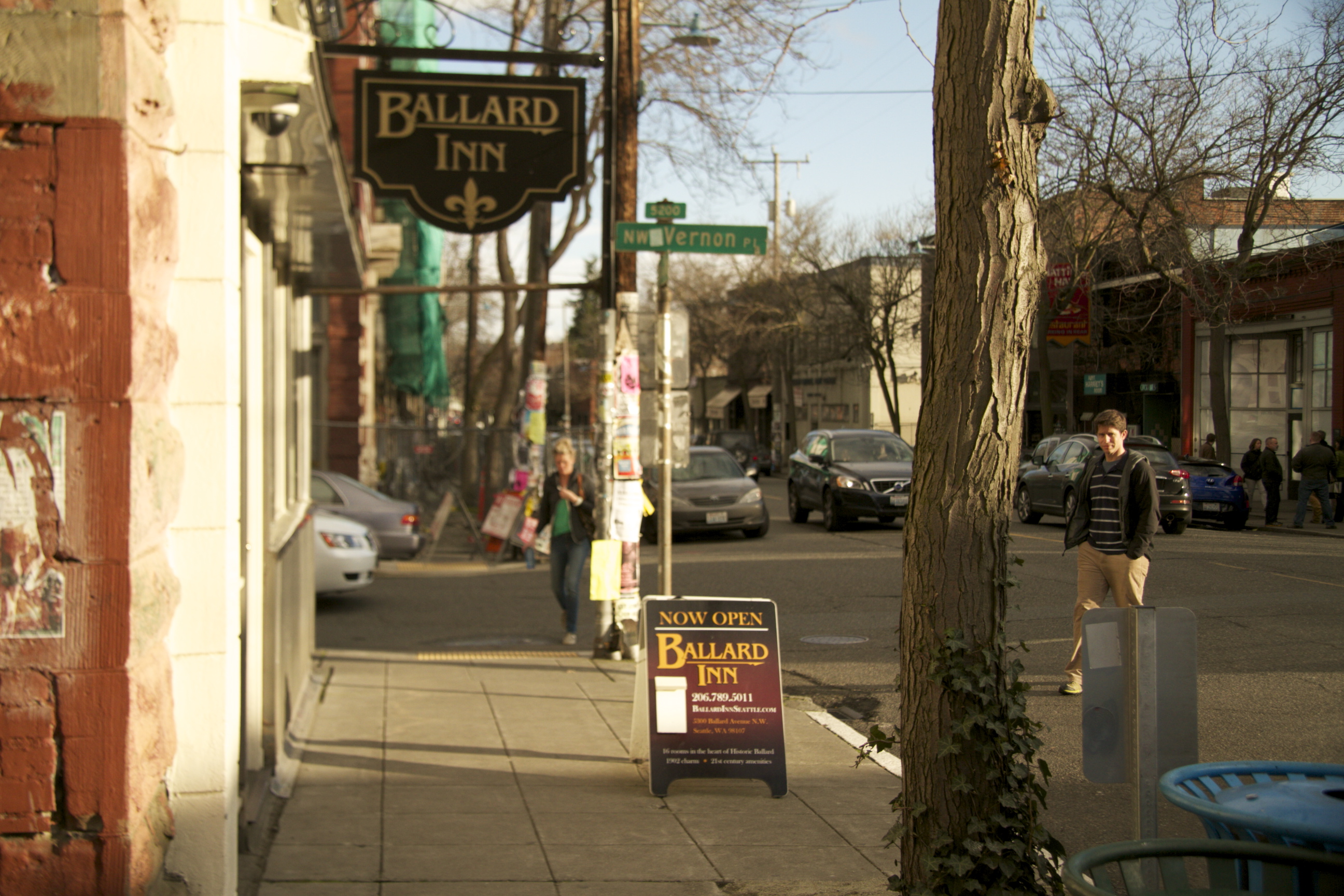 There was even this…
…a bar crawl by bicycle.
I am completely serious.
Bastille
Our first happy hour of the day was Bastille – a classy French restaurant in a spacious brick building. A massive chandelier hung above the mirrored bar while silent French movies played on the TV. It was beautiful.
At 4:30pm on a Saturday, Bastille was surprisingly quiet given that it was highly recommended by the bartending elite. We took a seat along the gorgeous bar, but still skeptical whether we made the right decision to scrap the much-more-hyped Walrus and Carpenter a few blocks away. However, our bartender took great care of us from the get go, treating us like old friends, quick to serve us and spill secrets of Seattle.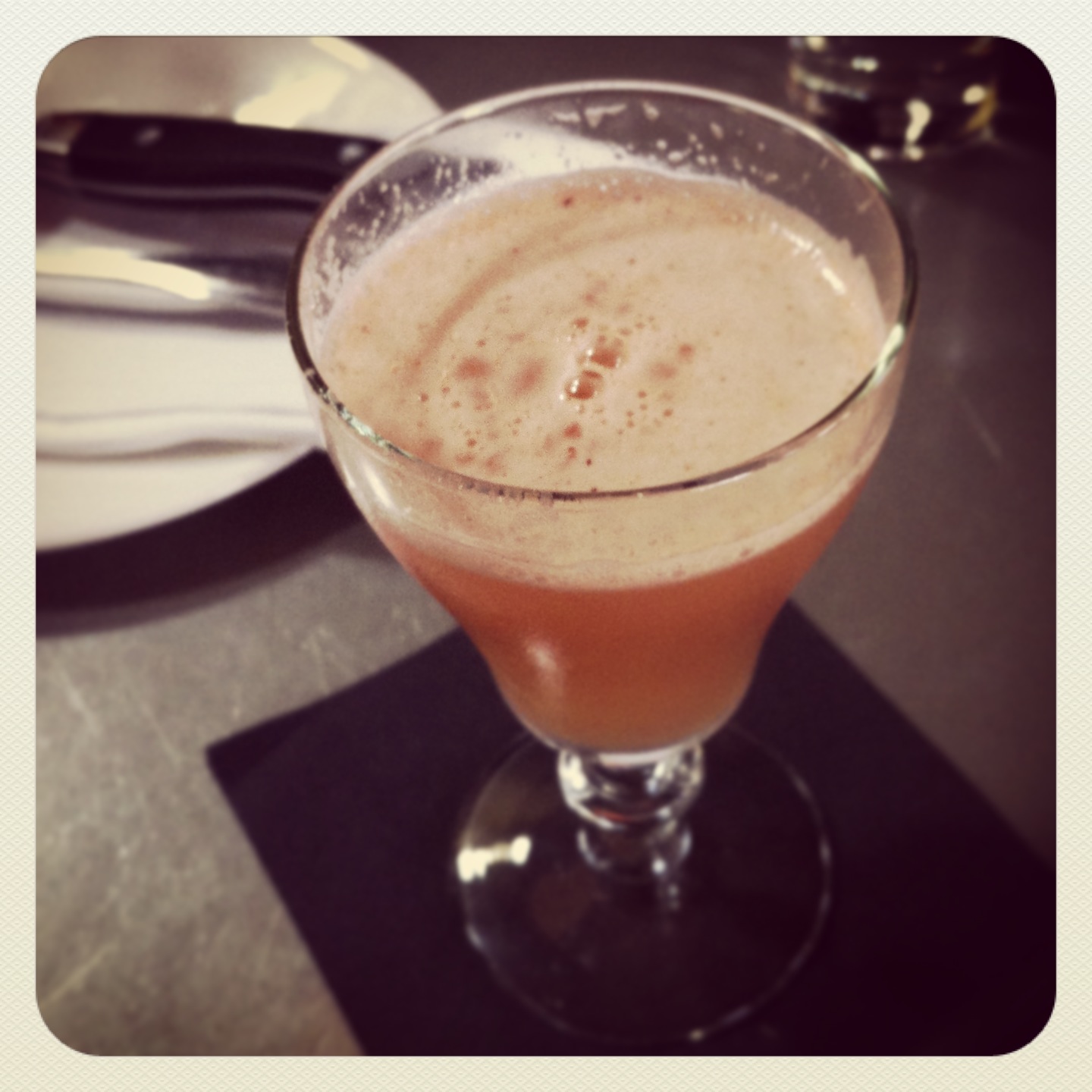 While we sipped on our Gin Fix cocktails of gin, lemon, pineapple gomme, absinthe, and bitters, a couple munched on moules frites and charcuterie a few seats over. Guests continued streaming through the doors, filling up the tables and the seats around us. We obviously beat the rush!
Straying into the regular drink menu, we ordered a Skiff Club each. If you like sophisticated yet subtle herbal concoctions, this mixture of gin, grapefruit cordial, rhubarb amaro, lemon, ginger, and truffle salt would surely please.
Hungry, I eyed the French/Moroccan-inspired menu and opted for the Bastille Burger – something I rarely order at a bar, but the Mahon cheese, harissa aioli, and pickled onion combo was too alluring to resist.
I still dream of that burger to this day.
The Noble Fir
6pm already? Such is the danger of drinking your Saturday away in Ballard. I knew that The Noble Fir was supposed to be an amazing place for craft beer aficionados. Their sandwich board proved it:
We walked into the packed pub and sat ourselves down at the only seats left at the bar. With a half hour left to order from the happy hour menu, I decided to go for something different: the Bourbon Barrel-aged Hoppy the Woodsmen American Strong Ale.
We didn't eat here, but soaked up the scenery and chatted to a local couple seated next to us who were there to watch the Seattle vs. Portland soccer game. It seemed like everyone in Noble Fir was a local, and the place was buzzing.
Although the beer was delicious, what surprised the the most about Noble Fir was their map library, complete with laminated maps for geography geeks to peruse at their leisure and bring back to their tables.   I found a 1:100,000 USGS topographic map of the Gifford Pinchot National Forest and was immediately transported back GIS days at university, trying to analyse the effects of forest disturbance from the explosion of Mount St Helens. Craft beer and cartography? Sure, why not.
Moshi Moshi Sushi
We weren't necessarily seeking out Moshi Moshi Sushi, but when we passed by its entrance, my kid-in-candy-store excitement took hold of me and I shreiked, "That's where our bartender recommended!" That's all it took, and I grabbed Shawn and pushed ourselves through the door.
It was long past happy hour, but we didn't care. We took a seat at the bar in this beautiful, modern, contemporary Japanese restaurant and made friends with the bartender, Geoff. Apparently he knew our bartender at Bastille as the two of them had worked together. And just like at Bastille, we were immediately in good hands at Moshi Moshi.
I ordered a Violet & Gold cocktail, for no other reason than I love bourbon and creme de violet liqueur – two of its main ingredients, and it made for a unique take on a traditional bourbon sour.
While sipping on our cocktails, our bartender informed us about their specials: salmon nigiri, green bean tempura, and scallop ceviche. I took charge and ordered the tempura, the ceviche, and a red hot roll. What the heck.
We had little to no expectations with the food, but were thoroughly impressed by our impromptu meal at Moshi Moshi. The quality of everything we ordered, the warm, personable service, and the cool atmosphere made it a winning combination in our books.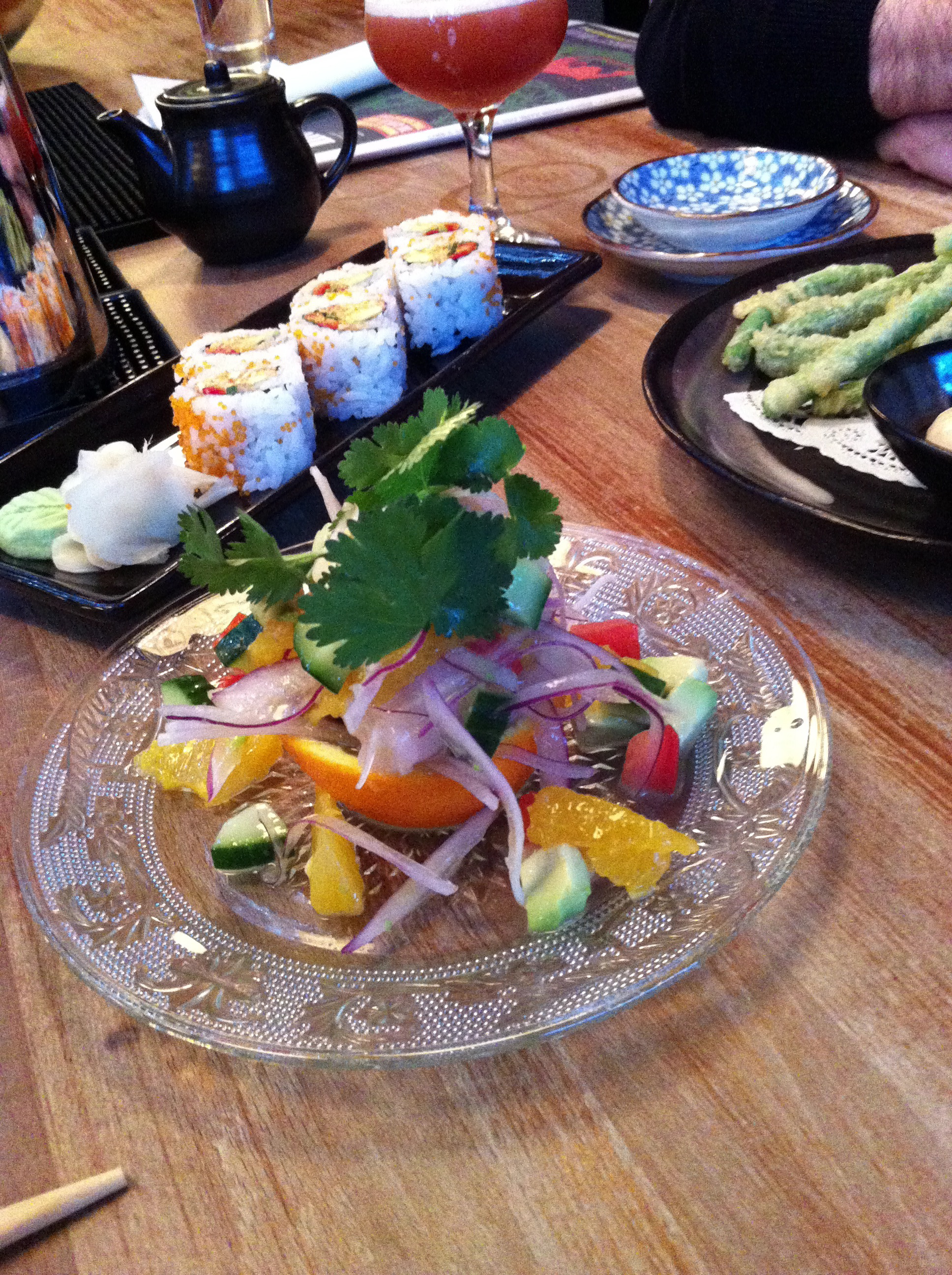 Sonic Boom Records
What do you do after you've been drinking gin, beer, and bourbon for three hours straight? You go record shopping of course! Drunk record shopping is a particularly bad habit, but it can also be quite blissful when you're let loose in a store such as Sonic Boom.
Providing a nice foil to Bop Street across the street, Sonic Boom is the contemporary music lover's music shop, for those seeking new vinyl and other contemporary treasures. While they do have used vinyl too, the new vinyl is really what impressed this record collector.
$119 later, I had acquired half a dozen records including a Warpaint EP and an old Yo La Tengo LP. Shawn bought so many records, they gave him a free t-shirt!
The Hazlewood
What do you do when you've gone broke buying records in Ballard? You go drinking, of course. And there's no better place than at The Hazlewood – a bar co-owned by Soundgarden's Ben Shepherd, named after Lee Hazlewood.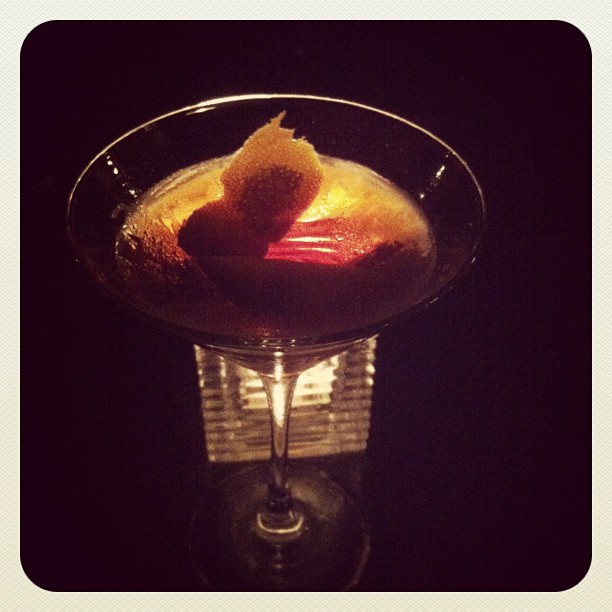 We had poked our heads into the NW Market Street bar earlier in the evening while it was dead, but at this time of night, it was standing room only. Somehow we finagled a table upstairs.
Even better than our table was the serendipitous moment when we realized that the bartender downstairs was playing the entire Guided By Voices discography to our utmost drunken glee. Needless to say, I don't remember much about the beer and cocktails I drank, but I do remember drinking at least three of them while singing out loud to about 60 different Guided by Voices songs before the bartender changed the music.
Ocho
While The Hazlewood was blasting Scott Walker, we vamoosed out the door and down the road to Ocho, a Spanish tapas bar that seemed authentic and delicious, and seemed to be regarded favourably among the locals we chatted with. We decided to give it a try, our last stop of the evening.
You know how sometimes you'll look at a menu and decide that everything looks delicious? That was us. So we ordered a bit of everything.
We ordered the Patatas Bravas, the Jamon Serrano and Chorizo Curato, and the Croquettas Borrachas.
We ordered the broccoli and escarole with garlic and pine nuts, as well as the Huevo del Diablo – the best $5 you'll ever spend on a single egg.
We even ordered the blue cheese-stuffed bacon-wrapped dates, drizzled in a balsamic vinaigrette. We washed it down with something hoppy, I'm sure.
All I know was that we had used up our entire $500 gift card at Ocho, spending $40 of our own money to pay our bill. Happily satisfied with our bellies full of tapas, we meandered back out onto NW Market Street where Ballard was in the midst of a happening Saturday night. As much fun as Ballard was, our time to enjoy it was over. We flagged a cab back to the Hotel Max and had one of the best sleeps we ever had.
Read about day one: #2DaysinSeattle: Friday – 7 bars in one night