I've stayed at the Warwick, the W, the Holiday Inn, and at El Gaucho, yet I always come back to the Moore Hotel.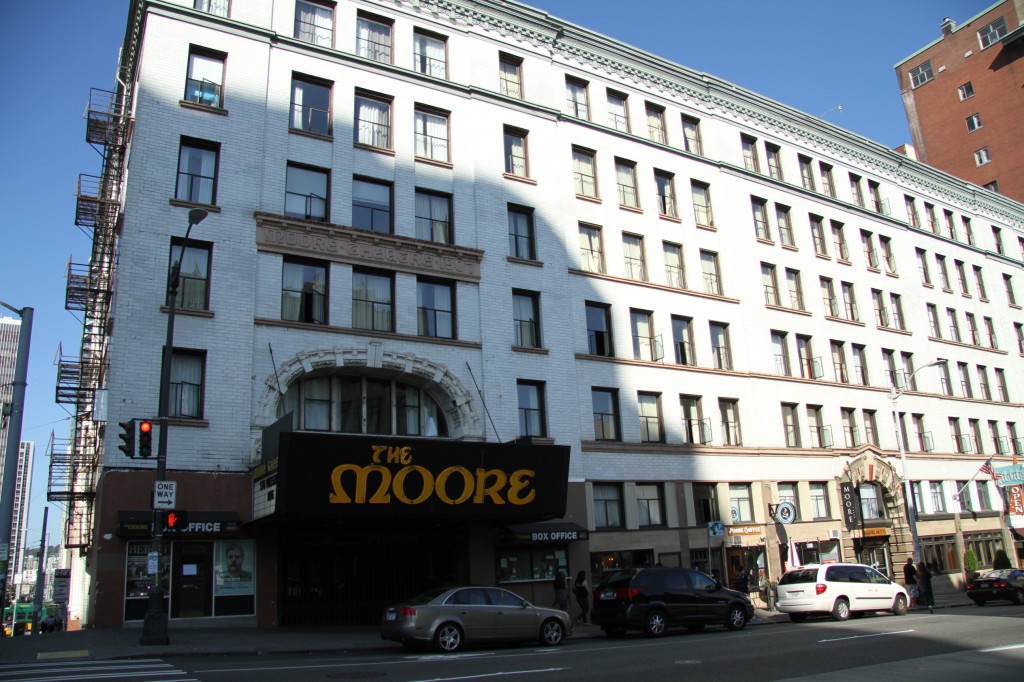 I recently stayed here for two nights last weekend, my fifth time at the hotel over the past two years, and it fails to disappoint. For the price and location, this is the best value in Seattle, period.
The building is historic and no two rooms are the same. I've stayed in their basic rooms with two queen beds. I've stayed in the cheapest room where it's merely one bed without a bathroom (but a public shower/bathroom is down the hall). I've also stayed in the magnificent suites which have a full kitchen (with dishes!), dining room, living room with flat screen TV (and sometimes a fireplace), a master bedroom, sometimes a secondary bedroom (with 2-3 beds!), and one or two bathrooms (one with a clawfoot bathtub!) These suites' room numbers end in "24" and are typically located in the northern-most corner of the hotel at the end of the hall. From hostel living to Lifestyles of the Rich and Famous… you can get it all at the Moore.
Despite being downtown, the location is relatively quiet and I've always had a good night sleep. You're in Belltown – stumbling distance to some fantastic bars, restaurants and cafes. Pike Place Market and downtown shopping is just blocks away, and Seattle Center can easily be walked to as well. There is a cafe downstairs (the Moore Cafe) for coffee, and there is a dive bar (the Nightlite) downstairs next door for a late night drink… you never know who you'll see there.
While there's no parking at the hotel itself, street parking can be had in the nearby blocks (and is free after 8pm and on Sundays). There's also a parking garage which the friendly staff will direct you to (5 right hand turns from the hotel and take a left!)
If you're looking for the ultimate luxury getaway, this is not your hotel. If you need swimming pools, gyms, reliable WIFI, Starbucks coffee in your suite – this is not your hotel. But if you're looking for somewhere unique to stay in the heart of Seattle – somewhere with character which is easy on the wallet, once you stay at the Moore, you'll never stay anywhere else ever again.