After a morning spent wildlife viewing in Riding Mountain National Park, I drove five minutes outside of Wasagaming to Elkhorn Riding Adventures. I was going on a trail ride!
Elkhorn Riding Adventures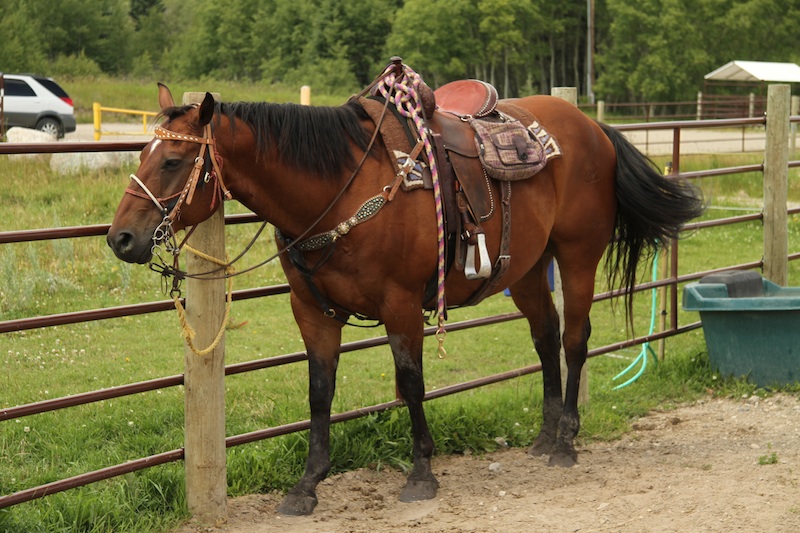 It had been quite some time since I had been on a horse, but that's okay, you don't need any experience to go horseback riding here. The saddles are western, and the staff will make sure you're set up with the appropriately-mannered horse. They'll join along for the ride, guiding you how to steer the horse and make it stop. Mostly, however, the horses seemed to be on autopilot and will follow whoever's leading. And when you're a beginner like I am, that's exactly what you want!
In terms of ways of experiencing the outdoors, there's something so satisfying about horseback riding. It's both relaxing and invigorating. As we headed into the forest, we spotted a few whitetail deer. The trails were a little bit muddy because of recent rains (Manitoba was experiencing a wetter than usual summer). but it didn't seem to be affecting the horses too much. Apparently on some of the tours, they'll even see bears!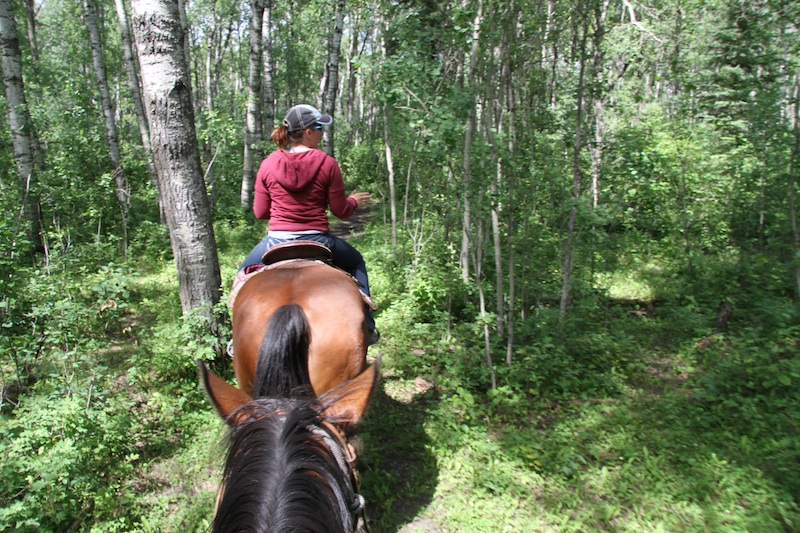 On our way back to the corral, a red fox ran across our pathway, then turned around and spied on us from the tall grasses. Apparently there are a lot of gophers on the property, and the fox likes to hunt them. All a part of a healthy ecosystem, I suppose, and continuation of my wildlife viewing at Riding Mountain.
Elkhorn Resort
Next door to Elkhorn Riding Adventures is the Elkhorn Resort. I had been really looking forward to my time here. Little did I know that I'd be set up in one of their nicest rooms, complete with a huge deck and a jacuzzi tub! They went out of their way to make me welcome, and I was quite humbled by it all.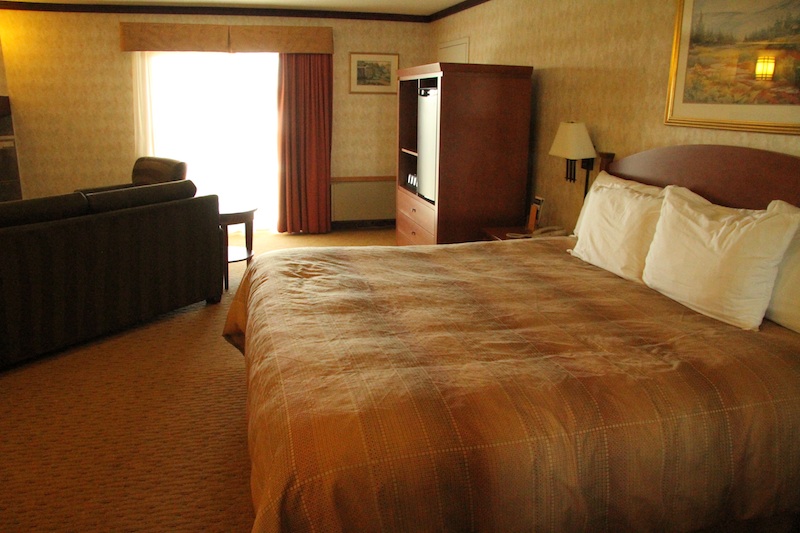 Mountain Grill & Bar
My dinner for the evening was at the resort's restaurant, the Mountain Grill & Bar, and the five courses with wine pairings would become one of the best meals of my entire month-long trip to Manitoba. Chef Kyle Andreason, the mastermind behind the restaurant's new menu, introducing a locally-sourced contemporary gourmet to the restaurant's previous casual fare.
My dinner companion for the evening was Ashley, the Sales and Marketing intern at the Elkhorn Resort. Ashley was responsible for the resort's social media, and I of course was on a social media trip throughout Manitoba, so we got along splendidly and had much to talk about. Of course, that all went out the window when we saw what we were being served!
Our first course of the evening was the dill and zucchini soup with cream and a manchego grilled cheese, served with a white wine pairing from Sumac Ridge. There was something nostalgic about eating this soup, whether it was the Ukrainian cream and dill combo, or perhaps a unique twist on the traditional grilled cheese. Either way, it was warm, and comforting, and absolutely delicious.
Our second course was pickerel cheeks with apple celery slaw and dip. The pickerel was lightly battered, and the slaw brought a nice balance in textures and flavours for the mild fish.
At this point in time, Chef Kyle had dropped by our table to introduce himself. He brought over a Friend of a Friend cocktail made of vodka, lime juice, and a jalapeno lemongrass simple syrup, topped with soda. As a cocktail enthusiast, I loved the complexity of flavours. It was light, well-balanced, and the perfect sipping cocktail while I enjoyed the pickerel. And the jalapeno gives it just the right amount of kick!
Our third course was entirely inspired by Manitoba's natural bounty: duck, local beets, parsnip purée, and blackberries.  I remember Instagramming, "I think I'm in love with Manitoban cuisine!"
The fourth course of this amazing meal was a beef sirloin served with local veggies, drizzled in a tarragon beurre blanc. It was paired with a Redwood Creek Cabernet Sauvignon and was exquisite!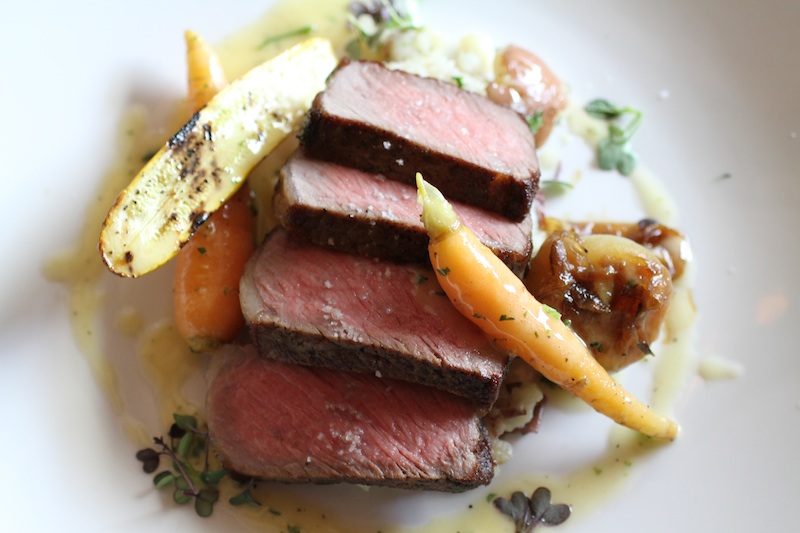 Dessert? Saskatoon cheesecake in a jar. Need I say more?

Solstice Spa
Following my extraordinary dinner, I got changed and headed downstairs to the resort's Solstice Spa. Although I was too late to try their mineral pool, I blissfully enjoyed my 90 minute Rhythmic Peace treatment. This involved an organic grapefruit sugar scrub, followed by an hour long massage using warm organic grapefruit oil. Not only did it smell heavenly, but my skin and body felt amazing after the treatment.
As I got back to my room, I sat outside on the deck and admired the sunset. I then lit a fire in my fireplace, enjoyed a glass of sparkling water, and went to sleep cozy in my warm bed King-sized bed.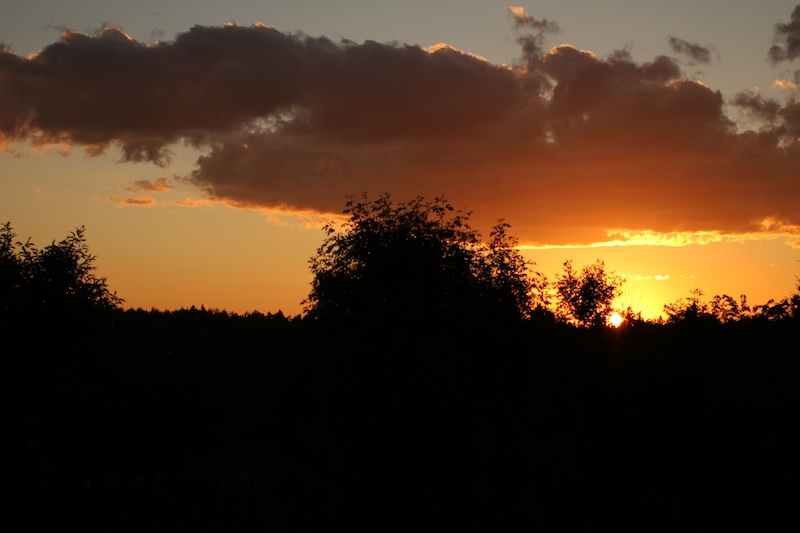 Thanks to Molly and everyone at Elkhorn Riding Adventures for the trail ride! A huge thanks to the staff at the Elkhorn Resort, Solstice Spa, and the Mountain Grill, especially Ashley and Chef Kyle who worked their magic. You both are amazing!