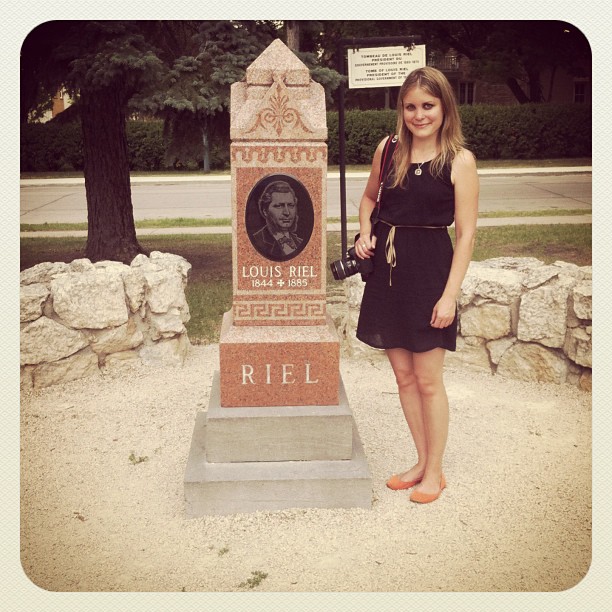 I'm writing to you from the fifth floor of the Inn at The Forks, a boutique hotel in the heart of Winnipeg, a dynamic public space at the confluence of the Assiniboine and Red Rivers. It's fitting that I'm beginning my month-long journey in Manitoba here, as it was this location where Winnipeg all began.
Across the Red River from The Forks is Saint-Boniface, home to the largest Francophone community in Western Canada. I know what you're thinking: French spoken outside of Québec? C'est vrai, mes amis. And French is spoken more than you think. As it turns out, Saint-Boniface is also home to an impressive amount of Manitoban history, and there is where I'm going.
Hotel de Ville
The engraving about the door reads Hotel de Ville, but this is not a hotel; those are the French words for city hall. Today it's the home of the Tourisme Riel's visitor info centre and La Maison des artistes visuels francophones du Manitoba. A sign out front reads "guided walking tours".
I meet up with Michelle of O Tours, and Michel at Travel Manitoba and we begin our tour. Immediately I learn that Saint-Boniface was once its own separate city, and this building was its city hall.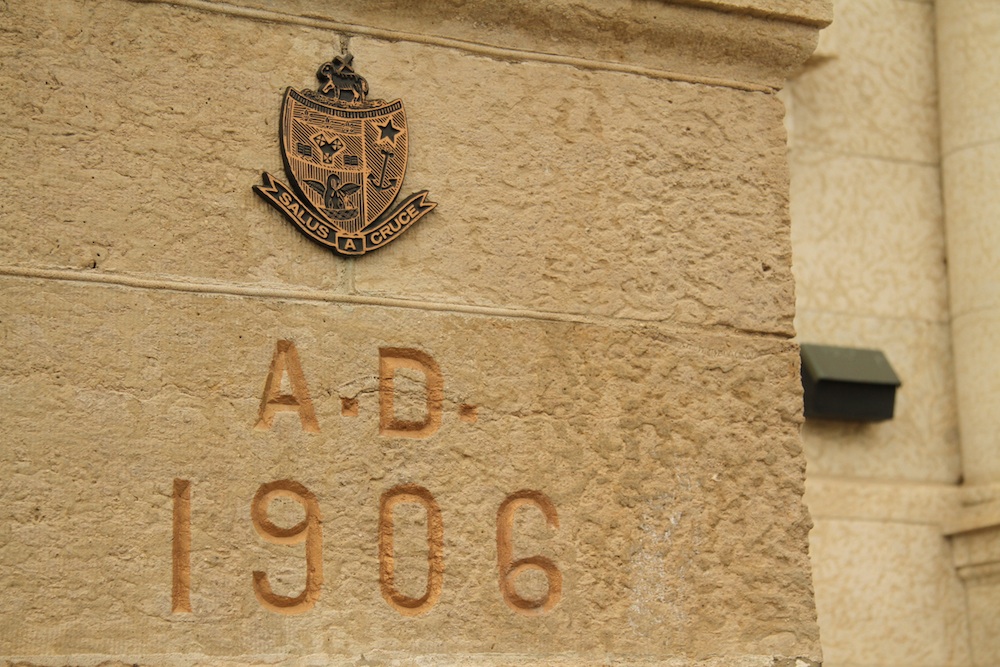 Saint-Boniface amalgamated with Winnipeg in 1972, however it still retains its original identity and charm. Saint-Boniface is not shy about celebrating their francophone culture or their Métis and voyageur heritage. This is a good thing.
Cool Gardens
Next door to the visitor centre, children were playing on a slow-moving carousel of shopping carts and recycled crowd barriers. Kind of weird and whimsical, we walked over to take a better look, and it was here where I realized it wasn't an odd piece of playground equipment, but an interactive piece of contemporary art. Winnipeg's known across Canada for its arts scene, and well, here was my first taste. Michelle explained that it's a part of Cool Gardens, one of six temporary art installations located throughout Winnipeg this summer.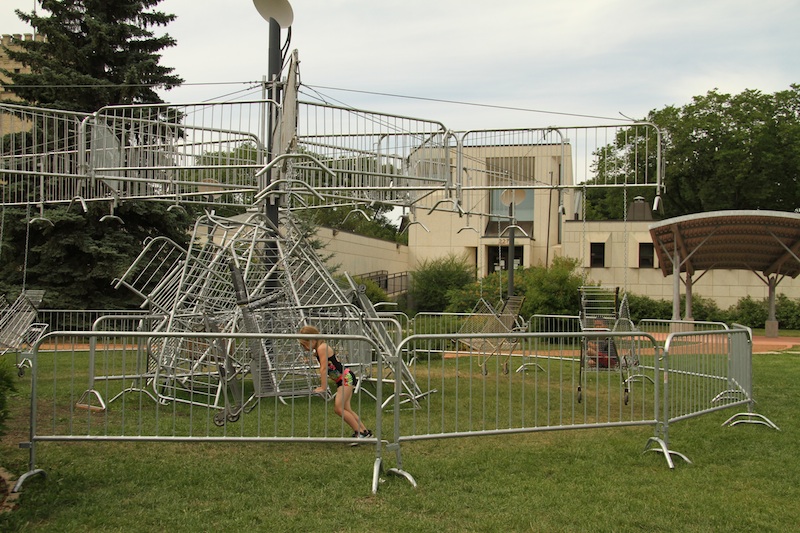 Saint-Boniface Museum
The Grey Nuns' Convent is Winnipeg's oldest building and the oldest oak log building in North America and it's featured in the first photograph ever taken in Western Canada! Today it houses the Saint-Boniface Museum. Needless to say, it oozes Manitoba history.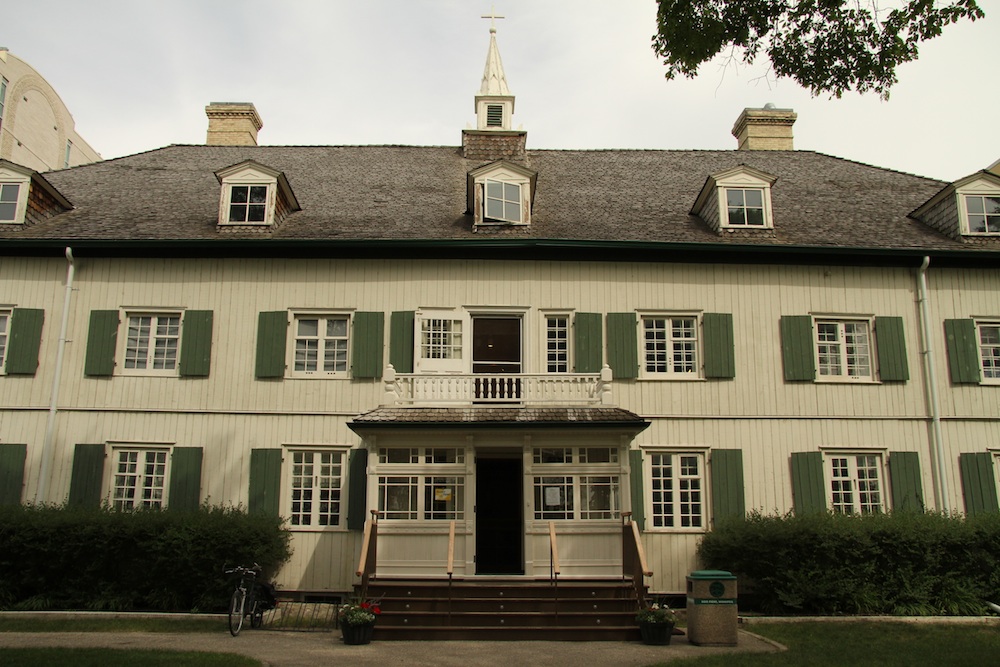 Today's my lucky day as we're getting a private tour by the Director the museum, Philippe Mailhout. If you're looking for an expert on Manitoban history, this is your man!
We first explore the exhibit on the fur trade, and on the ori­gins and devel­op­ment of the Métis nation. As somebody who (willingly) studied Canadian history throughout university, I am genuinely fascinated and could spend all day here. It kind of hits me here in this room that all these stories about the Métis, well, they're not just stories in history books; it's very much real and alive here.
Philippe leads us into the next room, the exhibit on Louis Riel. Apparently the museum has the largest collection of Louis Riel artifacts in the world. Philippe taps on a blueish metal trunk, used by Louis Riel. I stare at it, partially in awe, about to take out my camera out when I'm told, "that's probably the least interesting of what we have".
We turn the corner, and in glass cases are dozens of seemingly random items, all with a story behind them. "See that? That's the white hood placed over Louis Riel's face, as he was hanged." There are also pieces of rope. I get chills, and that's only the beginning.
There are locks of Louis Riel's hair, which has, as Philippe noted, a reddish tinge. There are hairs trimmed off his beard, and his shaving kit. There's a card written for his family. Another case with pieces of his suspenders. There are his moccasins, each one guarded separately by different organizations, only to be reunited over a hundred years later at the museum.
There is Louis Riel's sash. His sash! And his cribbage board – a game I actually associate with Manitoba, since it's where I learned and played the game two summers ago.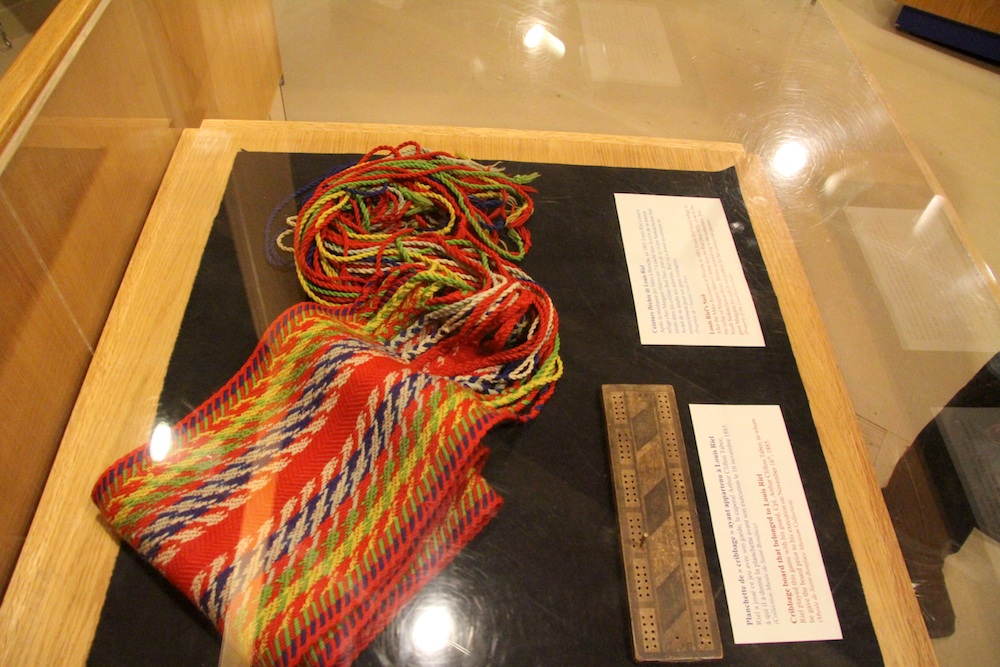 Most surprising was perhaps Riel's coffin. No, he's properly buried in another coffin out front the Cathédrale de Saint-Boniface which we'll visit right after, but this was the initial coffin where his body was placed. Ask Philippe for some interesting stories about what happened to the coffin afterward.
We then entered the Grey Nuns exhibit. Philippe remarked that if you wanted to live your life as a strong, independent woman back in Winnipeg's earliest days, becoming a Grey Nun was really your only option.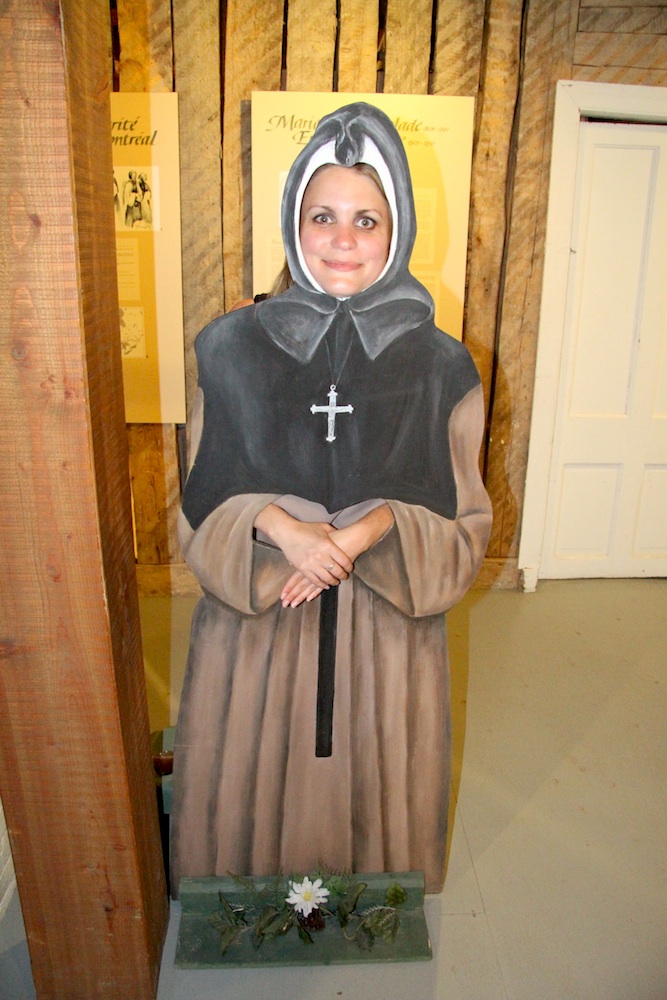 The Gray Nuns arrived from Montréal in 1844, setting up in the very building we were standing in to serve as teachers, missionaries, and nurses at the Red River Colony.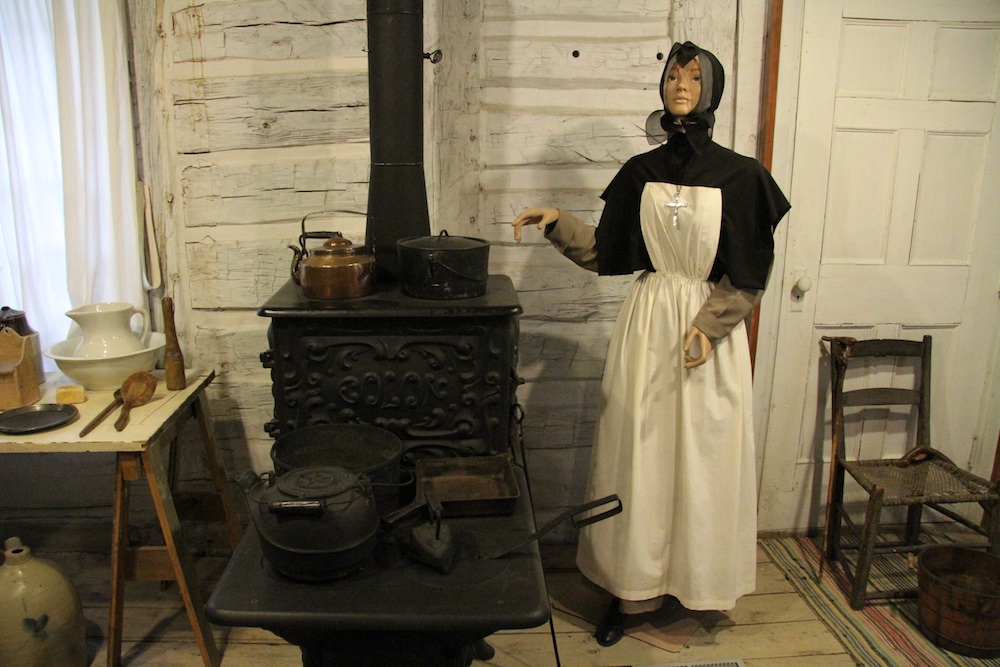 I could have spent hours in this museum, but only got a quick taste before heading out to our next step on the tour. I will say this though: if you're a history buff and you find yourself in Winnipeg, the Museum of Saint-Boniface is an absolute must.
Saint-Boniface Cathedral
The best-known piece of architecture in Saint-Boniface is arguably the Saint-Boniface Cathedral.
Although many churches existed on this site since 1818, the most famous was the massive Roman Catholic basilica built in 1906. You can see the remaining façade above. I say remaining because on July 22, 1966, a fire broke out on the roof of the cathedral, destroying all but the front. The story goes that there were young men working on the roof, and it was likely that a cigarette started the fire. However, since the fire was so epic and the guy likely to blame was only a teenager, rather than burden the teen with a lifetime of blame, the fire department decided not to attach blame to anyone for the fire, calling the matter closed.
In 1972, a new, modern church was built within the confines of the former cathedral's salvaged ruins. The result is rather stunning. States the cathedral's website, "The old and the new coexist in its two forms, the historical walls and the modern structure."
Quickly looking inside, we couldn't have timed our visit better…
Out front is Western Canada's oldest Roman Catholic cemetery. Going for a walk past these graves is like walking through a history book of Saint-Boniface. The most famous of graves is perhaps that of Louis Riel.
Though not a grave, I was quite taken by this piece of art, a passage from Gabrielle Roy's book, "Enchantment and Sorrow", situated a short distance from the graves of her parents.
Maison Gabrielle Roy
Speaking of Gabrielle Roy, Michelle asked if I'd like to see her childhood home, which was just around the corner from where we were. Having read Bonheur d'Occasion (and in French no less), I had to see it.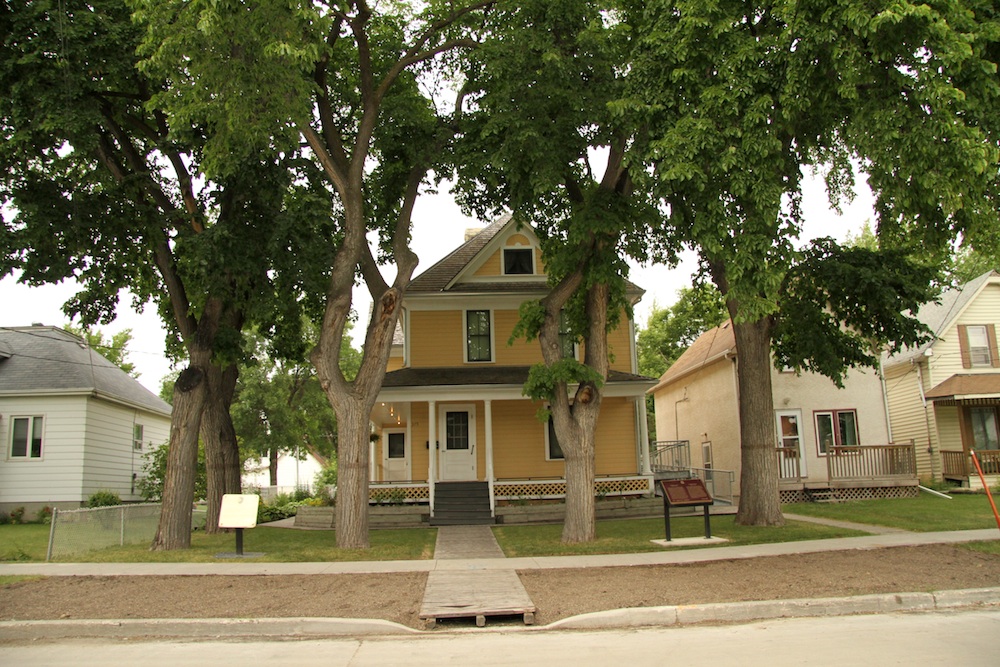 Fort Gibraltar
Afternoon was turning into evening as we arrived to our final destination of the tour.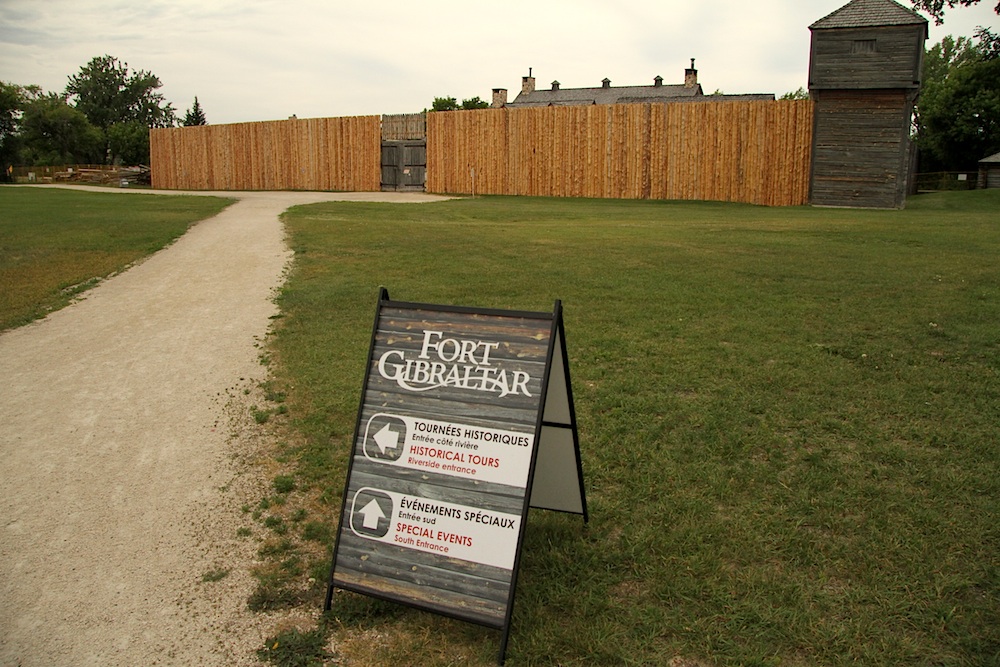 Arriving through the back door, stepping into Fort Gibraltar was like going back in time 200 years to the time of the voyageurs. I loved it!
As an authentic replica of a North West Company provisions fort, Fort Gibraltar is a living, breathing, interactive heritage site where you can experience daily life of the fur trade era.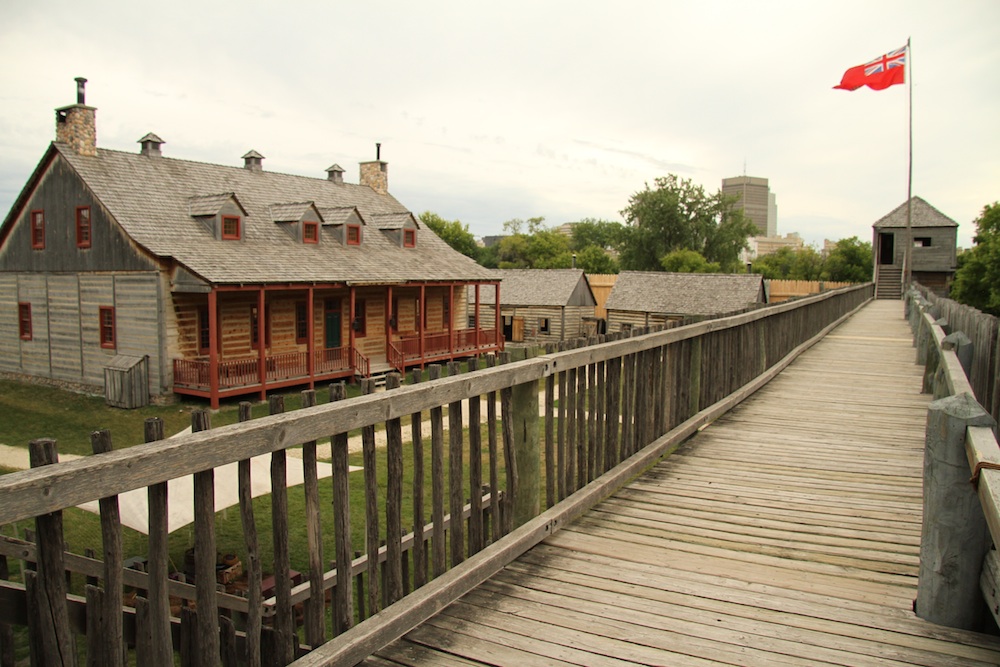 Fancy growing your own veggies? Being able to supply your own food is key to life on the fort. Beets, peas, carrots, kohlrabi, corn, and more. The heritage garden was looking pretty good.
And you have to love their scarecrow…
Because Fort Gibraltar isn't an actual National Historic Site, they're free to rent out the site for special events. Every February it's home to the Festival du Voyageurs, a winter festival that attracts up to 150,000 people! And apparently it's a popular wedding venue. I can understand why.
I've been to some heritage sites where you walk through an old building and there's no life to it. This wasn't like that at all. In fact, here I'd say the people really make the experience.
I was schooled in the art of identifying furs.
Blacksmithing? Bring it on!
I don't know if it's because I grew up going to heritage sites like Fort Langley or Barkerville, but there's something about these authentic historic spaces that excite the Canadian history nerd within me.
Chez Sophie
Earlier in the day, Travel Manitoba crowd-sourced my dinner plans. They polled their Facebook Page, asking where I should be eating dinner in Saint-Boniface that evening. The winning vote was Chez Sophie, a local Parisien-style bistro owned and operated by a French (from France) couple. I was more than happy to eat there. I was joined by Michel at Travel Manitoba, and we strolled over to the restaurant together from Boulevard Provencher.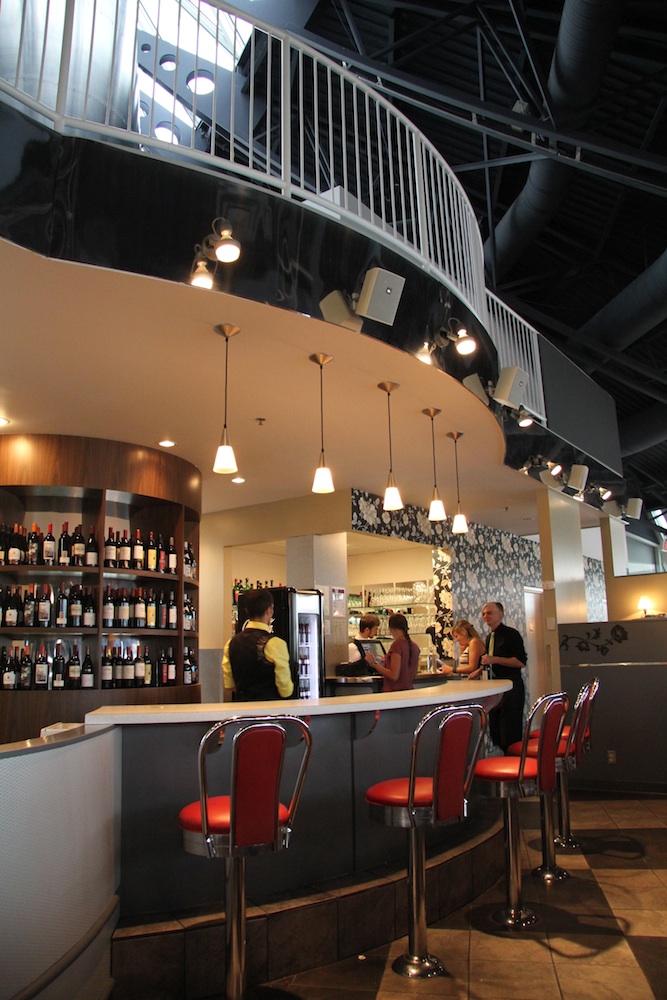 This is Chez Sophie's second location, and an unconventional location at that. To get there, you have to walk to the middle of Esplanade Riel, the pedestrian bridge that connects The Forks with Saint-Boniface. Yes, there's a restaurant in the middle of a bridge!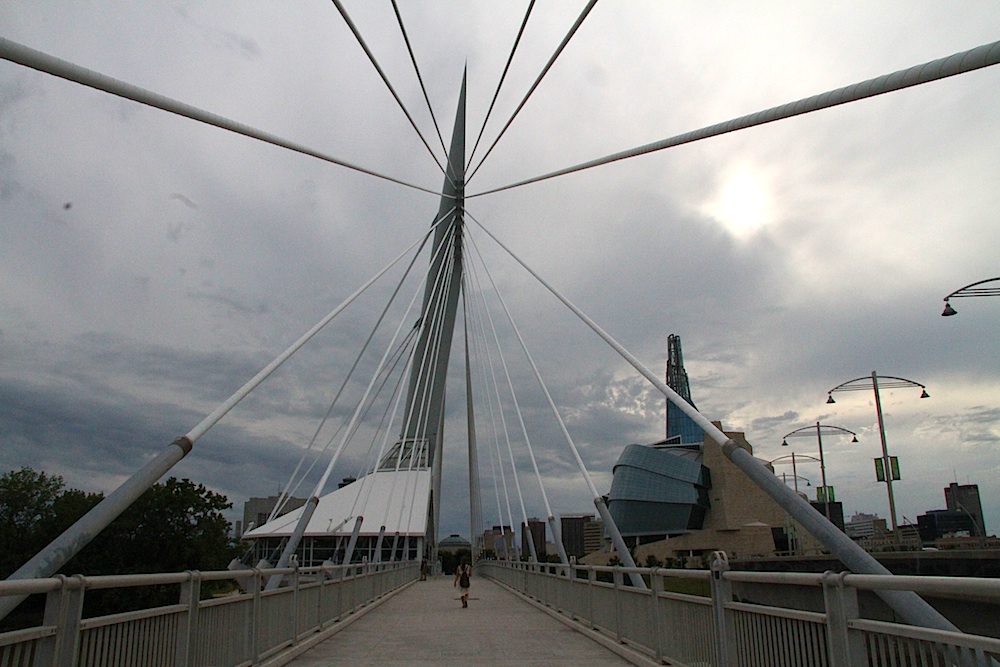 The restaurant was hopping at 6:30, always a good sign. We leafed through the menu and had a hard time picking out what to eat, but I think we were happy with our choices in the end.
Michel ordered their tartiflette, which is a casserole of pan-fried potatoes, onion, bacon, and ham, covered in bubbling cheese. This was highly recommended amongst the folks on Twitter, and looked rich and hearty.
I opted for something a bit lighter, the salmon quiche as per Philippe's recommendation from earlier in the day. Even though it was suggested that a girl from BC probably won't want salmon in Manitoba, he insisted it would be some of the best salmon I'd ever eat. Well, he was right.
Not only was the smoked salmon intense, but it paired well with the light custard-like interior of the quiche. With our dishes, we were served a bowl of their soup (a roast garlic and eggplant) and a house salad with vinaigrette. Although my dinner might have been considered light to some, I came out of Chez Sophie delightfully full.
On our walk back to the Hotel de Ville where I had parked my rental car hours before, I noticed a hot air balloon flying over the Saint-Boniface Cathedral.
It was funny driving back to my hotel at the Forks; I realized I could have walked. Oh well, the bed was calling my name. Apparently the beds at Inn at the Forks are well-known for being super comfortable. I'm about to find out right now…