There are certain things you need to check off on your to do list when you're spending five days in Amsterdam. On my third day in Amsterdam, I had the Rijksmuseum in mind, especially since it had only reopened a few weeks before my arrival, after being closed for many years due to some extensive renovations. And with my minor in art history, it was no question that I'd end up here at some point.
The Rijksmuseum (the "Rijks" rhymes with "bikes") is the Netherlands' national museum with a focus on Dutch art and history. It's arguably Amsterdam's most famous museum, and it sits ceremoniously in a gorgeous palace at the foot of Museumplein – a large park in the heart of the city flanked by other equally monumental museums, including one famous concert hall.
All I knew was that I had to get there before noon, because otherwise there'd be massive lineups. Well, I arrived around 11am, and found a big line-up, but I was starving and couldn't wait, so I grabbed lunch at the Cobra Cafe next door, came back to the line and then waited for two long, cold hours. I think a local hip hop dance troupe cycled through three or four 20 minute performances, and I managed to get through about 100 pages of my book. Thank goodness for books!
Here's what the lineup looked like after I had already been waiting for an hour…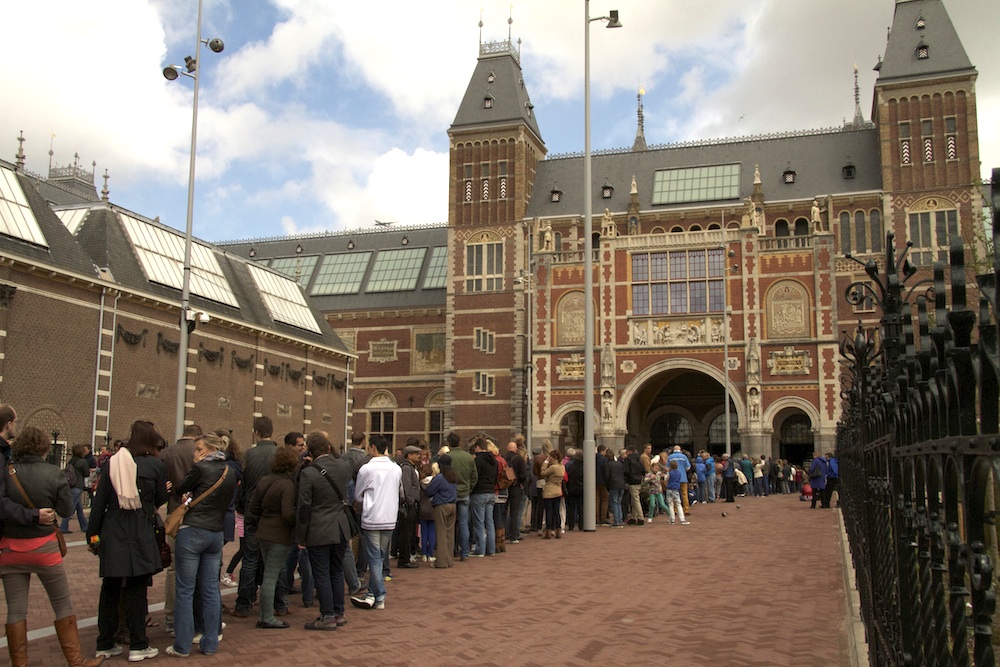 I must admit, lining up for two hours kind of bummed me out and sucked some of my energy, especially since I had purchased my ticket online and thought I didn't need to wait. But I did. However, once I entered the Rijksmuseum, I decided my strategy would be this:
You don't need to see everything.
There's no rush.
If something intrigues you, stay as long as you want.
If you're not inspired, it's okay to move on.
It was as simple as that.
Armed with a map that I promptly ignored, I walked up a staircase and around a corner and quite accidentally found myself in the 17th-19th century collections of Dutch masterpieces, including Van Gogh's Self Portrait, Rebrandt's self-portraits, and the Battle of Waterloo by Jan Willem Pieneman.
My first introduction to the Rijksmuseum looked a little like this…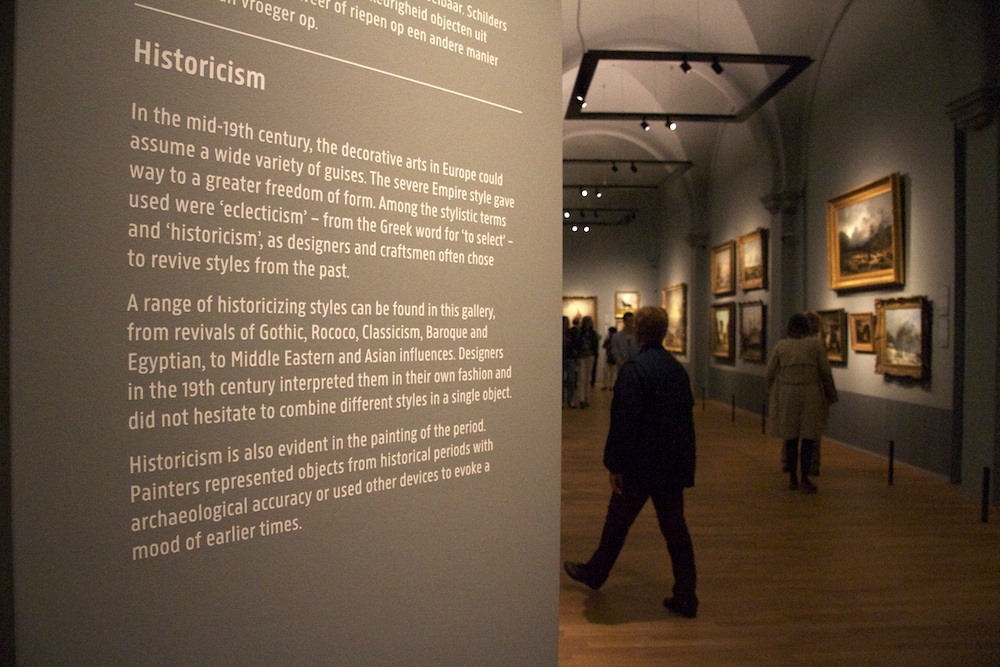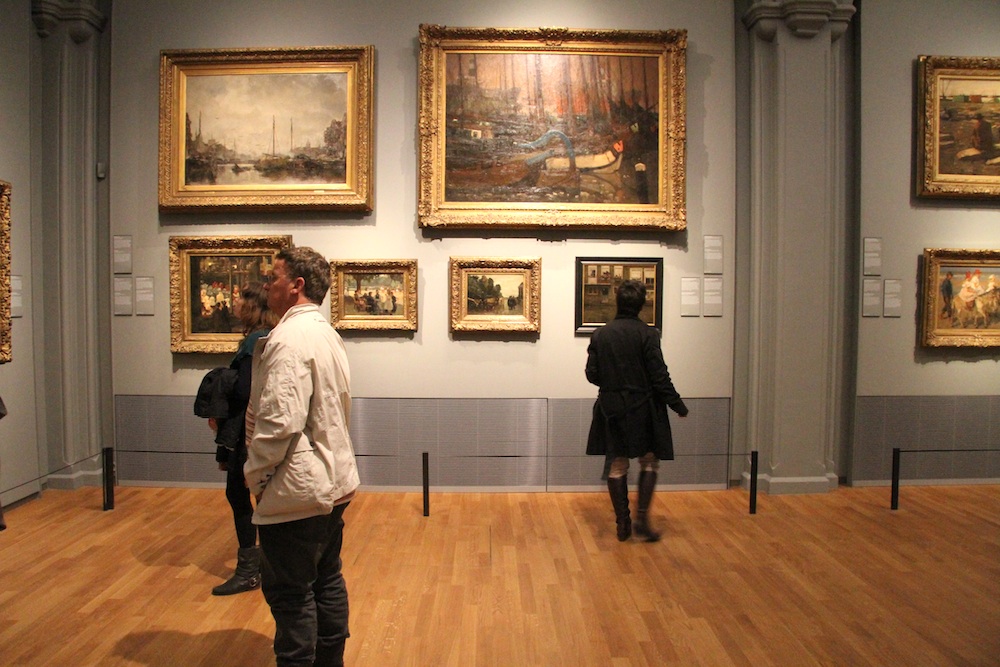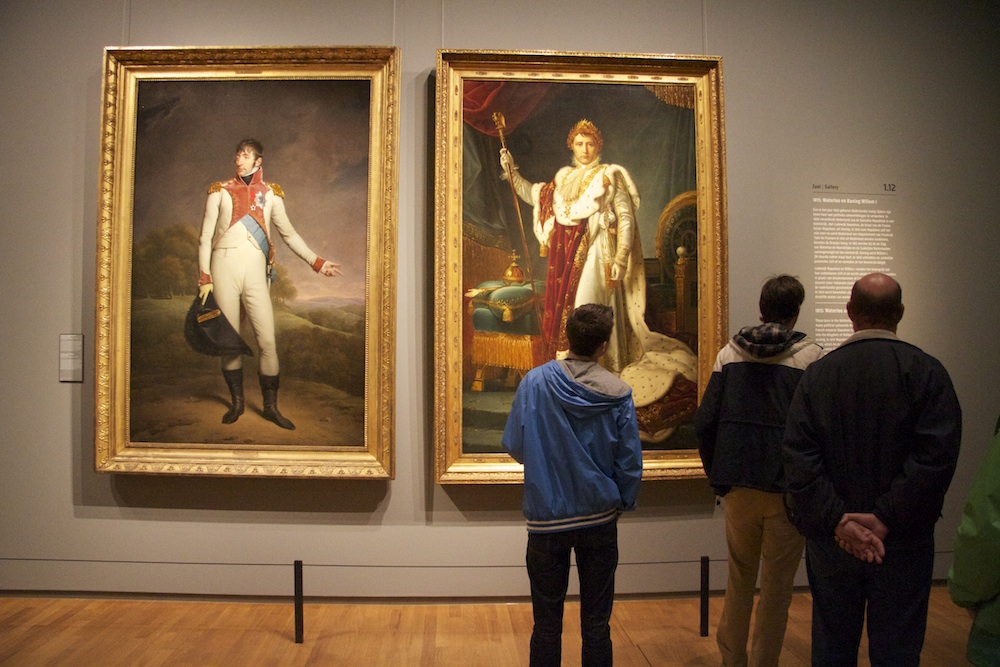 The crowds were sometimes crazy, depending on the room. Sometimes it was overwhelming. There was a lot of this…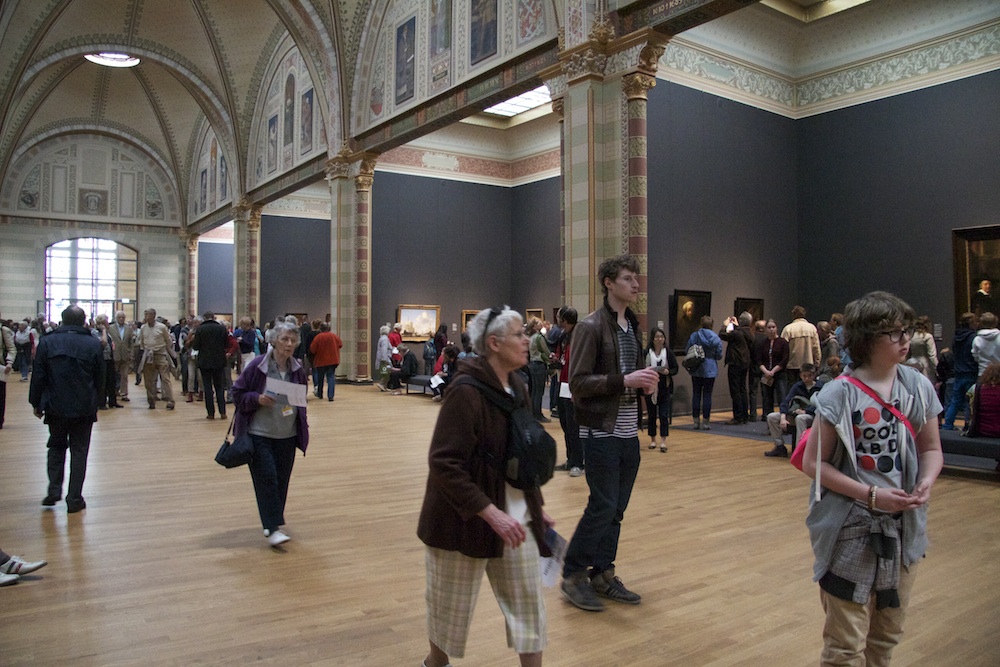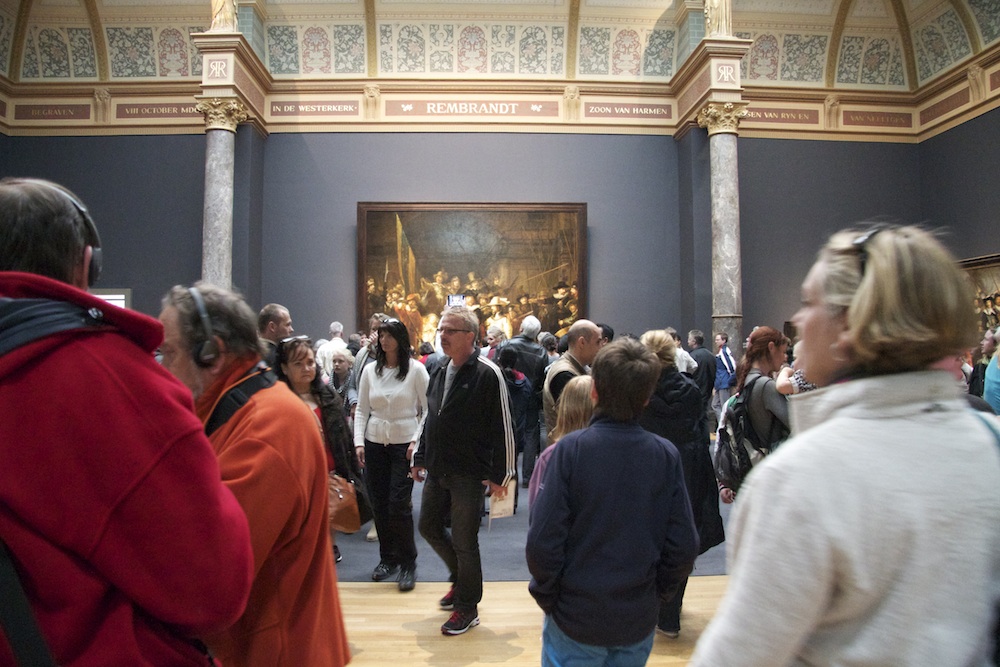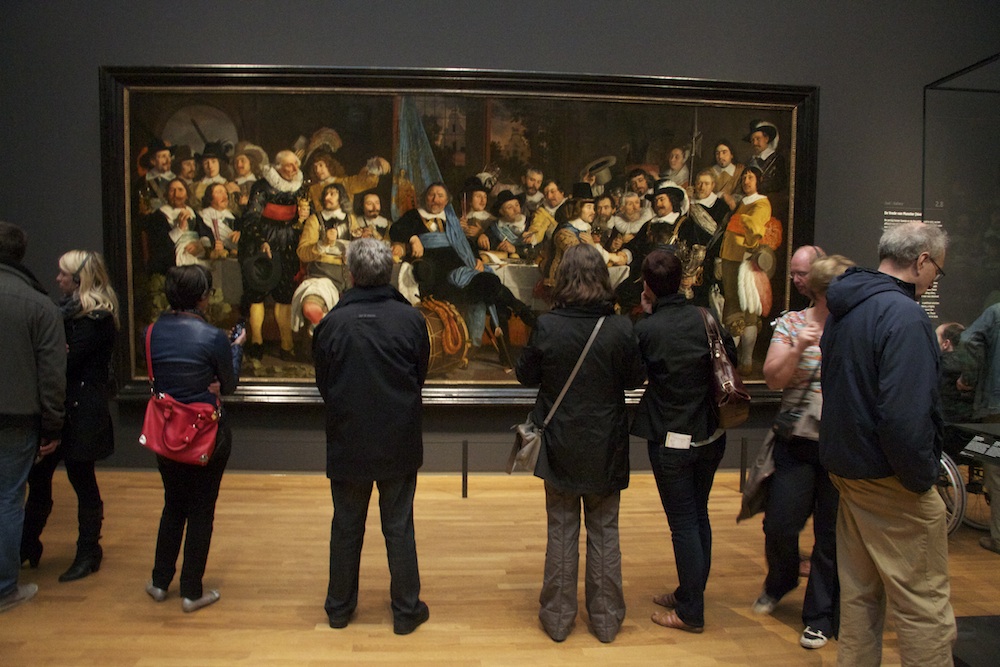 And there was a lot of that…
But if you were patient, you were often rewarded with intimate viewings of these Dutch cultural wonders, both famous and obscure. Say hello to Rembrandt!
And say hello to the Merry Drinker by Frans Hals. I swear I wrote a comparison essay on this back in my art history days.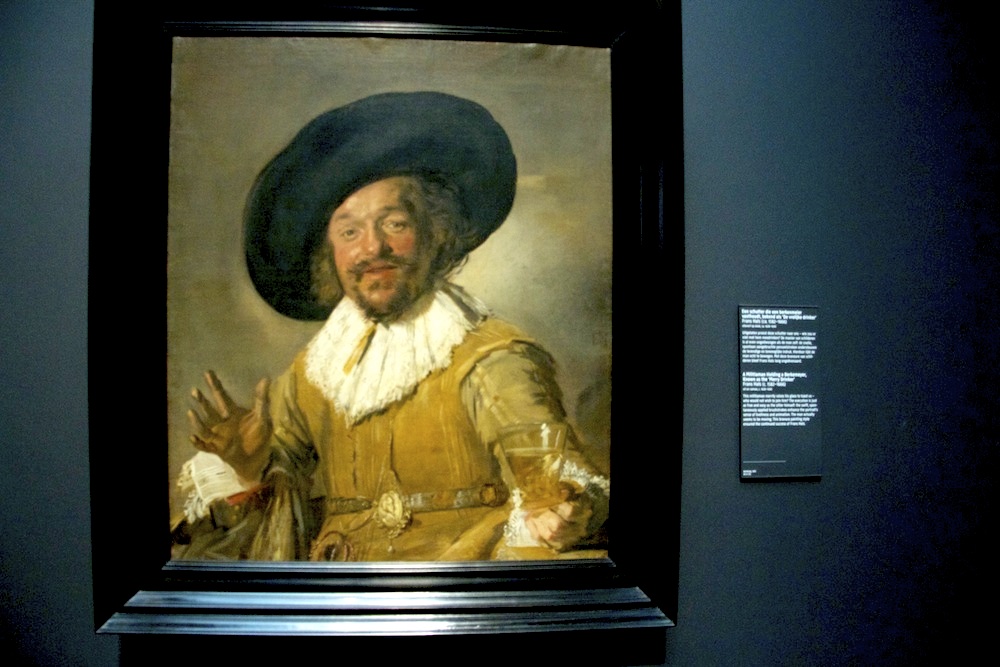 Here's Princess Mary Stuart, widow of the Prince of Orange.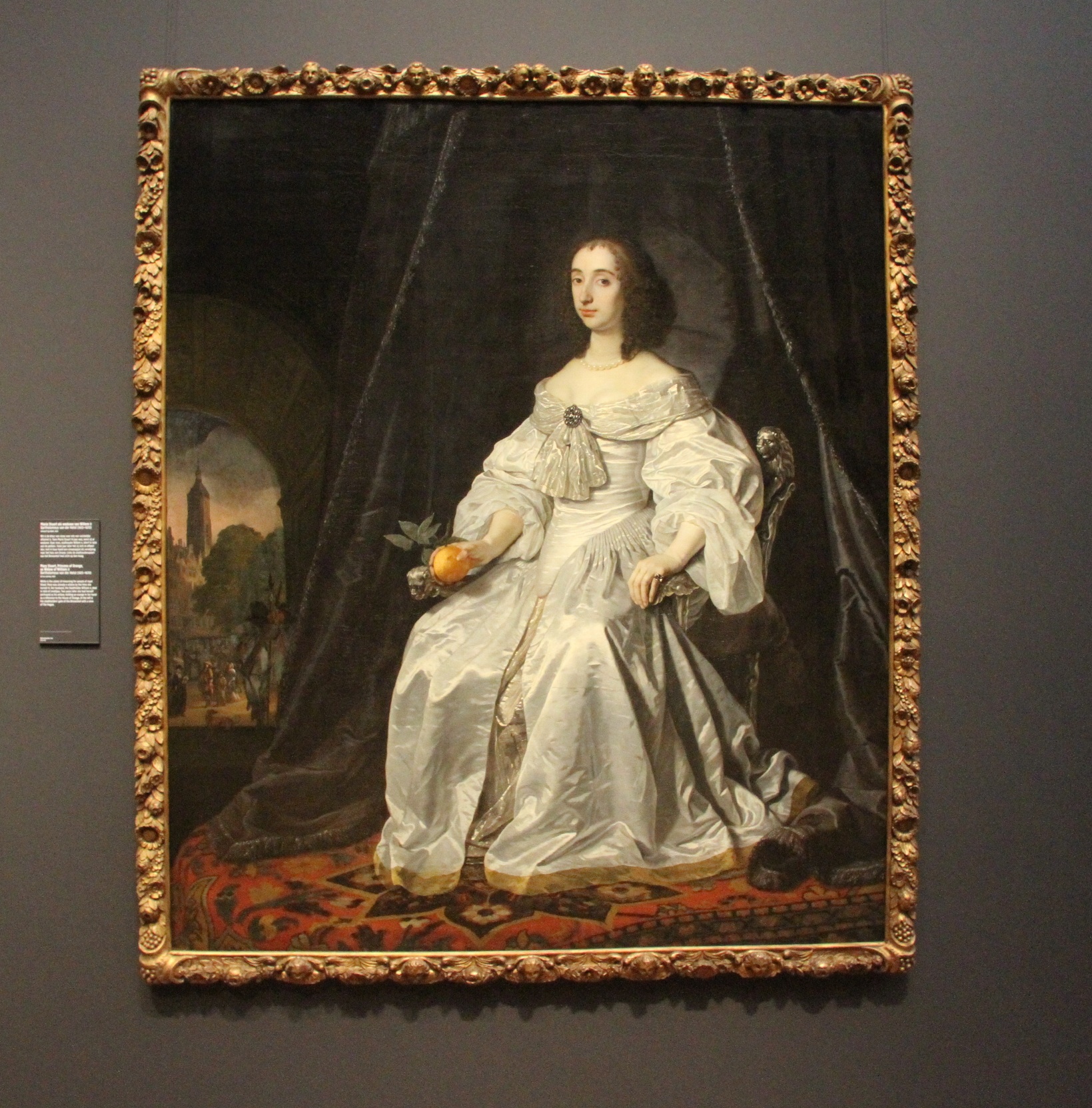 I fell in love with Hendrick Avercamp's Winter Landscape with Skaters (1608). You can see the whole thing in detail on Avercamp's Wikipedia page here.
… and this is rather gorgeous. A precursor to Disney, no?
I found myself stopping for these pen and ink illustrations of Dutch battles with the Spanish. The amount of detail's insane!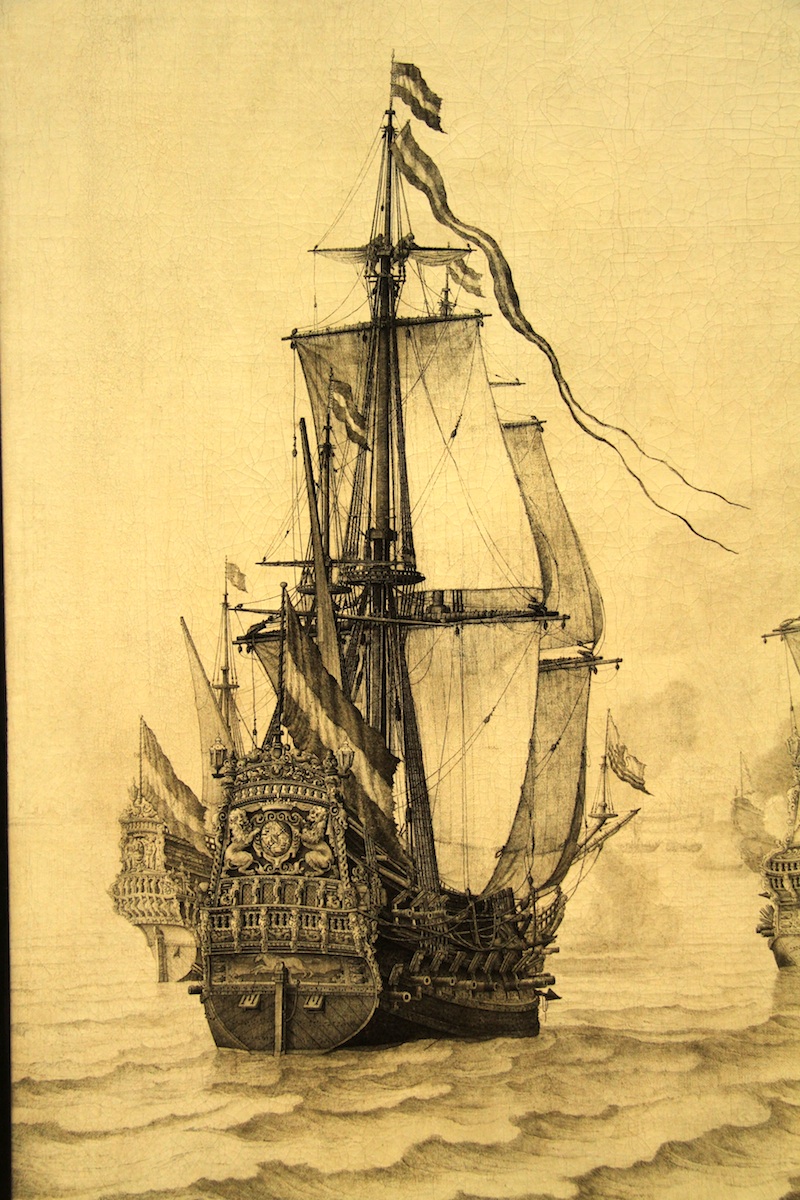 Ships were definitely a major theme throughout the Rijksmuseum, which is a given.
There were some fantastic models, some taking up entire rooms!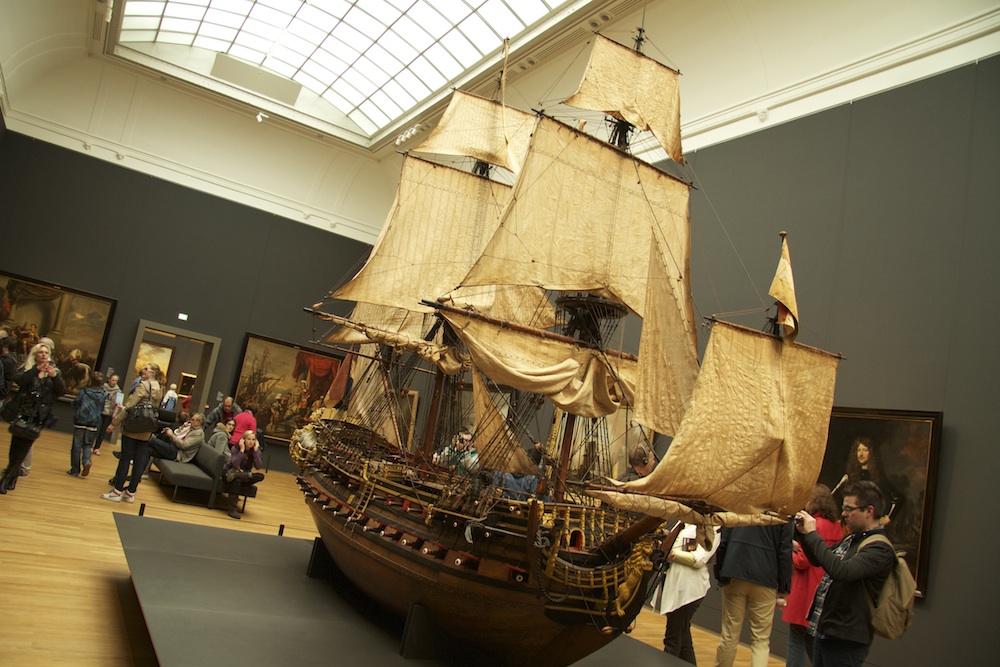 There were even early models of submarines!
Rembrandt was also a recurring figure, no surprise there. Here's an early self-portrait…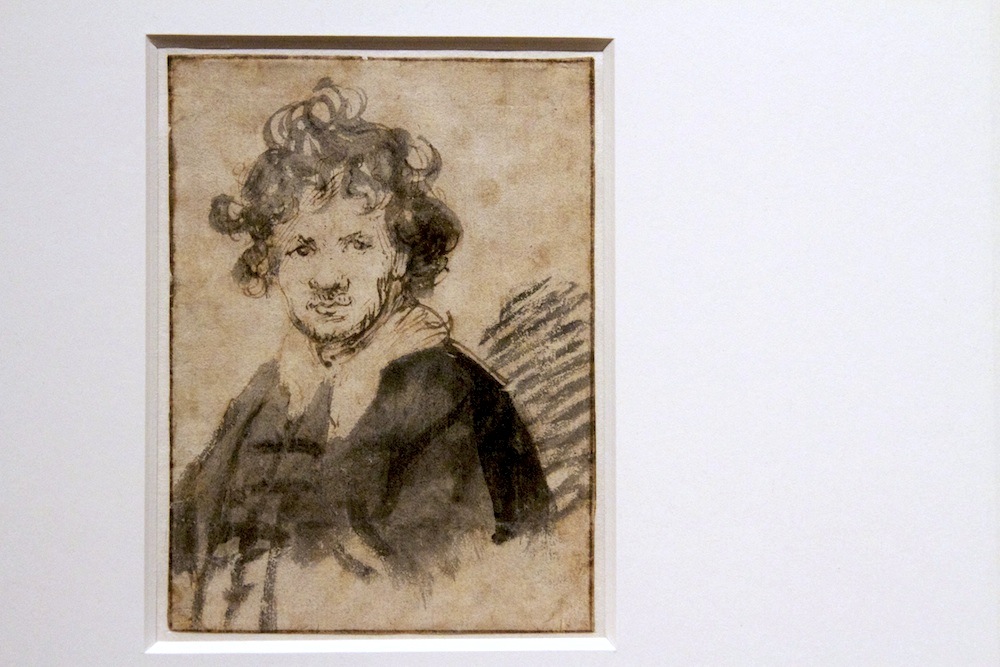 Moving from room to room through a labyrinth of doors, themes would fade and something else would emerge. One room you'd have ships, the next you'd see entire cases of baroque ceramics, and the next room over might have costumes or doll houses. Here's something I thought was interesting: a ceramic violin with a freaky head. It's meant to be admired, not played.
Though there was a LOT of art, the historical components of the Rijksmuseum were equally fascinating. I went into the museum with very little expectations of what would be around the next corner. I simply let myself be spontaneous. If something spoke to me, I'd linger. If a room disinterested me or was too crowded, I'd move onto the next one. There were dozens of rooms to explore, and I had nowhere else to be. There were no rules, really.
One of the most unexpected discoveries was finding the library. It actually reminded me a bit of the the House of Parliamant in Ottawa for some reason.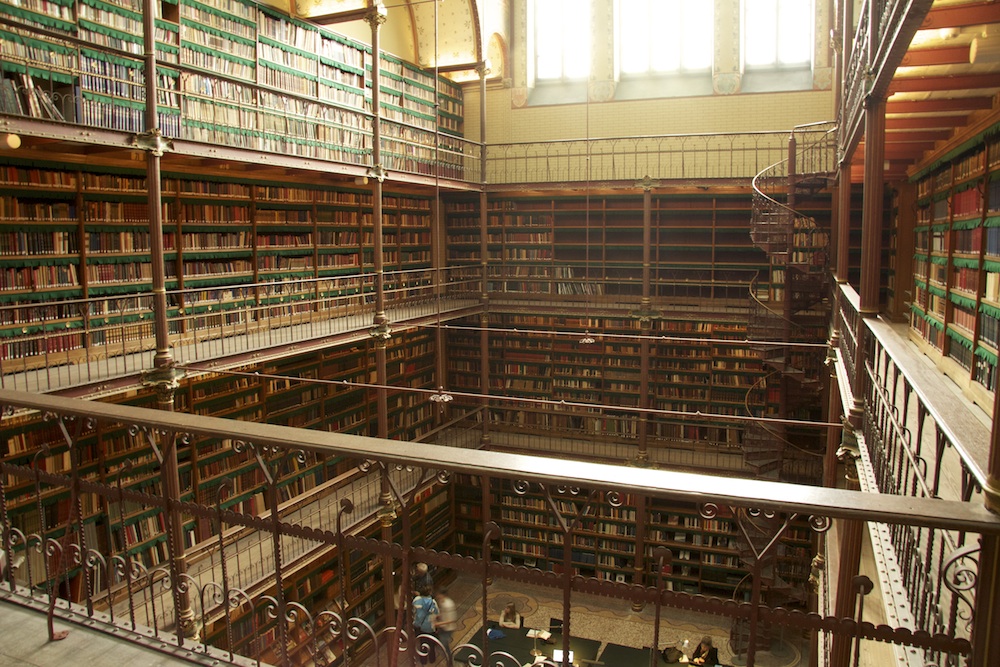 Another time I walked through a packed foyer and through a tiny unassuming door, only to find a beautiful small room of sculptures, and I had it all to myself!
A quick peak out the window provides you with this kind of view. Nice!
Other treasures discovered was the Heraldic funeral tunic from Prince Frederick Hendrick of Orange-Nassau's state funeral: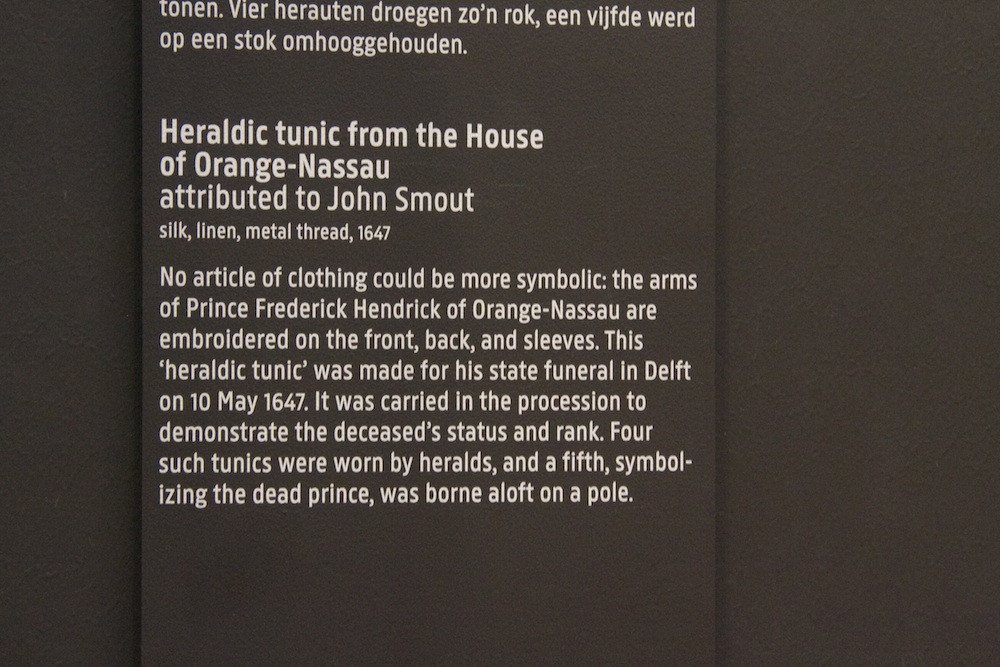 Like ships, antique artillery kept popping up…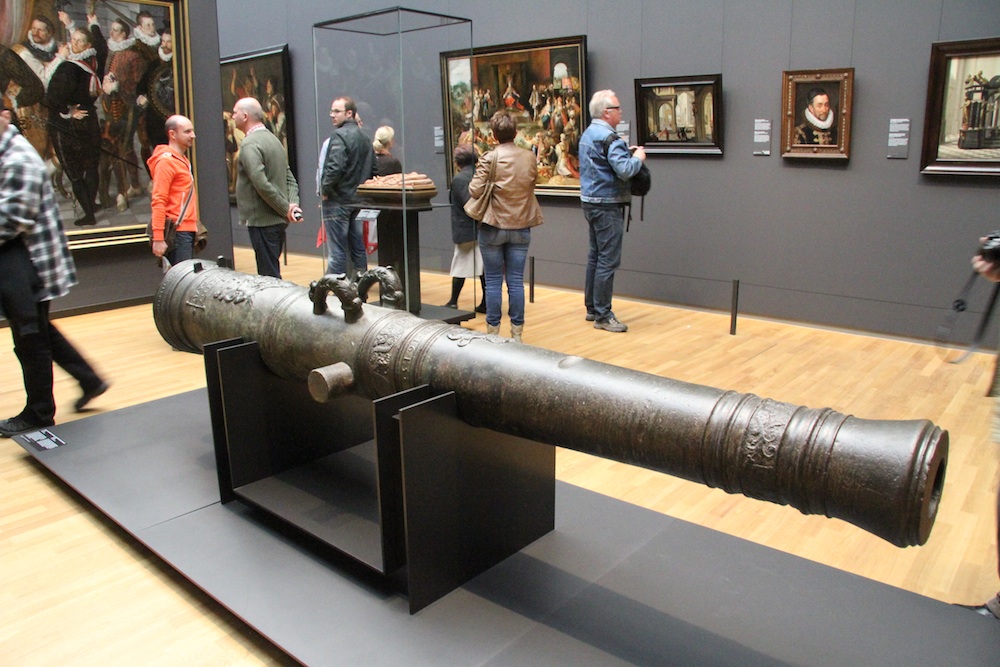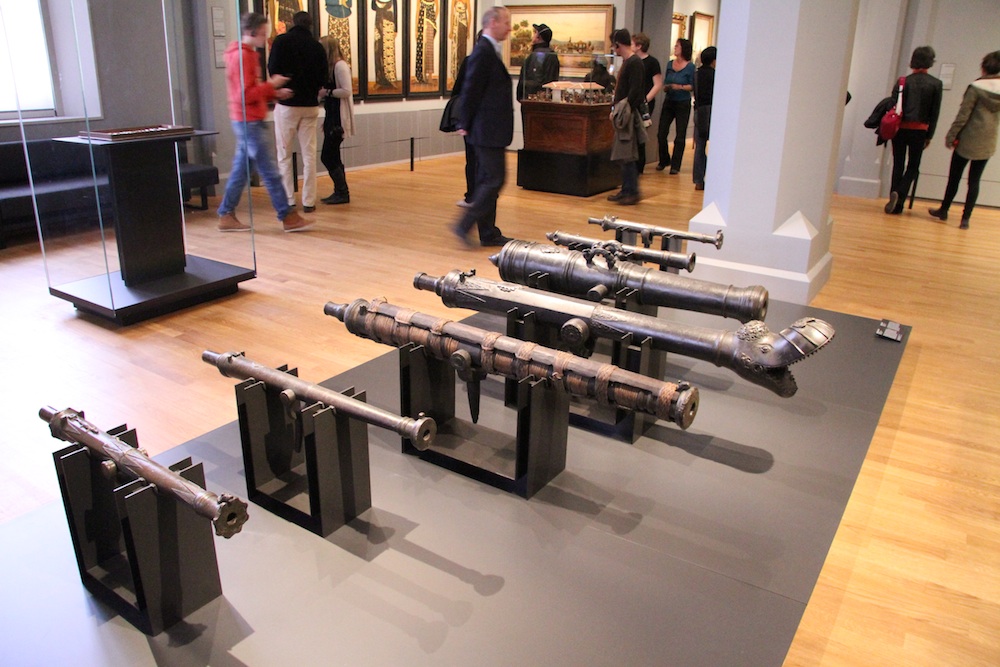 Some of them were extremely creative… and oddly reminiscent of Hungry, Hungry Hippos.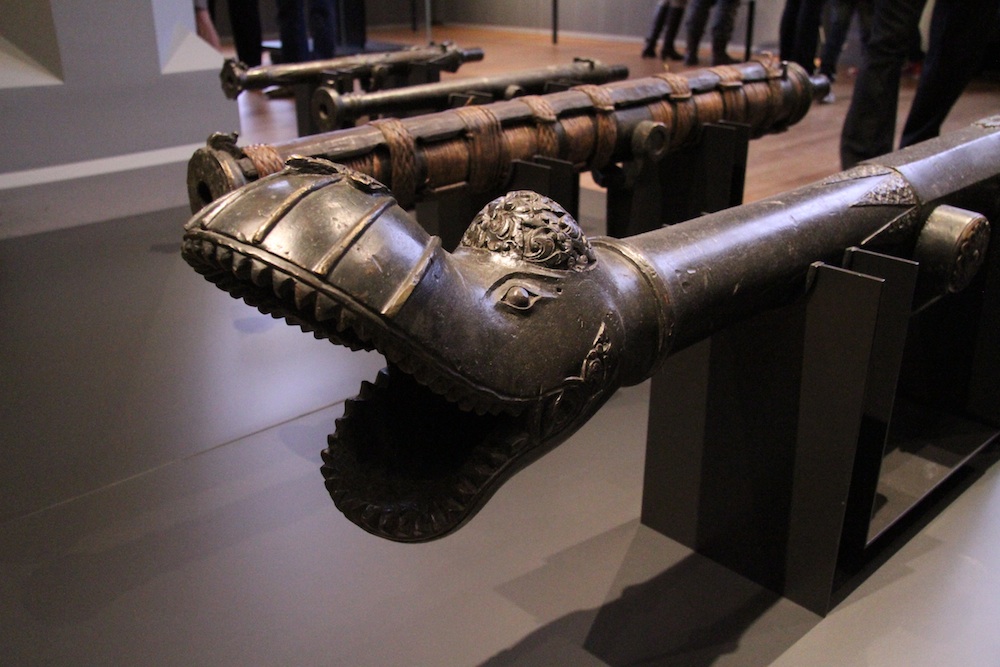 In another level of the museum, I discovered what are called "magic lanterns" which were hand-painted tiles of glass, like an early form of a slide show. Some were creepy, some were perverse, but all were beautiful in their own way.
By this point in time museum fatigue had crept in, and I was once again starving, so I left the Rijksmuseum and noticed that there was NO lineup outside! Does that mean you should ignore the "get there early to avoid the lineups" advice? I don't know, but on subsequent visits to the Museumplein, I noticed again that the lineups seemed to shorten dramatically by the afternoon.
And another funny coincidence… as soon as I got home to Vancouver, the Vancouver Art Gallery announced their new exhibition: Persuasive Visions: 17th Century Dutch and Flemish Masterworks and Contemporary Reflections, which "incorporates works from the collection of the Vancouver Art Gallery with important loans from a private collection and The Rijksmuseum, Amsterdam."
And so it goes.