It all began with a plate of chocolate.
There upon the dresser in my room at the Fairmont Winnipeg was a painter's easel. Entirely edible, it was made of chocolate and featured bison on its canvas; creatures I had seen in the flesh for the first time earlier in the day. "Were they aware of this?" I wondered as I bit into the gourmet chocolate truffles, my eyes scanning the words of Executive Chef Jeremy Langemann:
Dear BC Robyn,

I would like to welcome you to the Fairmont Winnipeg. We are excited for the opportunity to take you on a culinary journey tomorrow night!

I hope you enjoy your stay with us; should you require anything or have any question, please do not hesitate to call me at extension xxxx.

Culinary Regards,

Jeremy Langemann
Executive Chef
"Culinary journey" may be standard chef talk, but in this case, there was no exaggeration. I would not fully appreciate the magnitude of decadence I was about to experience, nor the literal culinary adventure that awaited until the next evening when the elevator doors opened on the 19th floor, and we (Travel Manitoba's Doug Evans and Kirsten Neil, and myself) were welcomed like VIPs with warm smiles and flutes of Prosecco. As we entered the Fairmont Gold Lounge, their exclusive "hotel within a hotel", we began to realize this wasn't going to be any ordinary dinner.
To say we were treated like royalty would be an understatement. Chef Langemann and Jacques Lavergne, the Fairmont Winnipeg's Director of Sales and Marketing, were our main hosts for the evening, exceeding our expectations in every way. "Our culinary journey begins here", Jacques explained. "But it doesn't end here."
We entered a private dining room in the Gold Lounge where we could gaze at the panoramic Winnipeg skyline, from The Forks and the still-being-built Canadian Museum for Human Rights, to the famous windy intersection of Portage and Main.
As we took in the view, the bartender mixed us his own creation, a Manitoba-inspired concoction of a Saskatoon (berry) and birch syrup martini. This was to pair with our first course, which our chef was busy preparing.
While sipping on the last of our Prosecco, we were treated to a whimsical amuse bouche of fois gras mousse cones. As I bit into the whipped savoury treats, I remember thinking, "Is this really happening?"
But it was. Here we were in our own private dining room, with our own private chef, our own private bartender, on the Gold Floor Lounge of the Fairmont Winnipeg, and we were being served some of the most spectacular food I had ever tasted.
Our first course consisted of a trio of duck featuring a coco twisted foie gras torchon with raspberry pearls, a crisp duck confit jambonette, and a pan roasted duck medallion with hibiscus gel. It was as delicious as it looks.
While enjoying a secondary martini, I felt like a million bucks. And just as we were all getting comfy with our situation, it was time to move on. Remember, we may have started our evening on the Gold Floor Lounge, but we were not ending our culinary journey here, oh no. So down the rabbit hole we ventured, following Jacques as he led us into the hall, down the elevator, and into one of the Fairmont Winnipeg's elegant ballrooms.
This wasn't your ordinary setup, however: the lights were turned off. As our eyes adjusted to the darkness, we could see a banquet table awaiting us in the far end, covered in branches with little green lights peppered throughout. Johnny Cash was playing faintly in the background. As we took our seats around the table, Unibroue's Belgian-inspired Trois Pistoles was being poured. The night was getting dangerous. Dangerous and amazing.
I remember being completely amazed by the whole spectacle. The otherwise cavernous space of a banquet hall had been turned into an intimate dining experience, and one of a kind at that. And it was here for the first time that I tasted rabbit. And it was amazing. To die for. Culinary clichés be damned, that top stuffed rabbit loin with applewood smoke, Manitoba Saskatoons, and morels? If this is what rabbit is all about, sign me up and give me seconds and thirds.
And did I mention that this was served on a plank of wood with a hand drawn map of Manitoba and the menu carefully illustrated thereon? It even had my Twitter handle on it! This whole meal was personalized in honour of my #ExploreMB journey, and I felt extremely humbled.
Finishing up our last bites, we were asked: "Where do all good dinner parties end up?" We paused for a moment, recognizing that the answer to this question would be our next stop in this culinary adventure: the kitchen! I remember giggling at the absurdity of it all, gleefully strolling down the hotel corridor and into the kitchen of The Velvet Glove, Winnipeg's only Four Diamond CAA-AAA award winning restaurant. This is where we would eating course number three and four.
We took a seat around the table in the kitchen, an elegant affair complete with white linen tablecloth and a team of smiling servers, pouring us sparkling water and my favourite white wine: a Kim Crawford Sauvignon Blanc from New Zealand.
Our third course came next. Arranged exquisitely upon a block of ice, our "iced" salad featured a curated selection of Harms Family Farm beets, shoots, lettuces, and edible flowers with a dressing of beet jam, lemon oil and juice. It was almost too beautiful to eat. Almost.
Our fourth course was equally spectacular, and a much more carnivorous affair. We feasted on roast veal tenderloin with braised veal cheek, celery root purée, potato "bone" and bone marrow jus. The Italian Tolaini Picconerro wine paired beautifully with the meal, and I remember savouring the moment with each mouthful. "Can't this last forever? This is unreal!" I thought. I snapped an Instagram photo and captioned it, "Insanity!"

And just when we thought we had seen it all, we were told we were going to our final stop of our culinary journey. We were led through the back door of The Velvet Glove, out into the alley behind the hotel. We walked around the corner, and there was a table waiting for us in the plaza on the corner of Portage and Main!
It was here where we were treated to our fifth course, an unforgettable summer dessert of roast peaches and blue cheese ice cream, with walnut "soil", white peach chutney, Balsamico and pastry. Unreal! And if that wasn't decadent enough already, the luxurious Royal Oporto 1977 was the icing on the cake. I was in heaven!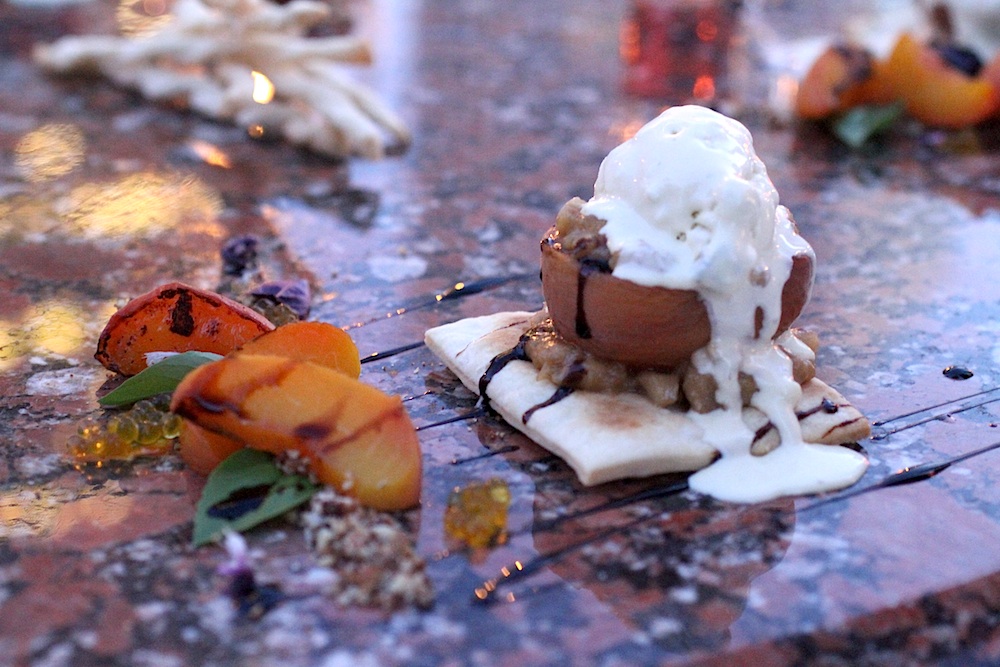 From the Fairmont Gold Lounge to the intimate ballroom, to kitchen-side dining, and then a private table on Portage and Main, it was a culinary journey like no other. The Fairmont Winnipeg exceeded all expectations, and then some. When I think back to that unforgettable night, I feel as though no words will ever adequately describe what I had experienced at the Fairmont Winnipeg. All I know is that out of every foodie-approved dining experience I've had all over the world, this pretty much tops them all.
Thank you Jacques and Chef Jeremy for an unparalleled dining experience that I'll never forget! You've taken Manitoba hospitality to the next level. You have a Fairmont Winnipeg fan for life!