After my day on the Assiniboine River, I met up with Samantha of Tourism Winnipeg. We had never met before, but we hit it off right away. After all, we were going to have a girls' night out at the nearby Shaw Park for a Winnipeg Goldeyes game!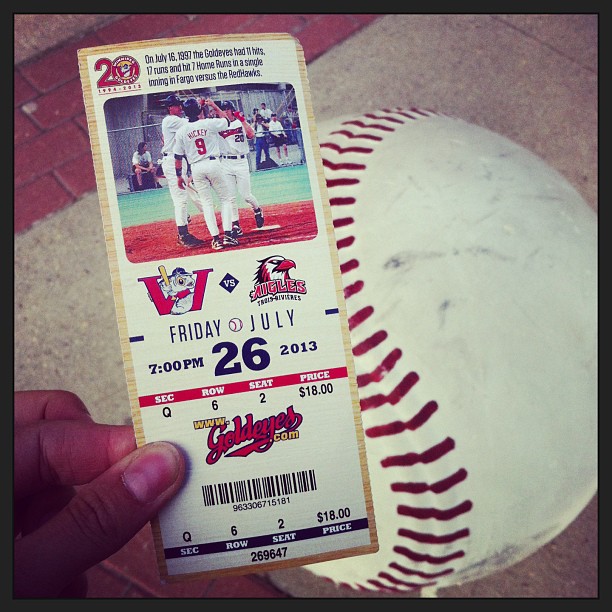 I love watching live baseball games, and so did Samantha, so we were both giddy and excited about the evening's event. As we arrived at Shaw Park, which just so happens to be conveniently located next to The Forks.
As we approached the entrance, there was a live band playing in a plaza underneath a rolling freight train. I couldn't help but think, "This scene is SO Winnipeg!"
We had great seats, but to be fair, I don't think there's one bad seat in the house. The ballpark's gorgeous! Shaw Park might have opened in 1999, but it feels authentically old school, just how you want a good ballpark to feel.
As every baseball fan knows, the experience of watching a game is as much about the food you eat as it is the sport. We therefore enjoyed some free potato chips that were thrown into the audience (made by Old Dutch – a Winnipeg company!), as well as some Fort Garry Dark Ale, and the obligatory foot-long all-dressed chilli dogs! Sure, they had a diversity of food options, but we both agreed that not eating a hot dog was sacrilegious!
The Goldeyes played well against the Trois Rivières Aigles, or so I thought.
Goldie the mascot was a hoot, and everyone seemed to be in such great spirits. There was plenty of entertainment, from dancers to silly audience-participatory games on the field. I still vividly remember the little francophone boy sitting behind us, shouting out "Goldie! Goldie!" whenever his beloved mascot walked by.
Although the Goldeyes played well, les Aigles won 6-4.
Sure, we didn't get to see the finale fireworks, but I was okay with that – we saw an amazing sunset instead.
As we both departed Shaw Park, I realized that Winnipeg just doesn't just have an amazing arts and culture scene, but they have some of the best sports fans I've ever encountered. Winnipeg? You're a class act.
Thank you to Samantha, Tourism Winnipeg, the Winnipeg Goldeyes, and Shaw Park, for a fun night out!