Visit Seattle invited me to spend two days in Seattle as a part of their #2DaysinSeattle campaign. Don't know what #2DaysinSeattle is? Read my previous blog post, "So you're spending #2DaysinSeattle."
The drive from Vancouver to Seattle was pretty straightforward. We left at noon and breezed through the Peace Arch crossing with no more than a five minute wait. First stop was Haggen in Ferndale for our traditional craft beer and wine pick-up. Since we hadn't had lunch, we also grabbed a sandwich and a bag of chips to share, and ate on our drive south along I-5. We arrived in Seattle city limits at 3pm and the sun was shining.
The Hotel Max
Visit Seattle put us up in the Hotel Max, a hotel that's always been on my radar, that my friends Mikala and Leah have stayed at and rave about, but I had never been there until this trip. I was really looking forward to our stay.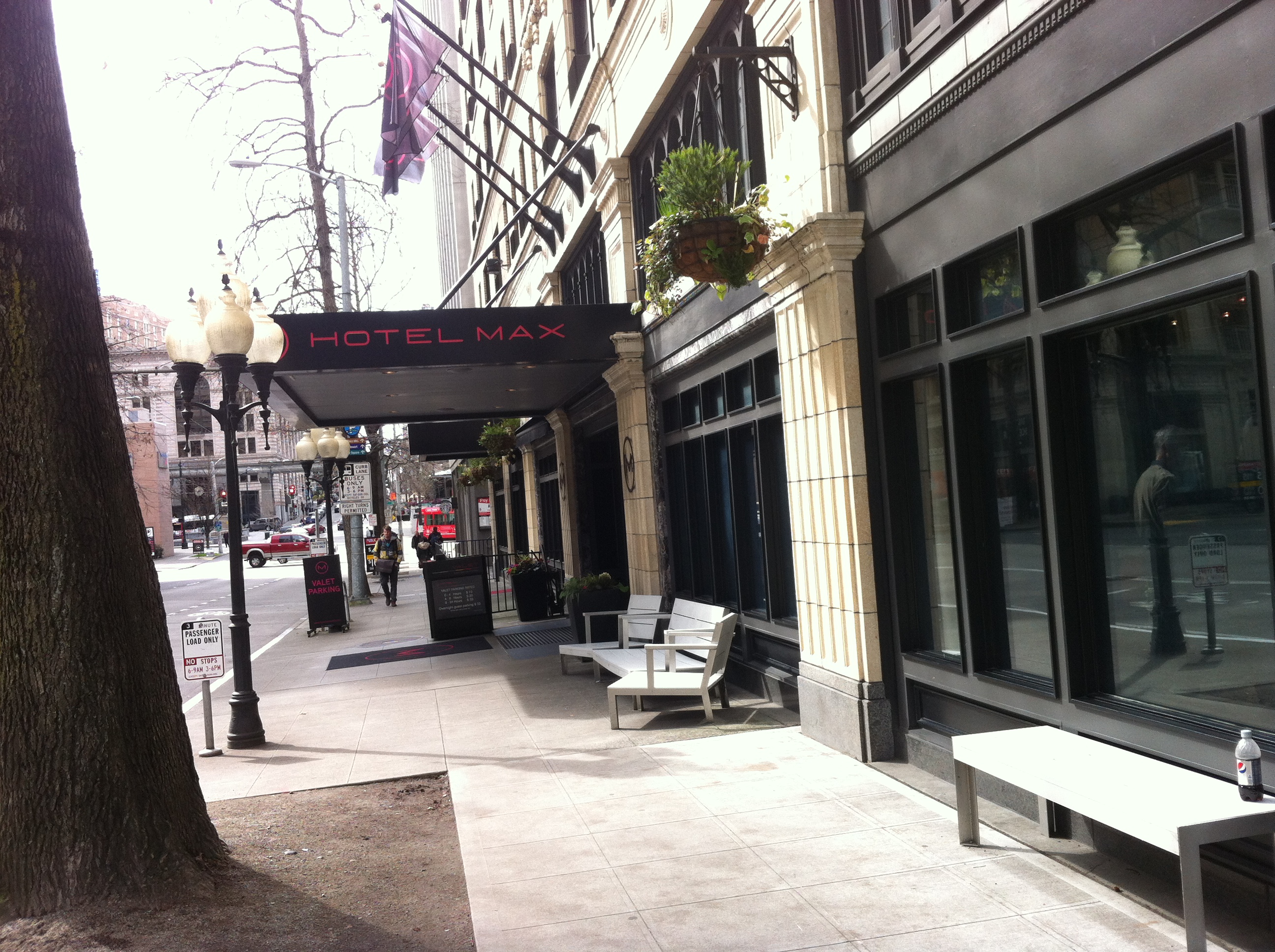 The hotel is right in downtown Seattle on Stewart and 7th, a short distance after you take the Stewart exit off I-5. It's a hip, modern, contemporary hotel with a bit of an artsy rock star vibe thrown in.  The location is central, just around the corner from the main downtown shopping, and a bit further walking distance from 1st Ave in Belltown where we normally stay. Capitol Hill was also a short cab ride away, so it was perfectly central for this trip.
We parked our car with the valet (included in our stay, a nice surprise!) and then checked in, which was a breeze. The staff were super friendly and helped us with our luggage. We then took the elevator up to the 8th floor to discover our beautiful suite!
On the table I opened Visit Seattle's welcome letter (which included our $500 Visa card and $100 in Shell gift cards). They also left us a little housewarming gift, which was super sweet: Washington state red wine, chocolate, and a Visit Seattle water bottle. We totally felt like VIPs, it was hard not to get comfy and indulge.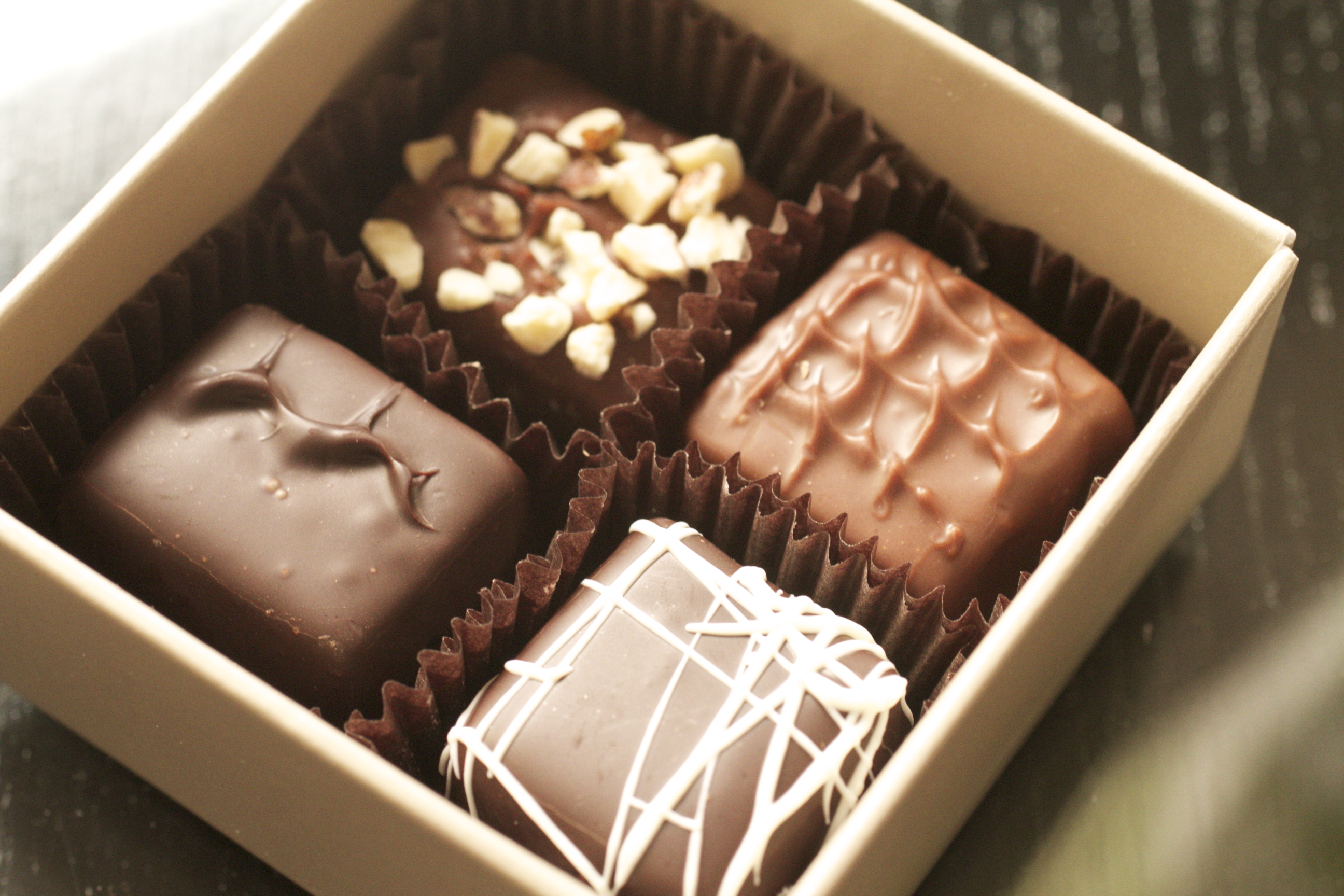 I like the tribute to Kurt Cobain on my keycard.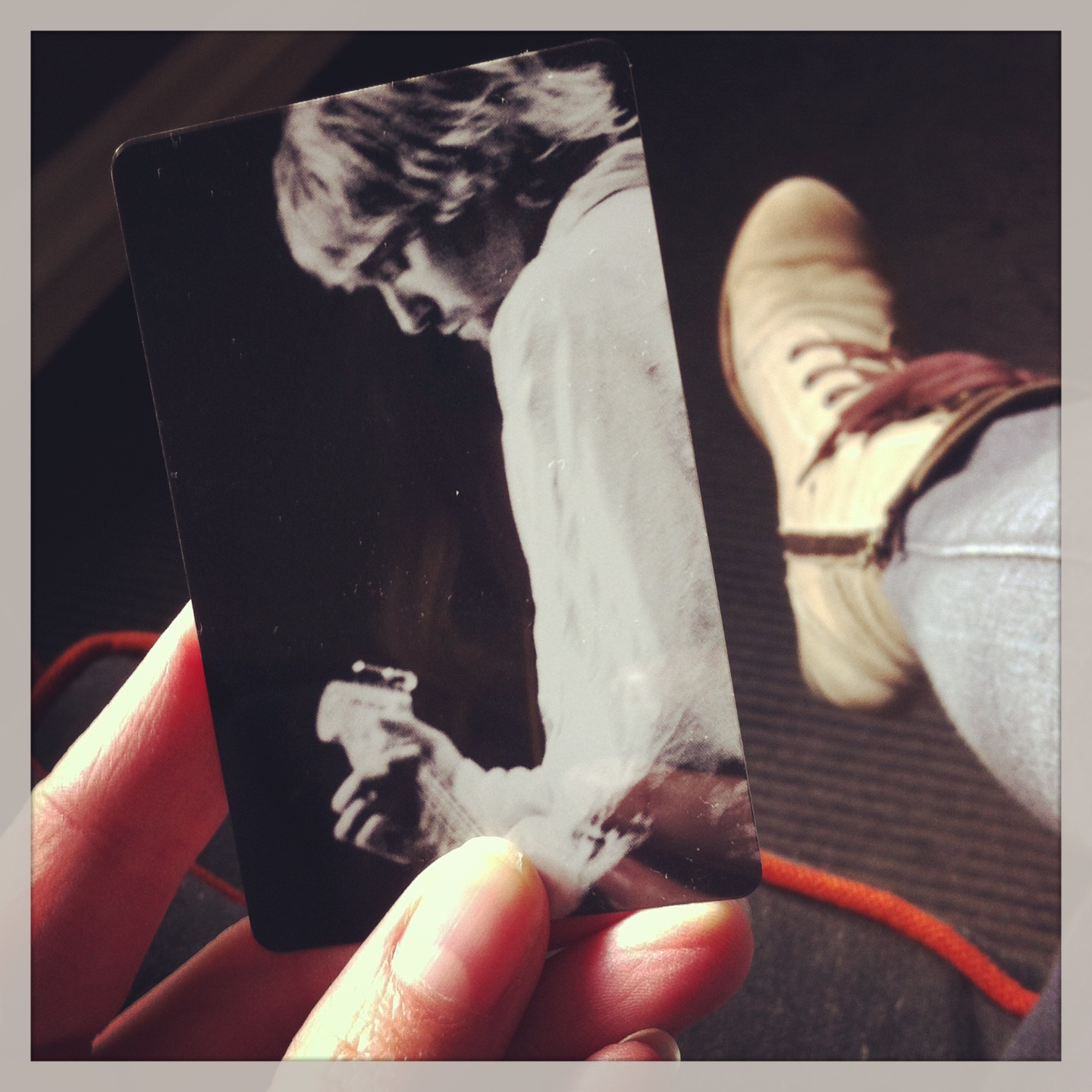 Shawn was particularly pleased because the couch matched his socks.
But of course, we didn't come to Seattle to sit around watching TV all night. It was 4:30pm, the beginning of happy hour at the Hotel Max's Red Fin restaurant, as our concierge knowingly informed us. It was a good place to start as any.
Red Fin
Red Fin is the Hotel Max's restaurant and bar, adjacent to their lobby, which you access through a hidden door. It's a hip, contemporary sushi restaurant. When we entered, beautiful Seattle office workers were already at the bar enjoying their post-work drinks.
Shawn and I took a seat at an illuminated bar that seemed to have a sort of Quadrophenia colour scheme that went with the rest of the decor. We ordered off the happy hour menu the most delicious agedashi tofu (topped with bonito flakes and shitake mushrooms in a rich dashi broth) as well as a Seattle roll (salmon, avocado, cucumber).
We decided to kick off our drinking with a small cocktail made of lychee liqueur and sake. Sweet, smooth, delicious and truly unlike what we'd normally order, but there wasn't a lot on the drink menu that caught our eye. When we got our bill, Shawn remarked that we probably would have paid double for something similar in Vancouver, and he's probably right.
It was here that we figured out our game plan for our #2DaysinSeattle. I decided that we'd spend all of Saturday in Ballard, and that tonight we could stick around downtown and Capitol Hill. I also determined that if there was one place I absolutely had to visit during this trip, it was Canon. Canon was recommended to me by Vancouver's bartending elite (thanks Lauren Mote!) as well as my Seattle-savvy friends. Any bar that self-identifies as a whiskey and bitters emporium is good in my books, and so we went.
Canon
Located in Capitol Hill two blocks south of Pike, we arrived at Canon and seated ourselves at one of the last remaining seats along the bar. The place was simply cool; it oozes that old fashioned pre-prohibition 1920s style (the Victrola was a nice touch) and its walls were lined floor to ceiling with all kinds of rare spirits and bitters. The bar's the central feature, with tables set up along the periphery of the small, intimate space. It's no wonder the place is on the must-see list for craft cocktail geeks.
Two bartenders (considered some of the city's best) were busy mixing concoctions throughout our visit that we really never spoke to them. It was a shame, as we were hoping they'd be a tad more social (because they're very friendly on Twitter!) but barely a word between us was uttered, besides taking our order and paying for the bill. It became apparent that Canon's not that kind of a bar, the abnormality of our entire trip.
My cocktail, The Hooker (bourbon, scotch, beer, averna, bitters, egg white) was a stout-like frothy potion not unlike a smokey root beer. Little did I know that this would be my favourite cocktail of the night, and I guess it's no surprise.
Canon is indeed a whiskey lover's best friend. Their menu features inventive takes on classic whiskey cocktails, aged whiskey cocktails (cocktails that have been mixed and then aged in barrels), carbonated specialties, and then some… and that's not even taking into consideration their encyclopedic "Captain's List", a 70-pager of classic cocktails and spirits. I think I read somewhere that they've got the best whiskey collection on the west coast, which totally makes sense. Despite an interesting food menu (foie gras panna cotta, anyone?), we didn't want to settle down, so we simply opted for a snack of Angostura Bitters nuts (made with pretzels, cashews and caramel corn). It was stupidly good.
Realizing that we were enjoying our "one cocktail, one bite to eat" method of exploring Seattle, we thought we'd continue the trend. Despite Canon's delicious libations, we got our "check" and vamoosed.
Barrio
After Canon, we quickly popped into a new place two doors over called Von Trapp's, which turned out to be a massive Bavarian beer hall teeming with hipsters. I started to laugh when I walked in because it was so insane and amazing. It looked like fun and totally ridiculous, but it was so busy and we weren't in the mood for beer or bratwurst (cocktails and one bite to eat, remember?), so we decided to just keep moving. We strolled north back toward Pike (one of the main streets in Capitol Hill) and passed by Barrio, which we had read earlier during a quick iPhone Google search as having one of the areas's best happy hours. And so we went.
Fortunately for us, we got a seat at the bar five minutes before their happy hour ended. It was just enough time to order a margarita, a paloma, and a couple of chipotle braised pulled chicken tacos (comes with escabeche slaw, avocado salsa, and cotija cheese).
Our bartender – a friendly guy in tattoos – brought us the complimentary salsa and chips, which is to be expected of course, and really isn't noteworthy normally, except that these salsa and chips tasted incredible, and sort of proved to us right there that Vancouver's Mexican cuisine almost always falls short. We didn't stay long at Barrio because we wanted to keep moving, but we loved the food and the atmosphere. One sip of that paloma and I was transported back to Puerto Vallarta.
The Tin Table
Unsure of our next destination, we wandered further down Pike and through the side streets seeking something to catch our attention. Tavern Law seemed interesting through the windows, but we kept walking. Elysian Brewing Co. beckoned, but we had been there so many times in the past and were still in cocktail mode. We walked into a gay bar, Purr Cocktail Lounge, but realized it wasn't the scene we were seeking at that moment. So finally I suggested The Tin Table, a restaurant Shawn and I enjoyed once two years previous, and I knew it to be good. A revisit was long overdue.
Hidden away on the second floor of a building full of ballroom dance studios, The Tin Table's not the first place the casual tourist would go looking for a drink. Of course, the locals are certainly aware of its existence. With ballroom dance classes being taught in the adjacent spaces, it only makes sense that the Tin Table is a restaurant owned by Century Ballroom. Dinner and dancing – it doesn't get more classic than that!
Sitting at the bar (the only space available to us – all the other tables were reserved), it's hard not to feel like you've stumbled upon a secret supper club, or your friend's really cool apartment-turned-restaurant. The space, though spacious, feels intimate and approachable, and definitely not pretentious.
Shawn decided to go with an Old Fashioned Old Fashioned, and I decided on a Saffron Sour, watching our bartender meticiously craft these beasts – carving the block of ice by hand, carefully painting bitters into my froth of egg white – all the while engaging in fabulous conversation with us without even missing a beat. He also gave us a lot of fantastic happy hour suggestions and tips for exploring Ballard the next day. Needless to say, the Tin Table did not disappoint. It would have been easy to stick around for more cocktails, but the Elliott Bay Book Company was literally next door, and books needed to be bought.
Elliott Bay Book Company
Armed with our Elliott Bay Book Company stamp cards (worthy of $20 towards a purchase), we were determined to buy books here, and drunkenly enthusiastically to do so. I knew going in that they were open until 11pm, so there was absolutely no rush for us. Still, it's one of our favourite places to visit in all of Seattle, and no trip to the Emerald City would be complete with out it, so we were eager to spend some quality time finding treasures to take home.
I think what I love about Elliott Bay is that they have a strong sense of Seattle personality and identity, and there's a real book-loving community here. They have a beautifully curated selection of west coast books (history, nature, Washington state lore, etc.) while also offering the literary snobs the canons of new and old.
I always make a bee-line to the staff picks, often picking up something I know nothing about. I'll also eye their cookbooks (located at the back near their wonderful-smelling coffee shop). I'll then dip into the art section, peruse the graphic novels/comics, before picking my way through the bargains. I'll then do it all over again. Some say this is the best book store in all of Seattle, and while I haven't done much of a book store crawl through Seattle yet, I wouldn't doubt this to be the case.
And yes, I bought books. The Best American Travel Writing ($5.99) and Natural Histories: Extraordinary Rare Book Selections from the American Museum of National History Library ($50). I spent my own money, if you were wondering. Our Visa card, we decided, would be spent exclusively on food, drinks, and cabs.
Zig Zag Cafe
Armed with paper bags of books under our arms, we were still riding our cocktail buzz as we exited the bookstore. Dashing up Pike, we originally tried to get to Tavern Law because our bartender at the Tin Table was raving about the place, but it became apparent once inside that there wasn't going to be a seat for us for quite some time. A shame, but that's okay; we hailed a cab to the Zig Zag Cafe – another often-mentioned cocktail bar touted amongst cocktail geeks as one of Seattle's best.
You know those stairs that go down to the pier from Pike Place Market? Zig Zag's situated right there, tucked away from the view of the street. Walking in, the place was buzzing with locals. It seemed totally unpretentious and a bit more casual than the other places we had been to. A friendly waitress sat us down at one of their last remaining tables – our first table of the evening.
We shared an order of sauteed calamari (in a sort of caper sauce if I recall – delicious) and we each ordered a cocktail. Shawn had a whiskey cocktail, again. Another old fashioned? A sazerac? I don't remember. Shunning whiskey for gin this evening, I ordered the "Alaska Cocktail"  made simply with gin, Yellow Chartreuse, lemon peel, and orange bitters.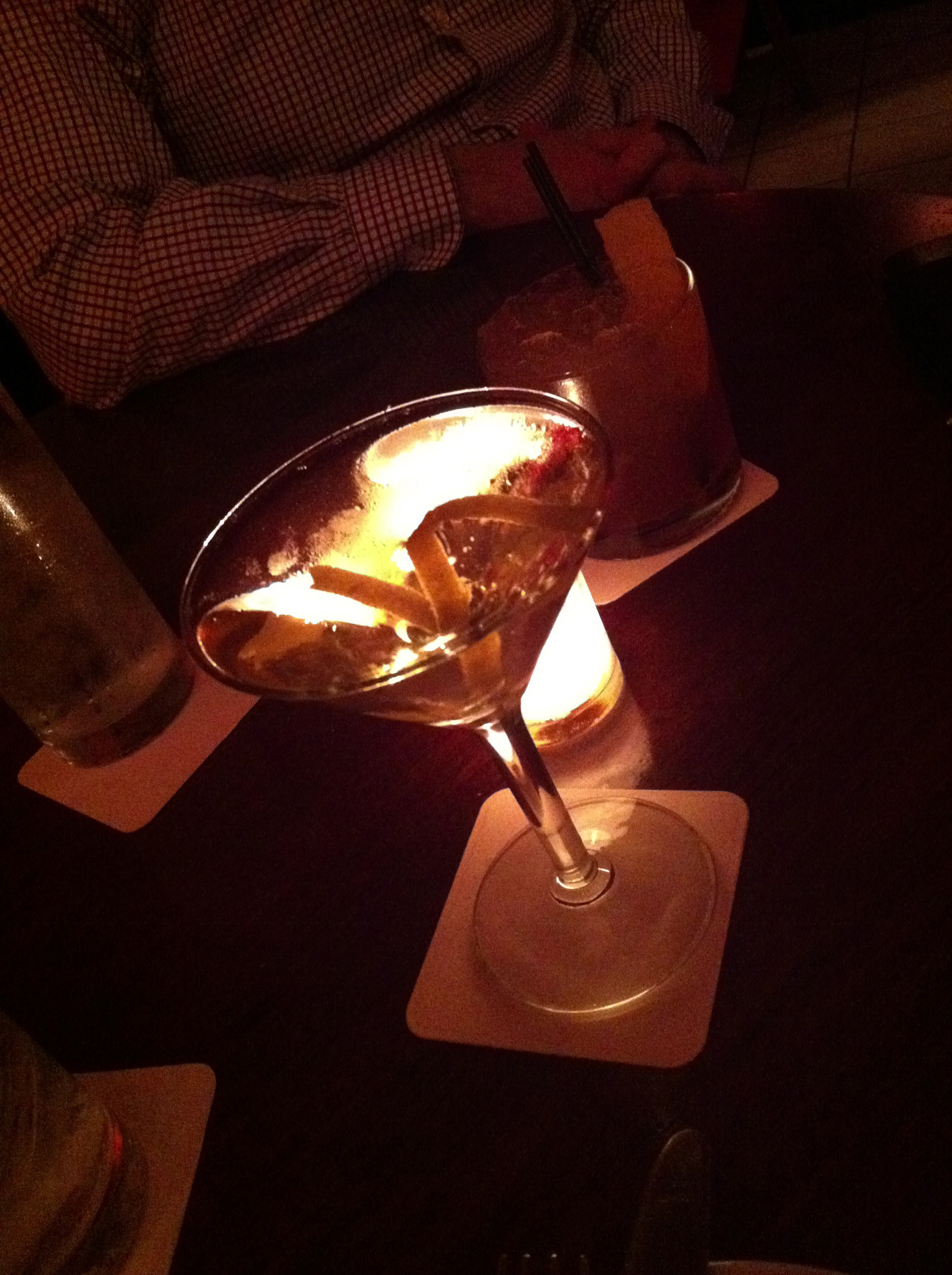 It was here that I realized that I don't really like Yellow Chartreuse. My first cocktail fail of the evening, but I didn't let it get to me. Instead, I sat around and played flaneuse – anonymously observed the surroundings; the ladies with red roses seated behind Shawn at the bar, or the one young woman reading a novel across from us, seated purposefully by herself, sipping a cocktail. Amidst the buzzing of cheerful Friday night cacophony, my lasting memory of Zig Zag is of that girl, thinking how I never do that; sit at a crowded cocktail bar late on Friday night, by myself, just to get lost in a book.
Bathtub Gin & Co.
Realizing how close we were to our Seattle stomping grounds of Belltown, we ran up the stairs to Pike Place Market, and simply walked down 1st until we reached Bathtub Gin & Co. This little speakeasy was put on my radar because my sister's friends had discovered it through the #2DaysinSeattle website (coincidence!), paid it a visit,  and fell in love with the joint… and that was good enough for us!
This infamous speakeasy is tucked in the alley between 1st and 2nd and is mighty popular, so don't be alarmed if you're made to wait in the alley for a few minutes while a seat opens up. On a Friday night, the place was swamped, but fortunately we had access to one  of the last remaining seats in a tiny room downstairs.
Down in this tiny rec room (complete with couches and bookshelves), we befriended a group of locals and their visiting friend from England. It felt as if we crashed a house party. Subsequent online reviews of Bathtub Gin describe the experience in the same way; you just can't not meet people here. I don't even know what we were talking about, but we had great fun and seemed to enjoy our gin cocktails, whatever they were. It's here where memories become hazy. All I know is that we had fun with the bill at the end of the night.
Spur Gastropub
Our seventh and final bar of the evening was Spur Gastropub, a place we've longingly admired for years but had never ventured in due to bad timing on our part. This time, it was almost serendipitous, situated within stumbling distance of our previous venue!
Now Spur is a classy joint. Darkly lit with classic films projected onto the wall (tonight was Casablanca), we took a seat at a table near the bar and ordered our last cocktails of the evening. My Ambrosia Arnaud's cocktail was incredible, but so was the food.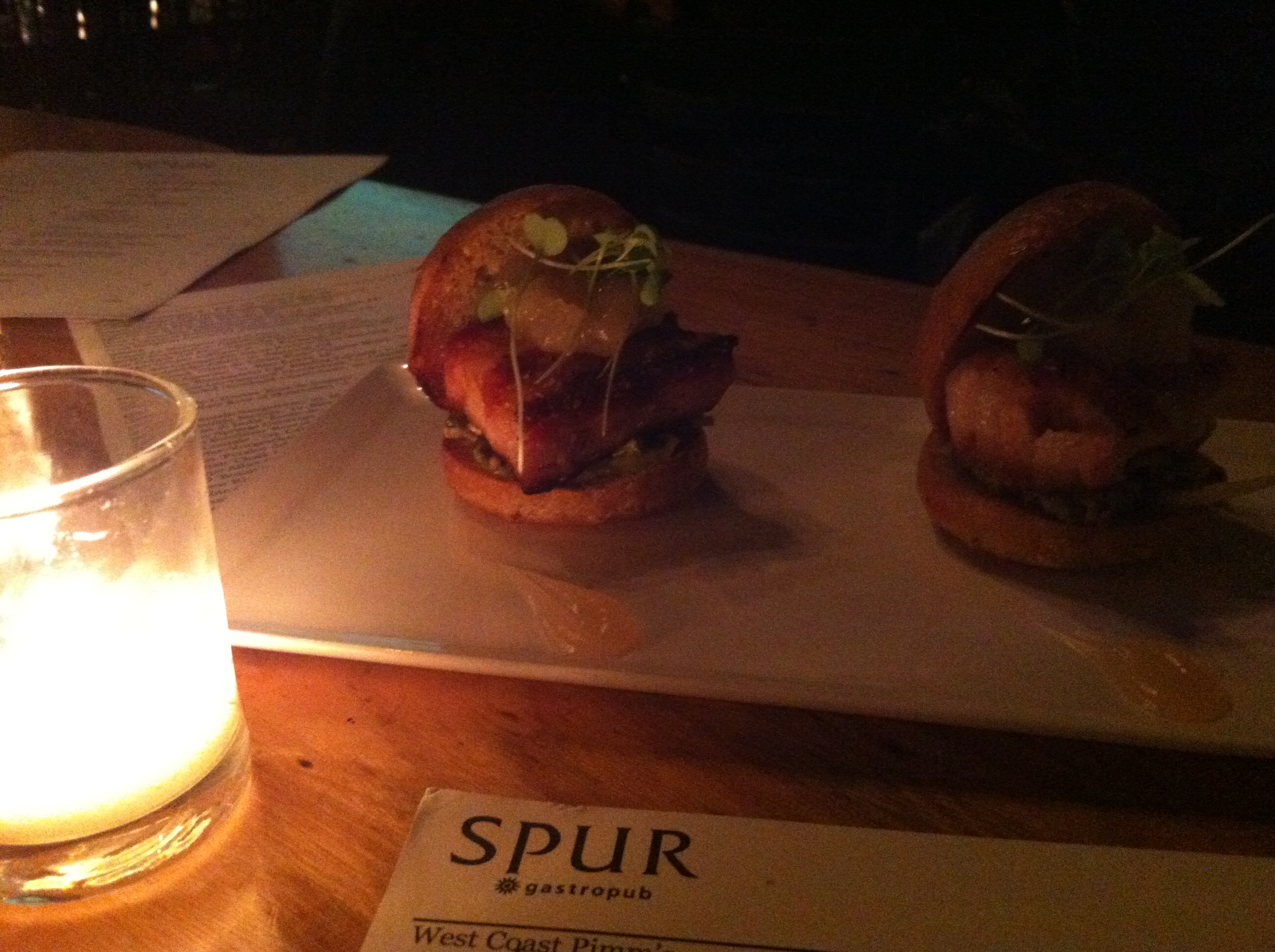 We ordered two of the Sockeye Salmon Crostini (with mascarpone, capers, and pickled shallots) which was certainly some of the most sophisticated cuisine we encountered all day. Of course, we had focused primarily on drinking rather than eating, something that became apparent to us at this point in time. While my photography got slightly blurrier, I was still coherent enough to proudly show off my books to the gentleman who eyed my Elliott Bay Books bag, inquiring about the contents within.
I also remember trying to sneak photos of the bartender, which I failed miserably to do, and I also recall how attentive the service was. Spur Gastropub is definitely a place I'd love to return to, perhaps earlier in the evening on another trip to Seattle.
Cabbing back to our hotel was fun, a mere six blocks, to our cab driver's chagrin. We don't remember riding the elevator up to our hotel suite, but I do recall putting on the luxurious striped bathrobe and finding a personalized greeting card from the staff of the Hotel Max waiting on my pillow, something that I found quite delightful indeed.
What can I say from the end of this escapade? Our first day in Seattle was a success!
Our balance from the $500 provided?
$249.50