Robson Street's famous for its retail chain shopping and perhaps even its authentic Asian restaurants. But what Robson Street is not known for is a place where you can find cozy, neighbourhood restaurants that focus entirely on local, ethical, sustainable cuisine. That hasn't been the case, until now.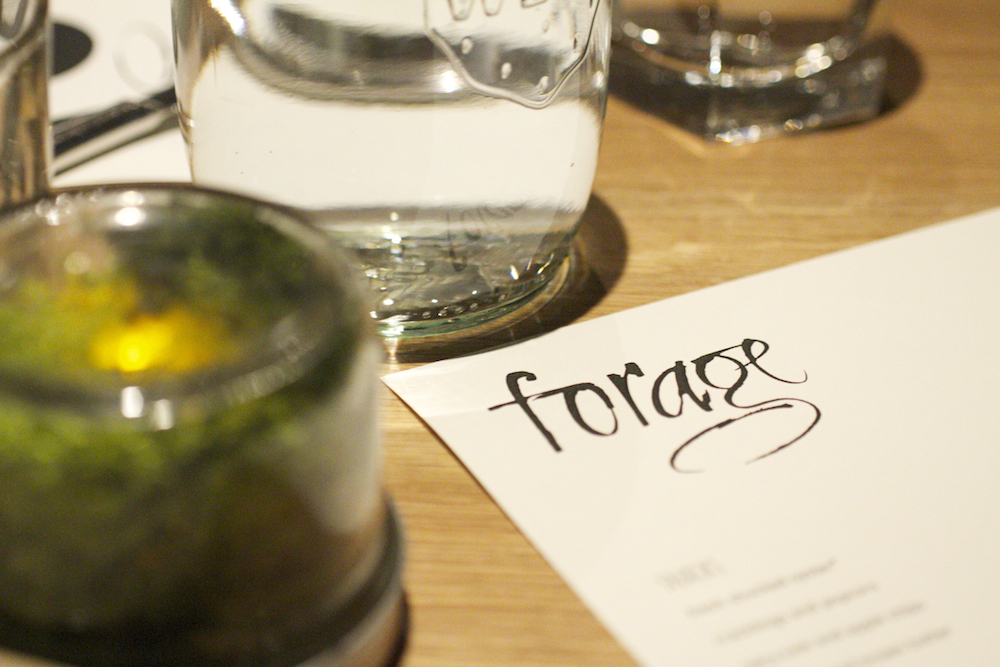 Forage, the new restaurant at the Listel Hotel, officially opened on November 20 occupying what was formerly O'Doul's Restaurant. A few days before the opening, Shawn and I were spending the night at the Listel for a weekend staycation (I had won the stay in a silent auction earlier in the year), so we thought we'd have dinner at Forage during its soft launch as a part of our stay.
Shawn wrote about our Forage experience for Inside Vancouver while I snapped photos. And I figured, you know what? I'm also going to write a blog post about my experience too.
First, the space. It's modern and hip while being warm and inviting, and not unlike the style of restaurants you may find along Main Street. No surprise, the same designers who designed Habit Lounge on Main also designed Forage. There's the main bar area encased in bright wood, as well as a main dining area where we were seated. With the soft felt material on the walls and beautiful moss and Mason jar tea lights (evoking the foliage from a west coast rainforest) it was a cozy environment.
With Head Chef Chris Whittaker at the helm, the menu is neatly divided into a two sides: Food and Drink. Food is organized into unique categories: Snacks, Irons, Boards, Plates, Bowls, and Sweets, with often just four items per category. All seafood is Ocean Wise. The Drink menu features BC craft beer on tap, bottled beer from west coast breweries, BC wine (bottled and on tap), Sea Cider's Pippins apple cider, as well as three cocktails: Sweet, Sour, and Savoury.
We first tried The Savoury ($12) made with muddled dill, Okanagan Spirits Aquavitus, Victoria Spirits gin, served neat. The cocktail tasted subtly of anise, a flavour prominent in the aquavit.
We also tried the Sour ($12), made with muddled quince (my favourite fleeting autumnal ingredient), organic lemon juice, McLoughlin & Steel Canadian rye whiskey, a splash of bitters, on ice. Both cocktails were excellent and made a great first impression.
As a snack, it was suggested that we order the Cracklings and Popcorn ($5). I couldn't take my hands off this stuff, but that's popcorn for you. While I'm still not sure if I'm a huge fan of cracklings, it did make for an interesting take on a bowl of popcorn. Cracklings fans will have a field day, no doubt.
We also ordered the Spicy Kale and Apple Chips ($5). The brittle pieces of baked kale were addicting and the clear stars of the snack plate. The apple chips offered some diversity, but it was all about the kale.
When it came to our actual meal, Shawn and I ordered a bottle of Blue Mountain Pinot Noir and we both picked a variety of things that appealed to us from the menu. For Shawn it was the Foraged and Cultivated Mushrooms ($12) which was served in an iron skillet with Okanagan goat cheese, an arugula pesto, and two slices of their in-house grilled caraway rye. We ate the mushrooms by spooning them onto the toast.
Hearty, healthy and delicious, this was the perfect thing to share for two people, although if they're still serving two slices of rye (they were working out the kinks of their menu and might have changed this already), you may want to order extra bread if you plan to eat the mushrooms the same way we did.
I then ordered the Fanny Bay clams ($12) which were cooked with bits of merguez sausage, Sea Cider's Pippins apple cider, served with a side of romesco.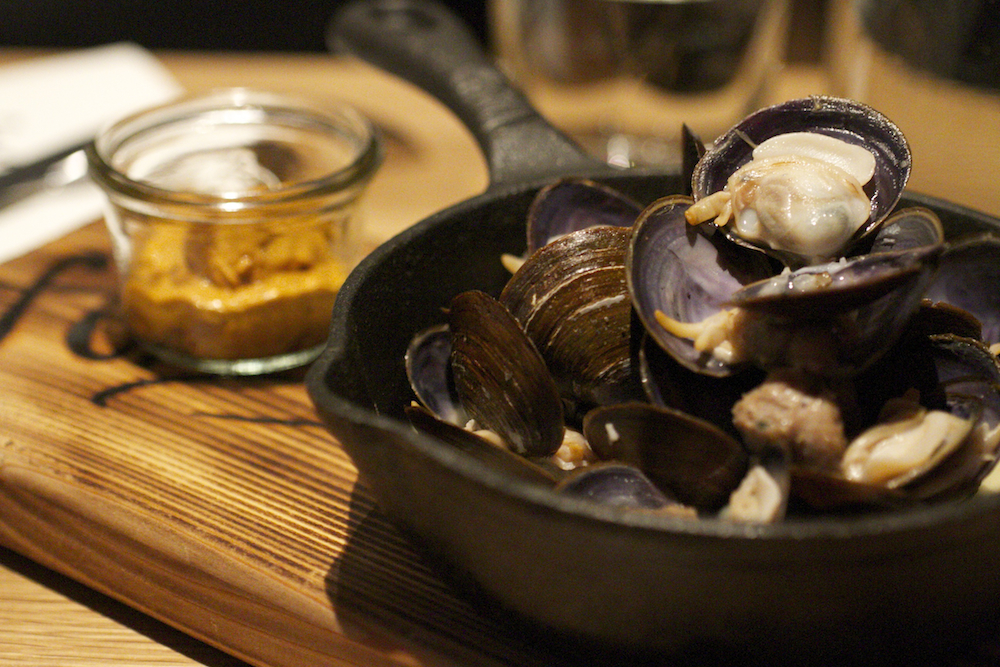 Romesco is a nut and red pepper sauce that originates from Catalonia and it went extremely well with the clams. Although it has the potential to overpower the more nuanced flavours, it works well in this dish. The sausage, clam, and romesco combination is brilliant.
My Ukrainian heritage came calling when I ordered the Squash Pierogies ($12) served with smokey potatoes, a scallion crème fraîche, and a birch syrup vinegar reduction. The cream and birch reduction complimented the naturally sweet squash filling while the smokey potato chips offered a satisfying crunch in contrast to the pillowy dumplings. I was in my happy place.
Next we tried the Albacore tuna ($20) served with blackberry and fir jelly, chanterelle mushrooms, brown butter gnocchi, hazelnuts and squash. The tuna was perfect, and the gnocchi (a personal favourite) combined with the mushrooms, hazelnuts and squash was absolutely glorious. Saying that, I think the dish was screaming out for a roast chicken or a fully-cooked fish rather than a seared tuna. Is that being too traditional? Perhaps. For me, the flavour profiles were so autumnal and earthy that the tuna's rawness enhanced its fishiness which made its flavour seem out of place, even though the tuna was fabulous on its own.
For example, the tuna could have been perfect on our next dish: the Double-fried Pork Cutlet ($14) served with a generous portion of mustard greens, bull kelp, and pickled cipollinis. There was an instant familiarity with this Japanese-inspired dish, the crunchiness of the pork and the serious tang to the greens from the pickled onions.
The Dungeness Crab Cake ($14) served with a horseradish aioli and organic greens was also a hit with the table, although we craved a kick from the horseradish.
Perhaps the most memorable dish of the evening was the one I dared to order: the Bison Tongue Ravioli ($16) served with wild watercress, crispy parsnip, grilled matsutake, and braising jus. While I'm not a picky eater, tongue is not normally what I go out of my way to seek, but I was willing to take this risk and it paid off wonderfully.
There was one ravioli, the size of a plate. The tongue had been cooked and prepared so that it was tender pieces of pulled meat, completely unrecognizable as a tongue (it matters!). Combined with the jus and the crispiness of the parsnips, the whole experience of eating this ravioli was exquisite. The grilled matsutake was actually the weirder part of the meal. I mistook it for parsnip at first glance, and it even shares the same fibrous texture as a parsnip, but this prized mushroom has a distinct woodsy flavour.
Dessert was tricky. With three items on the menu, all sounding equally delicious, how does one choose? Easy. You order all three.
The Apple Pie ($8) is a must for anyone who loves pie. It was probably the best apple pie I've ever had. It  had a black pepper short crust topped with honey streusel, served with vanilla ice cream, a side of quince jelly, as well as what looked like two balls of melon, but they were apple that had been soaked in… whiskey? I kept coming back for another bite of that pie. And then another. And then another. Man, that was a great apple pie.
The Pain Perdu ($8) was decadent, made with autumn spice brioche with hazelnut caramel and brie Anglaise. Kind of like a cross between bread pudding and crème caramel, I could have easily gobbled the whole thing up.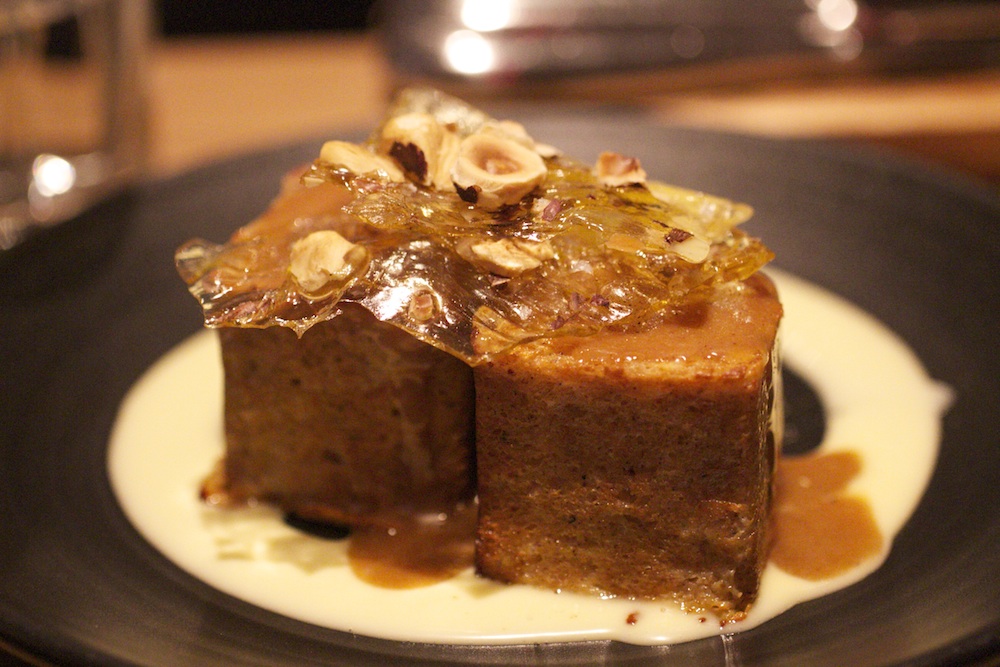 There was also a delicious Carrot Cake ($8) topped with a Neufchâtel frosting, candied walnuts, and a vibrant cranberry sorbet. It was almost too much, but you can never have too much dessert, right? As we sipped on a beautiful Gehringer Brothers dessert wine and I couldn't believe that three hours had gone by since we first began dinner! I didn't want it to end.
Our evening at Forage was the highlight of our staycation at the Listel and it left me feeling like I had properly experienced what the restaurant had to offer, while still leaving me curious for more. I would without a doubt recommend it to anyone looking for a restaurant that captures what I consider to be quintessential Vancouver food culture.
As Head Chef Chris Whittaker explains on Forage's website,
Forage stands for everything I care about. It represents what I was taught about food preparation both when I was growing up and over the course of my career in the kitchen. To me forage means that we no longer seek out excess and indulgence, but instead revisit a time when we respected the land and oceans and took only what we needed to survive. It is about being stewards of our land and true conservationists, as we conduct our business and live our lives. It is about goodness, about taking care of each other, and bringing together our community over good food.
Not only am I getting delicious food, but I can feel good about eating it. This matters to me.
A few days after our visit, Forage went on to win the Vancouver Aquarium's Ocean Wise Chowder Chowdown. Needless to say, I know what I'm eating the next time I visit.
Disclosure: A huge thank you to Forage's PR maven Sue Alexander and restaurant manager Margot Baloro who not only hosted us as VIPs for dinner (and a very special breakfast in bed), but for being fabulous company during our first meal at Forage. Our dinner and breakfast were compliments of our host.