I will never forget driving through beautiful fields of canola on my way to Pembina Valley Provincial Park while flipping through the AM radio stations, seemingly getting further away from civilization, and hearing the following broadcast:
Tornado watch for: Melita, Turtle Mountain Provincial Park, Boissevain…
We all have fears. Sometimes, illogical fears.
My illogical fear is tornados.
I don't know why I'm fearful of tornados, because living in Vancouver, you don't get them, ever. Maybe it's because they're a mystery to me, an unknown. Maybe it's because of my childhood spent watching Wizard of Oz, I don't know. All I know is that my recurring nightmares involve my home being swallowed up by a tornado.
So here I was, still newly into my month-long Manitoba road trip, and I was driving in the direction of a possible tornado! Fortunately, the tornado watch was about 100km west of where I happened to be, but still.
A Wee Bit of Heaven B&B
Earlier that day I had checked out of my Morden accommodation, A Wee Bit of Heaven B&B. This is a cozy bed and breakfast owned and operated by husband and wife, Joe and Carolann.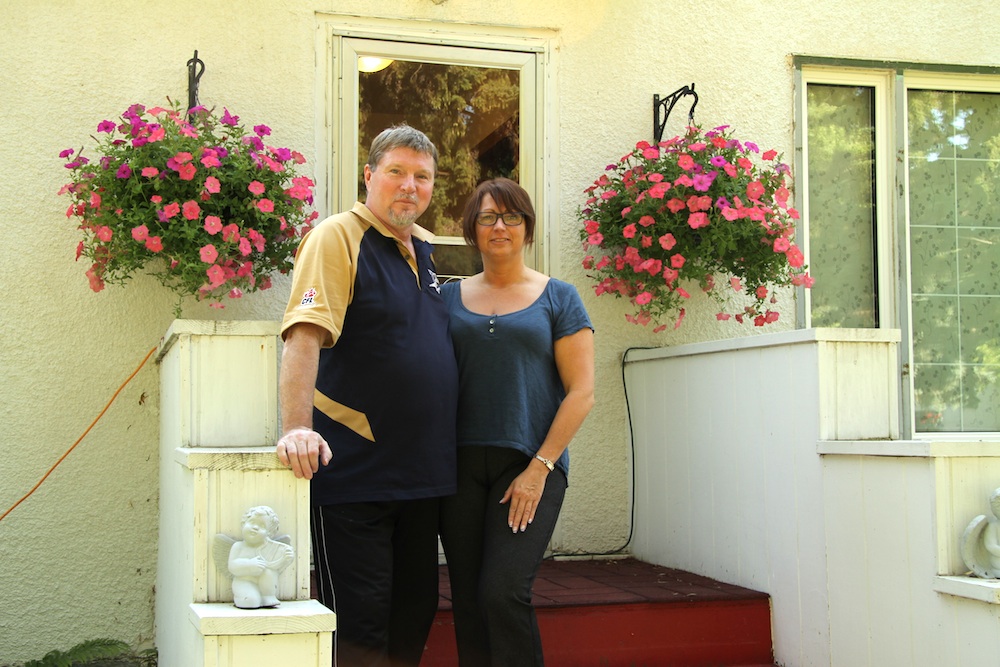 I had checked in late the night before after my time at the Manitoba Stampede, and they certainly gave me a taste of Manitoba's renowned hospitality. We watched the Food Network while chatting like old friends, letting me feel completely at home in their comfy Morden house.
Unlike other B&Bs who have preset schedules, Joe and Carolann pride themselves on making their guests' schedules the priority. One of the first things they ask when you walk in is, "What time would you like breakfast?" After all, you're on vacation, they told me, so you get to choose what time you'd like breakfast. Now that's my kind of place!
Joe, I discovered, is a wonderful cook. For breakfast I was served a delicious ham and cheese omelette, hash browns made of baby potatoes, crispy bacon, fresh berries, and Saskatoon jam on toast.
Though I could have easily spent more time enjoying A Wee Touch of Heaven, I had to hit the road for yet another Manitoba adventure!
Driving through the Pembina Valley
With my belly full of breakfast, I started to make my way south-west of Morden toward Hy-Wire Zipline Adventures. The 40 minute drive took me through endless canola fields. It was truly quite stunning, that I was inspired to get out and snap a few photos.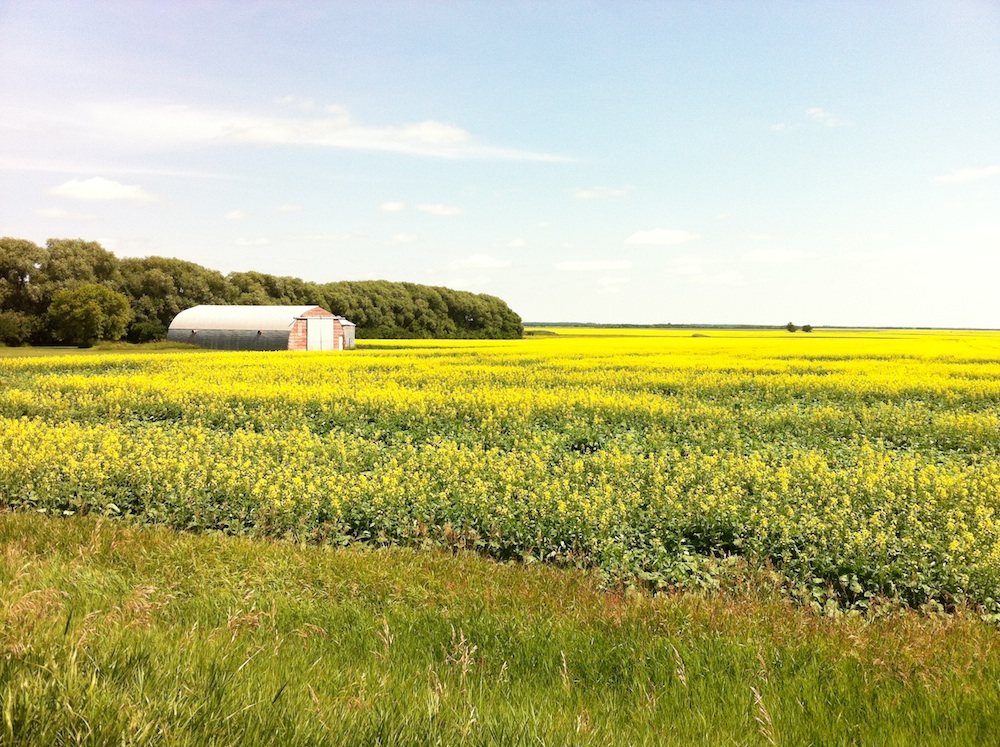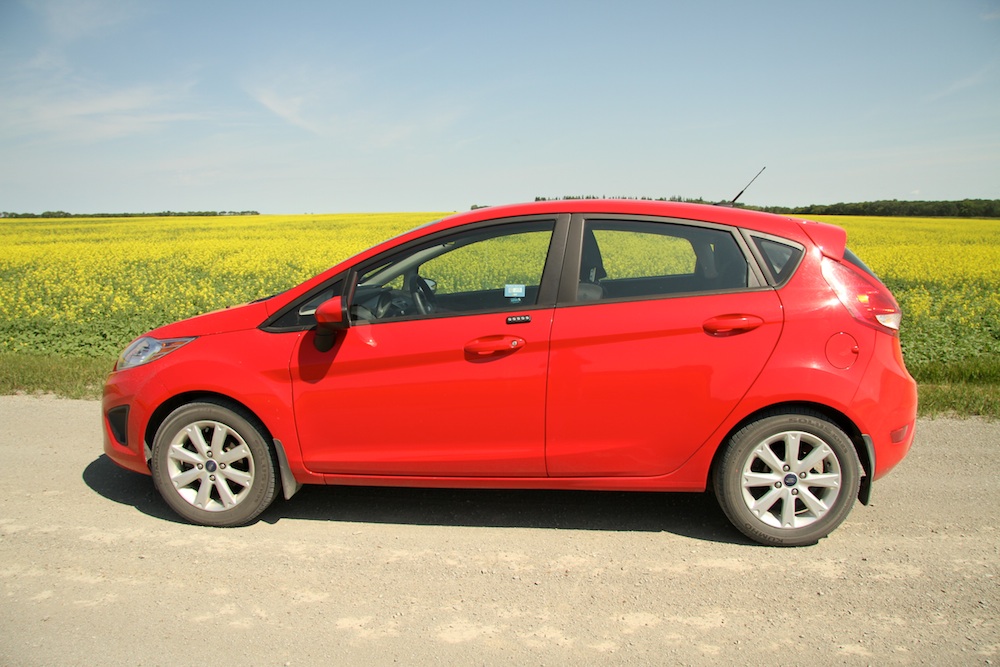 Back into my little Ford Fiesta, I drove further into the canola fields, when all of a sudden, I see the speed limit slow down dramatically, and the next thing I know, I'm driving downhill. What the?! What I have discovered is that the Pembina Valley is not just a name, but an actual river valley that has eroded away into the prairie, turning the otherwise flat farmland into rolling hills and lush gullies.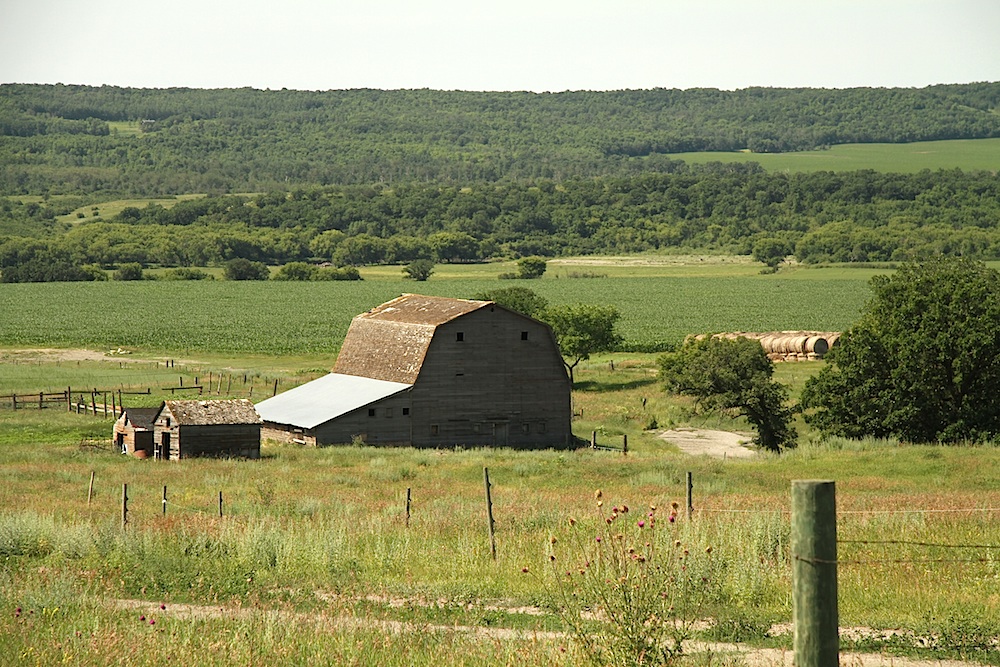 Ziplining with Hy-Wire Zipline Adventures
Imagine flying through the air from a harness that's connected to a series of cables, zipping from one hillside to the next, and you can imagine what my next hour had in store. Hy-Wire Zipline Adventures offers five different ziplines that crisscross the 150 foot ravines through their Pembina Valley property. The lines vary in length from 500 to 1000 feet, and I was about to try all five of them!
Since ziplining is a group activity, I was joined by several other couples on my adventure. We were all geared up with full-body harnesses and helmets (mine had a tiny video camera attached to it!), and were chaperoned through the ziplines by two guides – one to control the braking, and one to hook us up to the ziplines.

The first zipline took us from up high to the bottom of a hill. I tried to take a photo when it was my turn, but I was too preoccupied with the experience, nothing focused. I figured, "You know what? I'll just focus on the experience!" It probably took about 20 seconds or maybe even less to do the first line. Once everyone had crossed, we began to hike uphill through the forest.

We'd emerge from the top of the hill and have a spectacular view of the valley. All the while we were surrounded by nature: the buzzing of bees, wild bergamot, wild Saskatoon berries, old gnarled oak trees. It was a beautiful day in the Pembina Valley!
Then it was time to zipline over to the next hill.

And onto the next line… climbing an even higher hill, giving us an even better view. I couldn't get over that southern Manitoba had this kind of topography!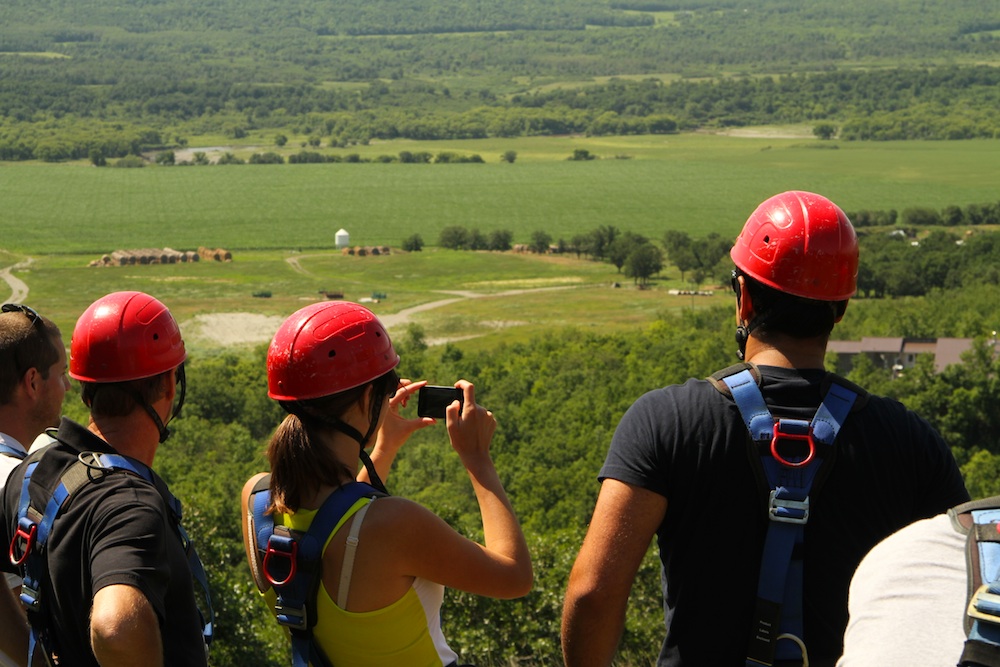 On to zipline number three…
Zipline four was unlike anything else we had experienced: it was a parallel zipline, so two people could zip across at the same time. Some people raced across while others relaxed and enjoyed the view.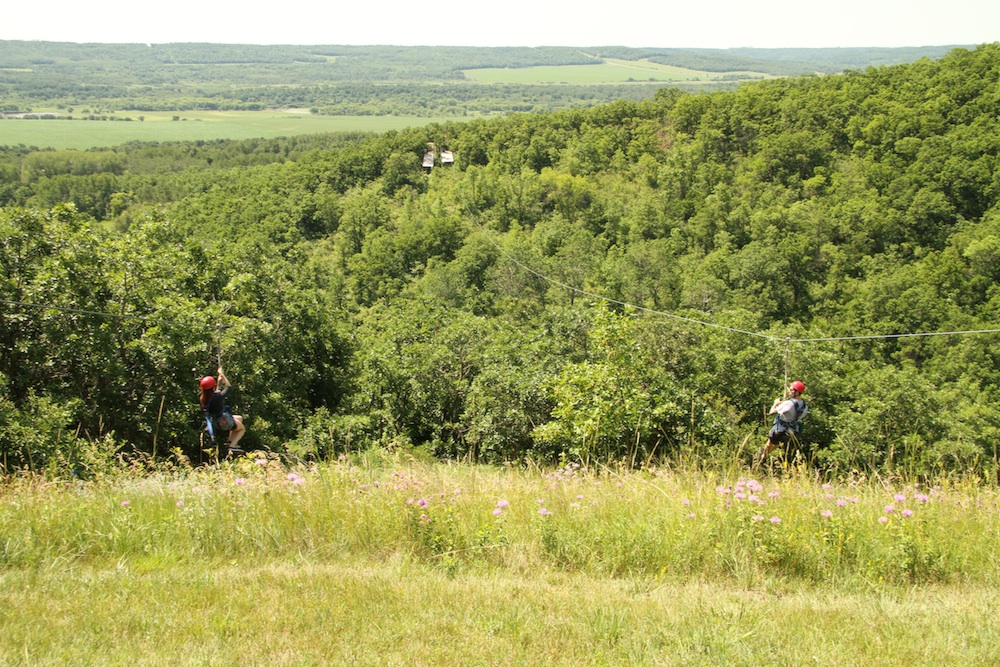 When it was my turn to go, I was paired up with an individual who was originally a part of a group of three. I had to wait for him to get connected to the cable before we could go.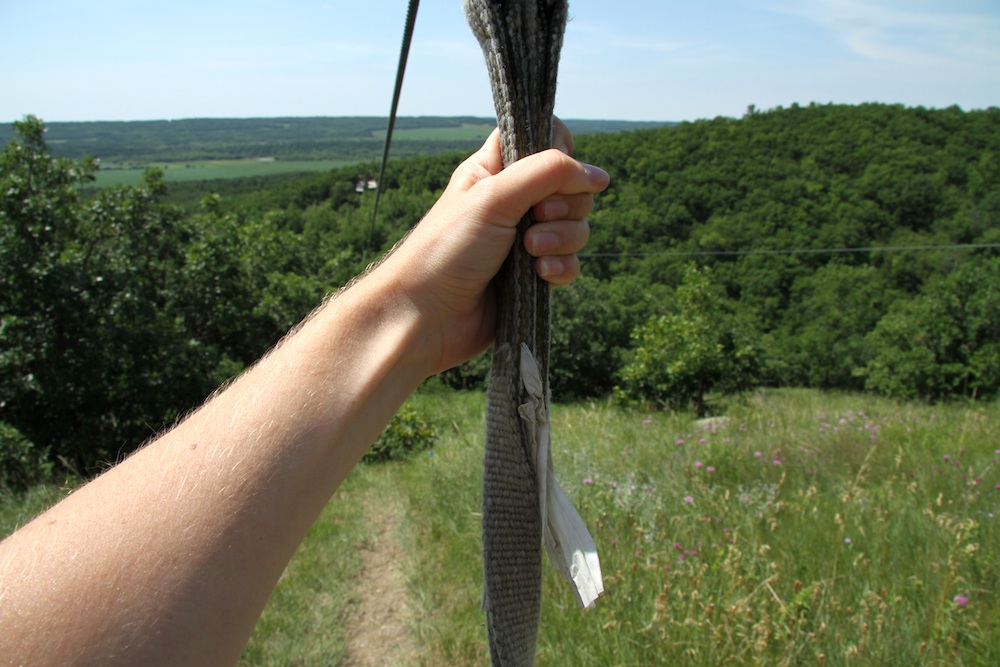 When he was properly connected and the bell rang from the other side, alerting us that it was safe to depart, we counted THREE, TWO, ONE…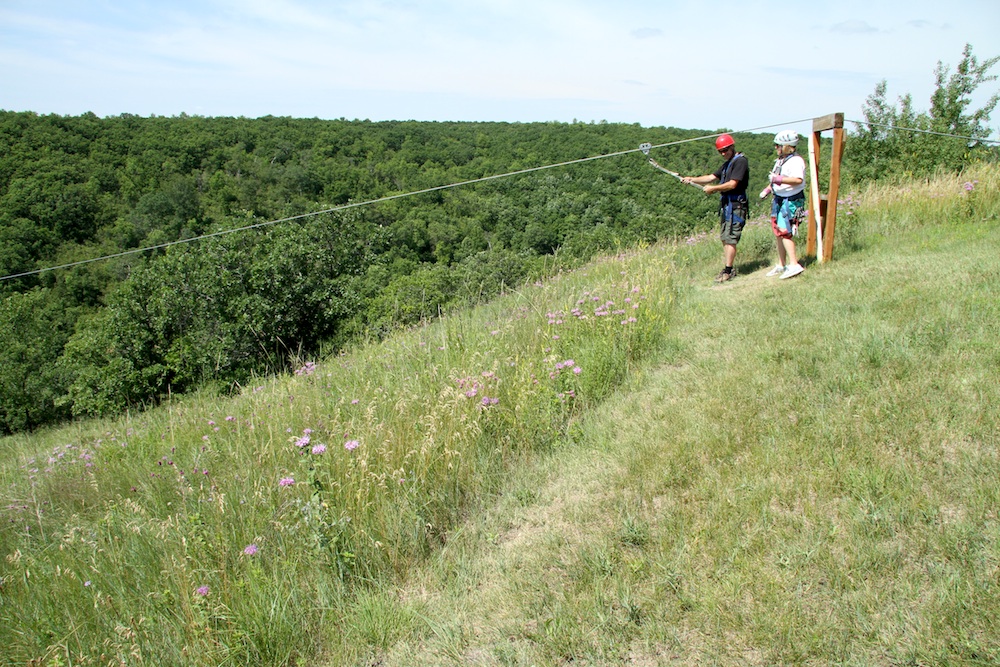 GO!!!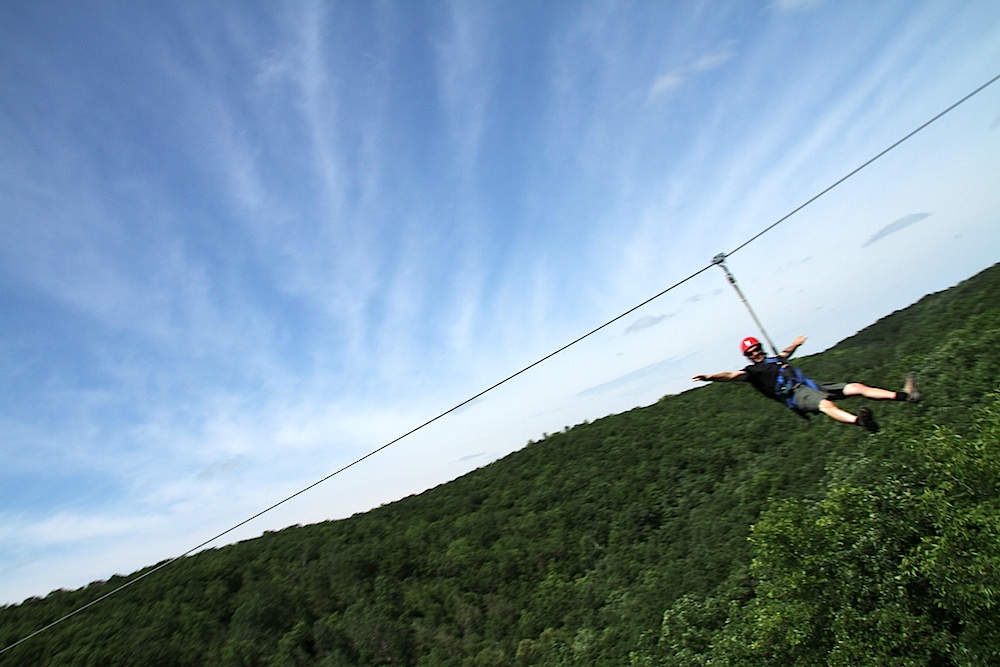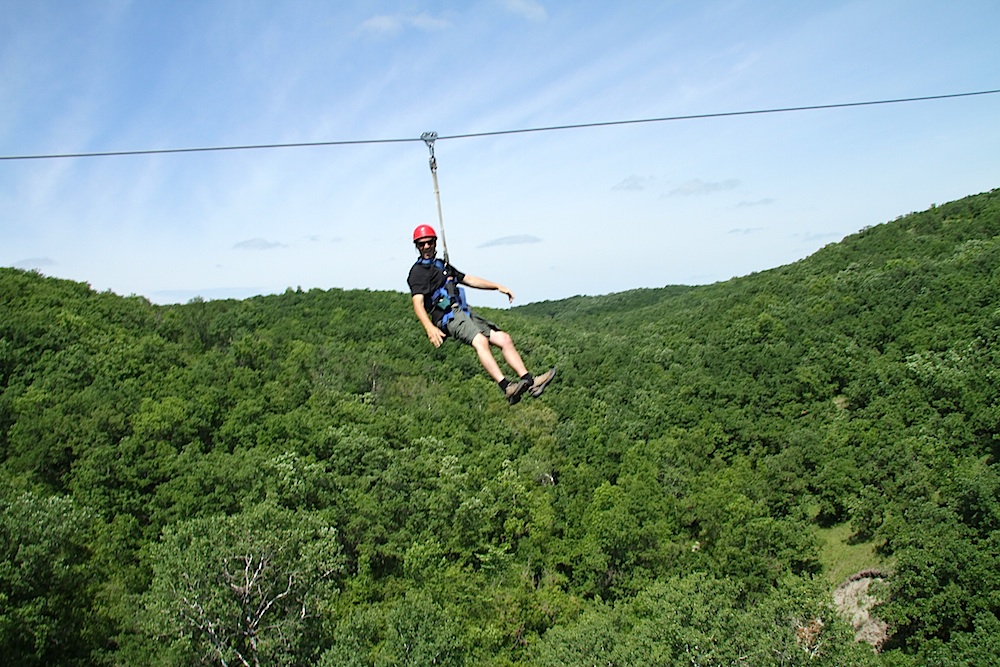 That was fun! The view from the Pembina Valley was particularly spectacular from this vantage point. Sadly, we then had one final zipline back to home base. I didn't want it to end.

It had probably been an hour since we originally departed, but could have easily ziplined all day. While removing our helmets and harnesses, others from the group were talking about coming back in the fall when the leaves change their colour. I can only imagine how beautiful ziplining through the Pembina Valley would be then.
A big thank you to the staff at Hy-Wire Zipline Adventures for hosting me!
A Mennonite Lunch in Morden
When it was revealed that I had never tasted traditional Mennonite food before, it was recommended that I check out Morden's Kopper Kettle Family Restaurant. Located off the main highway, it looks like your typical family-style diner.
I ordered the Saskatoon perogies. The perogies were stuffed with Saskatoon berries, then slathered with a cream gravy. They were served with panfried ham and steamed carrots. Whether the meal was traditionally Mennonite or not, I can't say, but it was simple yet comforting, like a warm hug for the belly.
One thing I observed is that nobody in Manitoba calls Saskatoon berries "Saskatoon berries". They're simply "Saskatoons". For the uninitiated, Saskatoons are an indigenous berry that grow all over Manitoba. They're like a fibrous blueberry with their own subtle flavour. The berry is what gives the city of Saskatoon (in neighbouring Saskatchewan) its name, not vice versa like you'd expect. As a perogy filling, it was a total win.
Hiking through Pembina Valley Provincial Park
Despite the tornado and severe thunderstorm watches, I decided I'd go for a quick half hour walk through Pembina Valley Provincial Park. After all, the weather forecasters were expecting storms to hit later on in the afternoon. Half an hour should give me a taste of the park, no? It would be such a shame to be so close but turn around minutes from the park's entrance… so I decided, what the heck! I'll be in and out in half an hour.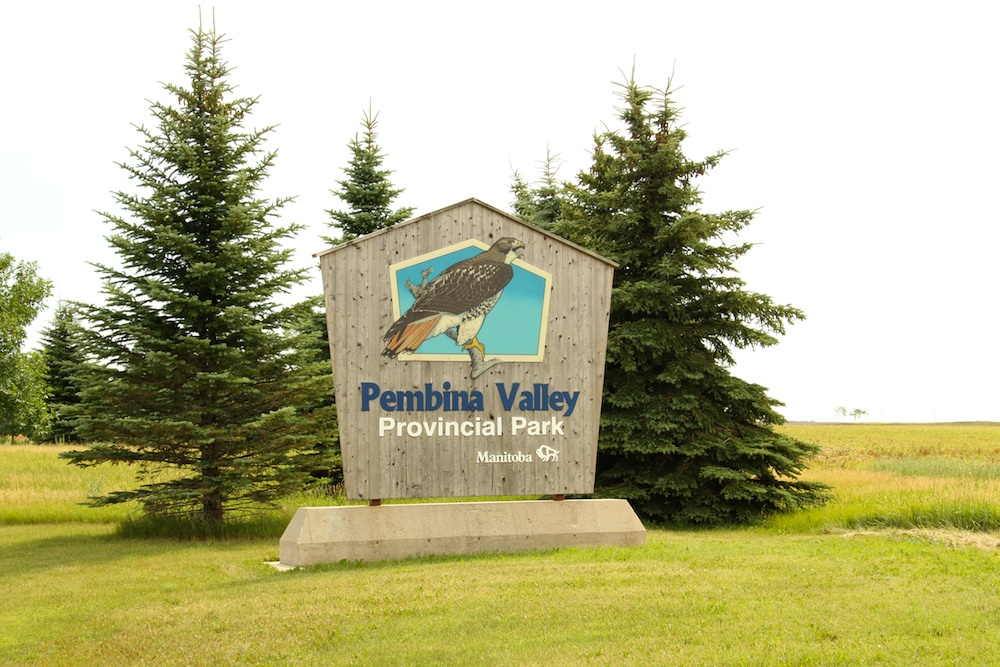 Located on the Manitoba/North Dakota border, the park was a good 40 minute drive away from anywhere. While I could see clouds gathering on the western horizon, I felt completely safe. I had a map, a backpack full of camera equipment, a litre of water, and good walking shoes.
After studying the map, I opted to hike along the western Pembina Rim trail which took me along the perimeter of the park through gorgeous forested canopies, through fields of wildflowers, river gullies, and open meadows. I passed two park wardens and two mountain bikers during my hike, but all in all, I had the park entirely to myself.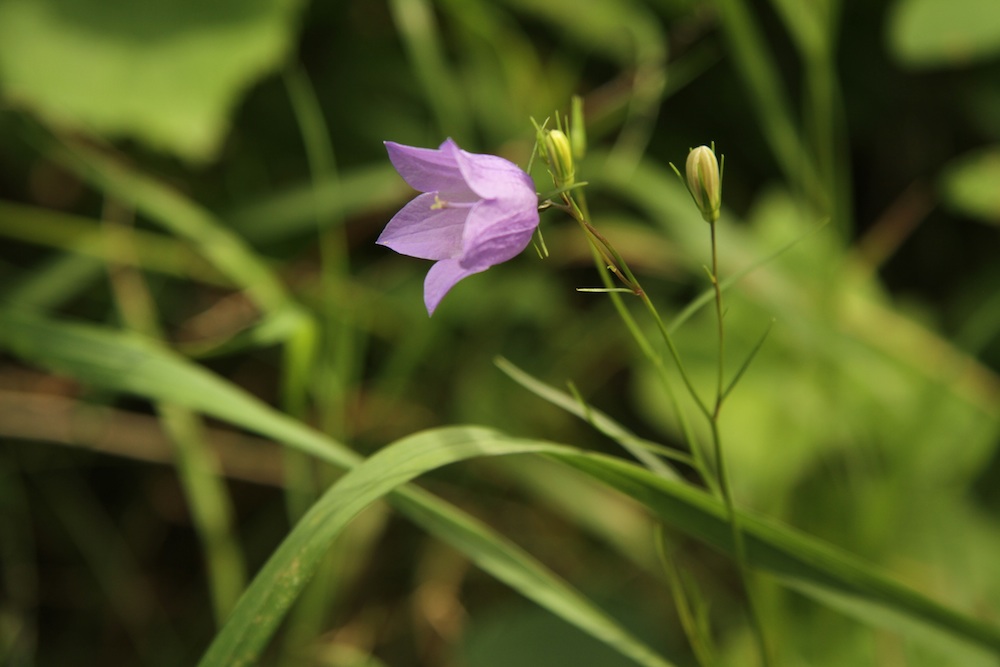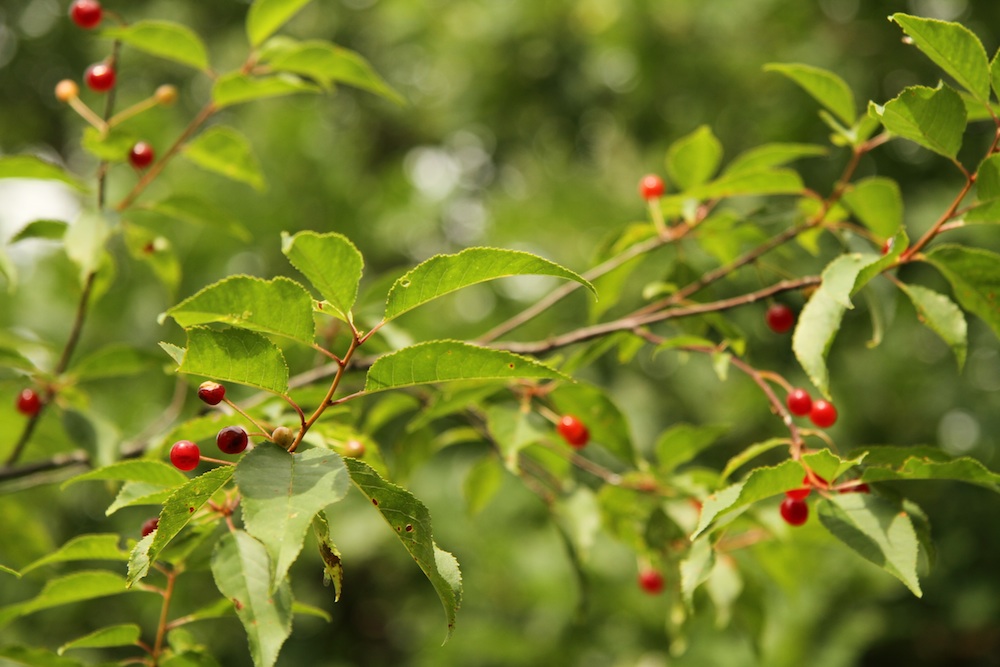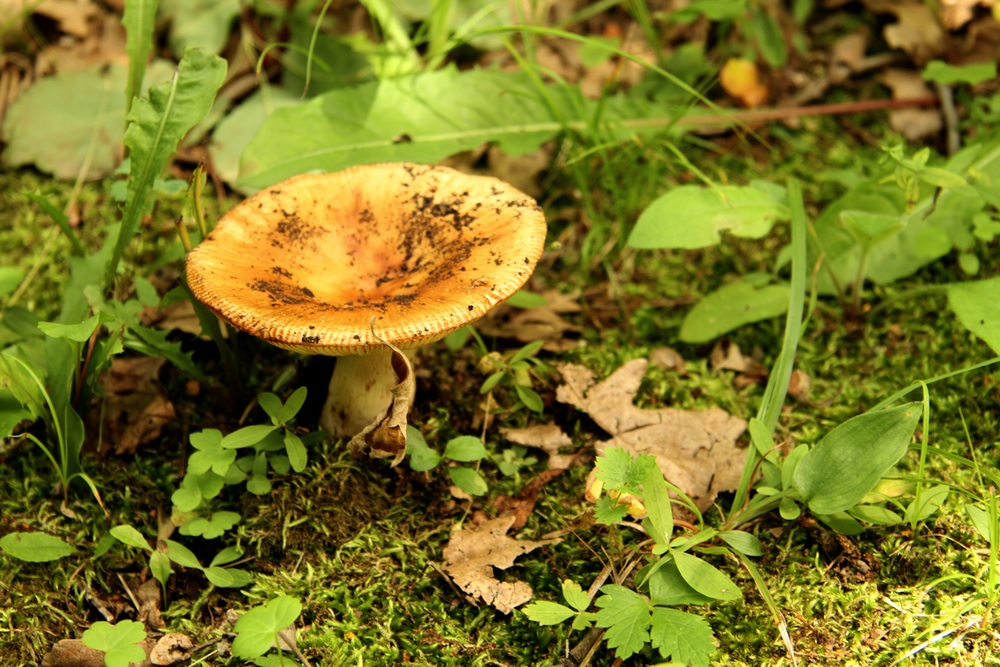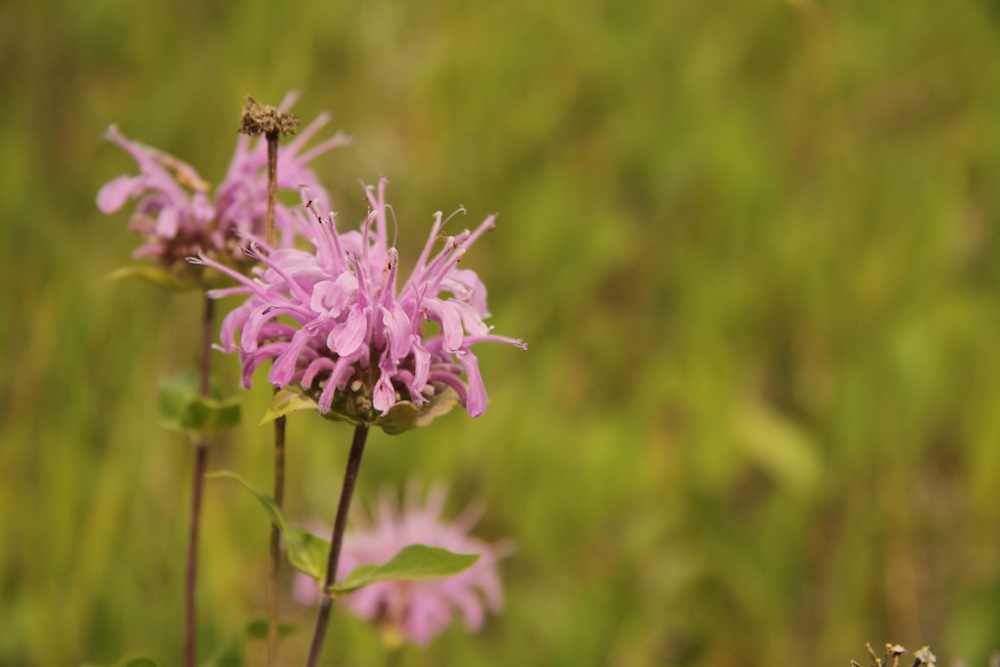 Because of a trail closure, I had to detour along the Hawk Hills trail which took me to the north-east corner of the park, connecting me back to the other side of the Pembina Rim trail.
After a good 30-40 minute walk, the forest opened up into a beautiful meadow. There were butterflies, bees, and the sound of the wind…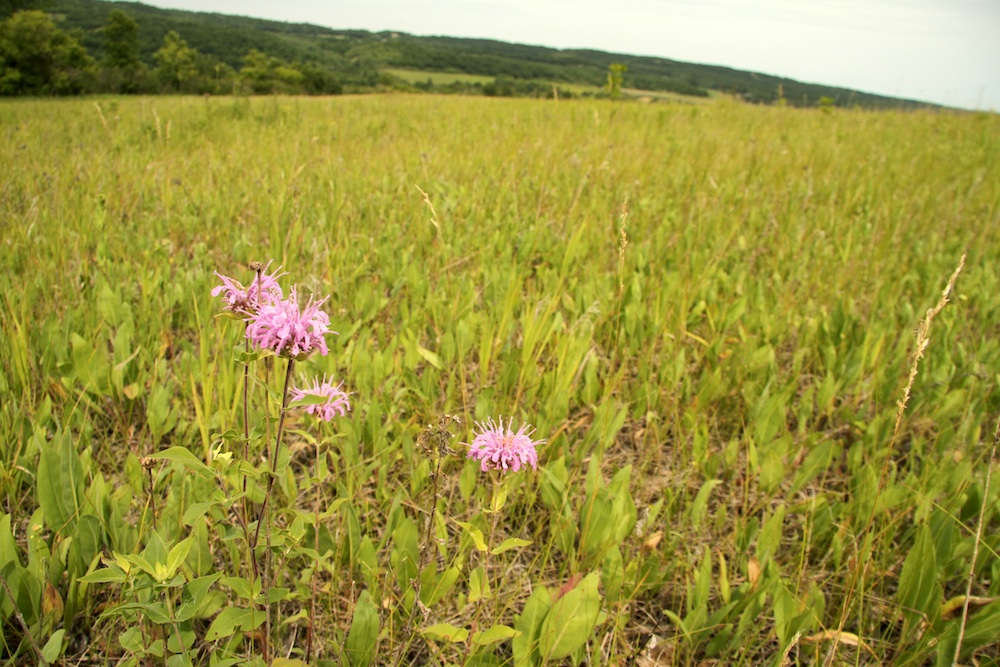 It was such a spectacular place that I felt inspired to walk down toward the river, to a scenic viewpoint on the cliff…
From the viewpoint I could see the entire river valley opening up, and… that's when I noticed the fork lightning in the clouds, could hear the distant rumbling of thunder, and noticed the wall of grey fast approaching.
Knowing that storms travel fast in the prairies (and keeping the extreme thunderstorm/tornado watch from the radio in mind), I felt it was in my best interest to flee the scene. Not knowing just how fast the storm would arrive, but knowing it was on its way (and hearing the rumbling thunder getting louder and louder), I literally ran back the same way I came, through the forest, up and down the hills, likely overreacting but not really caring.
Out of breath, I found myself back at the little bridge that crossed the river, a place I knew was relatively close to the parking lot. There I noticed the same mountain bikers from earlier taking a break. I decided to casually stroll up to them to say hello, and get a quick picture taken (a rarity when you're travelling solo). We exchanged pleasantries, and they gave me tips on tornado safety. I guess I had it on the mind!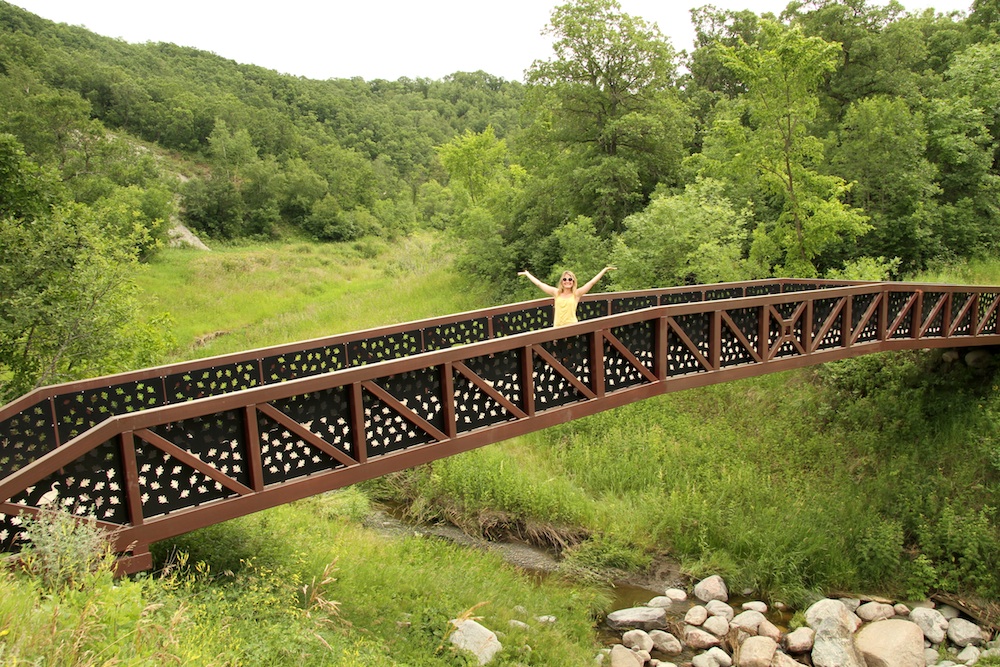 I did, in the end, make it back to my car before the storm. But twenty minutes later while driving out of the park, the torrential rains began to fall, and thunder and lightning was all around me. I had a two hour drive back to Winnipeg, and the storm followed me the entire time. It didn't really matter, however, because I knew I was going to be staying at the Fairmont Winnipeg that night, where whole new adventures would await.
P.S. A tornado did touch down in Boissevain later that day, just as predicted.