As some of you know, I am a craft beer enthusiast. I go to beer tweetups. I'm a member of CAMRA Vancouver. I go to St. Augustine's way too much. As a result, I'm excited to announce that Steam Whistle Oktoberfest is coming to Vancouver!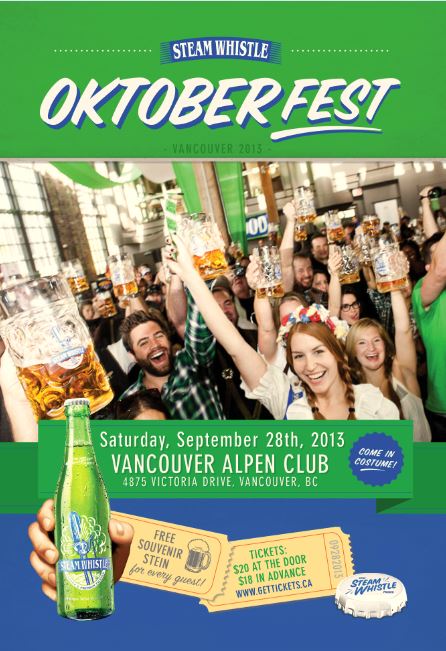 For the first time in Vancouver, Toronto craft brewery Steam Whistle will be throwing their famed Steam Whistle Oktoberfest in our beloved city. There will be traditional Oktoberfest food, music, entertainment, and of course, Steam Whistle's famous Pilsner.
The inspiration for Steam Whistle's Oktoberfest came from their first ever staff trip. Once a Steam Whistle employee has worked with the brewery for over 5 years, they are taken on a staff trip to Oktoberfest in Munich. The Steam Whistle co-founders loved it so much, that they wanted to bring this celebration of European brewing back home.
… and now they're bringing it to Vancouver!
Vancouver Alpen Club
Saturday, September 28, 2013
8:00 PM 
Come dressed in your best Oktoberfest costume (see their blog post for ideas) and win some prizes. Tickets are $18 in advance online here, or $20 at the door… or you can try to win tickets below!
CONTEST CLOSED
Congratulations to Daniel! Daniel is the winner of the 2 tickets to Steam Whistle's Oktoberfest. Thanks to everyone for entering.
Win 2 tickets to Steam Whistle's Oktoberfest on September 28.
Steam Whistle has kindly provided me with two Oktoberfest tickets to giveaway. You can enter two ways, each giving you one entry into the contest:
Leave a comment below explaining why you want to go.
Follow @BCRobyn and @SteamWhistle on Twitter and tweet the following:
Win tickets to @SteamWhistle's Oktoberfest in Vancouver from @BCRobyn: http://bit.ly/SWOktoberfest
I'll then be drawing a name at random on Monday, September 23th at 12 noon. I'll be e-mailing and/or direct messaging via Twitter the winner shortly after. Once I've confirmed a winner, I'll be announcing the lucky individual on this blog.
Good luck, and prost!