Update: This was a review of an event from 2013, but keeping it up here as a time capsule reminder.
Vancouver's biggest FREE outdoor music festival, the Khatsahlano Music + Arts Festival, is taking over Kitsilano's W 4th Avenue on Saturday, July 13th.
… but music is only one part of it. As I discovered on Tuesday afternoon, food will also play a very large role.
As a preview of the festival, I joined members of Vancouver's media on a special culinary tour where we traipsed along West 4th sampling food and cocktails at various Kitsilano restaurants who will be serving some tasty treats come Saturday.
Tractor
Tractor literally just opened one month ago on the corner of West 4th and Cypress. The concept is "Whole Foods meets quick serve". Think of it like a hip cafeteria full of fresh, quality, and tasty foods which also happen to be healthy.
The menu here is priced by portion rather than by weight. You can order several salads and a side of protein, or a sandwich and salad, or a soup – the combos are entirely up to you, depending on how hungry you are. All I know is that their roast beet, green bean, and grilled asparagus salad was scrumptious, and whatever they put in their lemonade made me want seconds!
The Bibo
Recently renovated, The Bibo is back in action.
The Bibo serves some of Vancouver's best Neapolitan pizza, as well as traditional Italian foods and cocktails. The Margherita pizza and their house cocktail, the Aperol Spritz, were a match made in heaven on that hot Tuesday afternoon. "I am in my happy place" I tweeted.
The Bimini Pub
Love or hate the Donnelly Group, The Bimini Pub is pretty sweet for beer and chicken wings, or build-your-own Caesars for weekend brunch, as I discovered a few months ago. We kicked off our tour here, the first establishment in BC to ever be granted a Neighbourhood Pub licence, way back in 1974. Sadly, I didn't take any photos, but nobody needs to see a darkly-lit photo of my frosted pint of Kronenburg Blanc now, do they?
Las Margaritas
Las Margaritas is practically synonymous with Mexican food in Vancouver. Taking full advantage of the hot weather, we lounged around on their sun-drenched patio while snacking on taquitos, guacamole, and ceviche. It was here while sipping on a lime margarita that I realized, this has to be one of the best patios in the whole city. What's not to love?
Romer's Burger Bar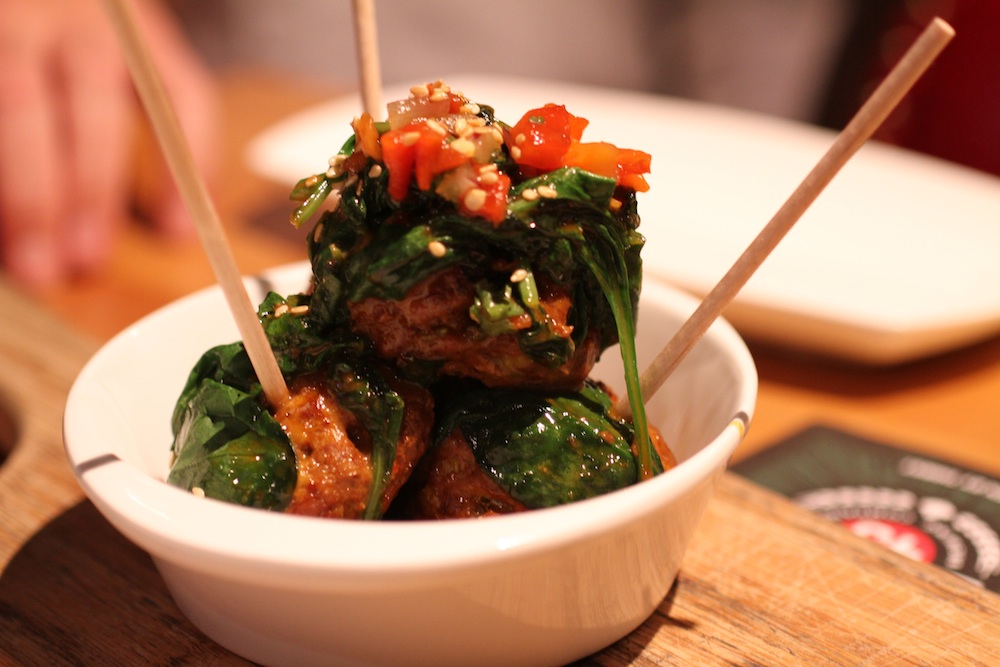 I bet you don't think of meatballs when you think of Romer's Burger Bar, do you? Precisely, but now I do. While I do believe Romer's makes some of the best burgers in Vancouver, I sampled an assortment of their other menu items such as quinoa salad with smoked tofu, watermelon watercress salad, and their famous drunken donuts served with three dipping sauces: Kahlua Nutella, Limoncello, and maple whiskey.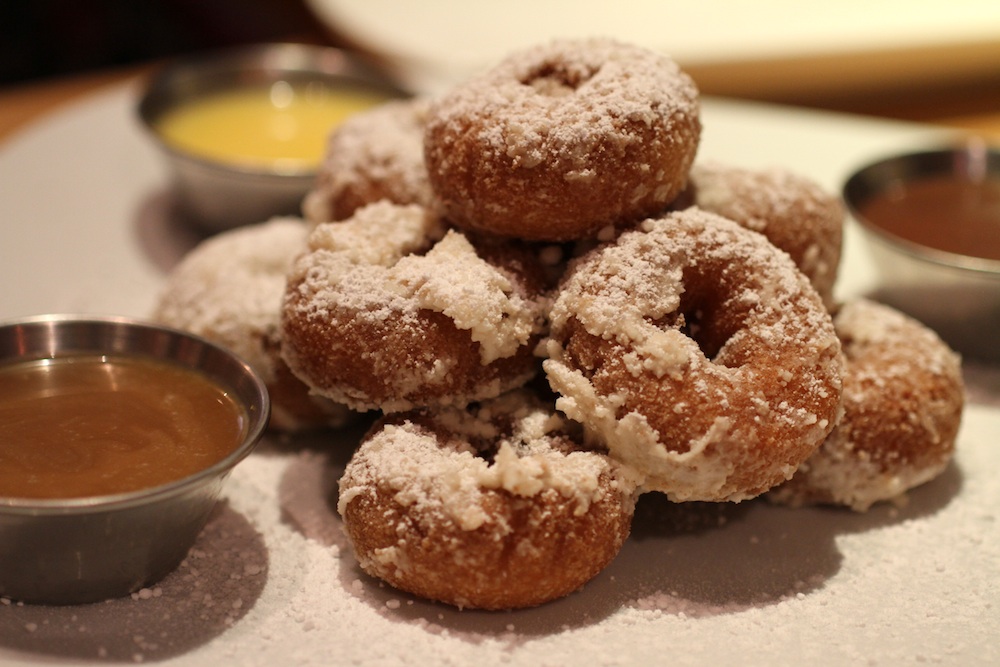 The August Jack
Not even yet officially opened, Kitsilano's newest pub, The August Jack, treated us like long, lost friends, serving us as if they'd been open for years.
This new addition to West 4th will have craft beer lovers in bliss. We sampled craft beer and snacking on mussels and truffled parmesan popcorn. I think I had to be dragged out of there because I loved it so much.
And for some geeky Vancouver trivia, the name August Jack comes from Chief August Jack Khatsahlano of the Squamish First Nation, the namesake of Vancouver's Kitsilano's community and the Khatsahlano Music + Arts Festival.
Fable
I was too busy staring at the light fixture at Fable to even realize the chef at this farm to table restaurant was beloved Trevor Bird, famous for his appearance on Top Chef Canada.
We sipped wine and consumed shots of Gazpacho Caesar made with duck bacon, vodka, pickled celery, horseradish. The chickpea fritter with pickled onions and curried mayo was also foodie's delight. "Why hadn't I been here before", I wondered.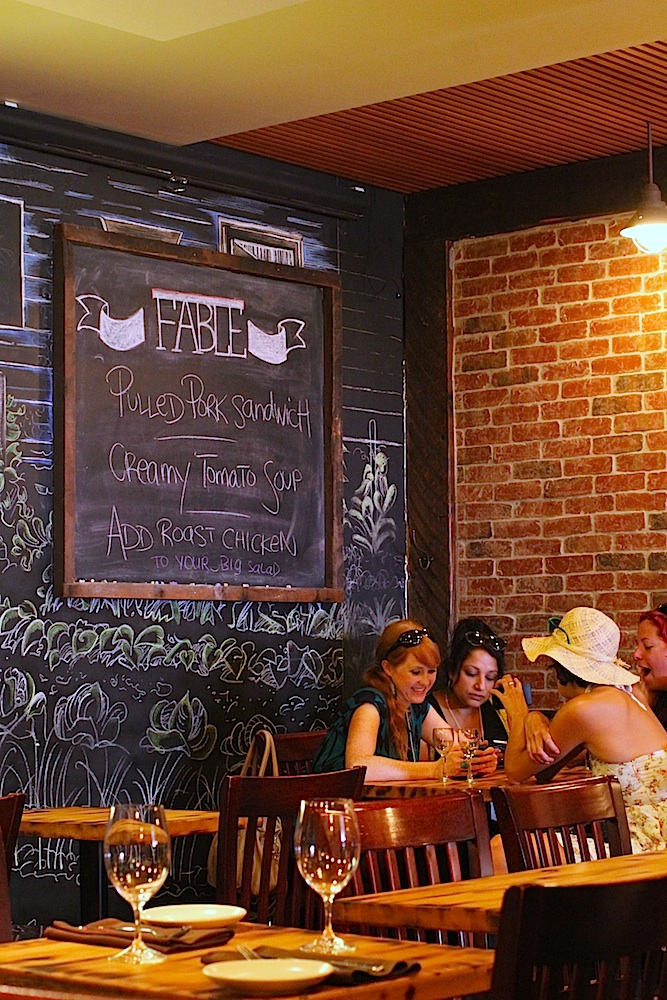 Trattoria Italian Kitchen
What was formerly Chianti's is now Trattoria Italian Kitchen by the Glowbal Group. And if there's one thing they're going to be famous for at this year's Khatsahlano! Festival is their Meatball Eating Competition.
I discovered on that sunny Tuesday afternoon that Trattoria Italian Kitchen indeed makes a mighty fine Kobe-style meatball, and it just so happens to pair well with a glass of Prosecco!
But you know what? If I had my say, I'd rather see them host a burrata eating competition. Based on tasting their burrata with eggplant on crostini, I know who'd come in first!
Thanks to Good Life Vancouver's Cassandra Anderton for organizing this preview, and for the Khatsahlano! Music + Arts Festival for making this sweet event happen!