Last week on Wednesday my colleague Dana and I joined dozens of other food enthusiasts in Kitsilano for the second-ever Tasting Plates Vancouver, a culinary event put on by food blogger Richard Wolak, better known online as Vancouver Foodster.
For $40 per person (or $30 if purchased a week ahead of time), event goers were given an access card and a map to 10 participating restaurants, cafes, and food trucks spread throughout the Vancouver neighbourhood of Kitsilano. Each venue would provide a tasting plate of their various dishes to sample, including some special one-of-a-kind treats.
From 6 to 9 pm, it was up to us to figure out the best way of navigating our ways from venue to venue. And in many ways, it was like Halloween for adults. Dozens of us could be seen map in hand, strolling the Kits sidewalks on our way to our next stop. And instead of candy, there was pizza, pasta, artisan chocolate, and even an olive oil tasting bar to name but a few.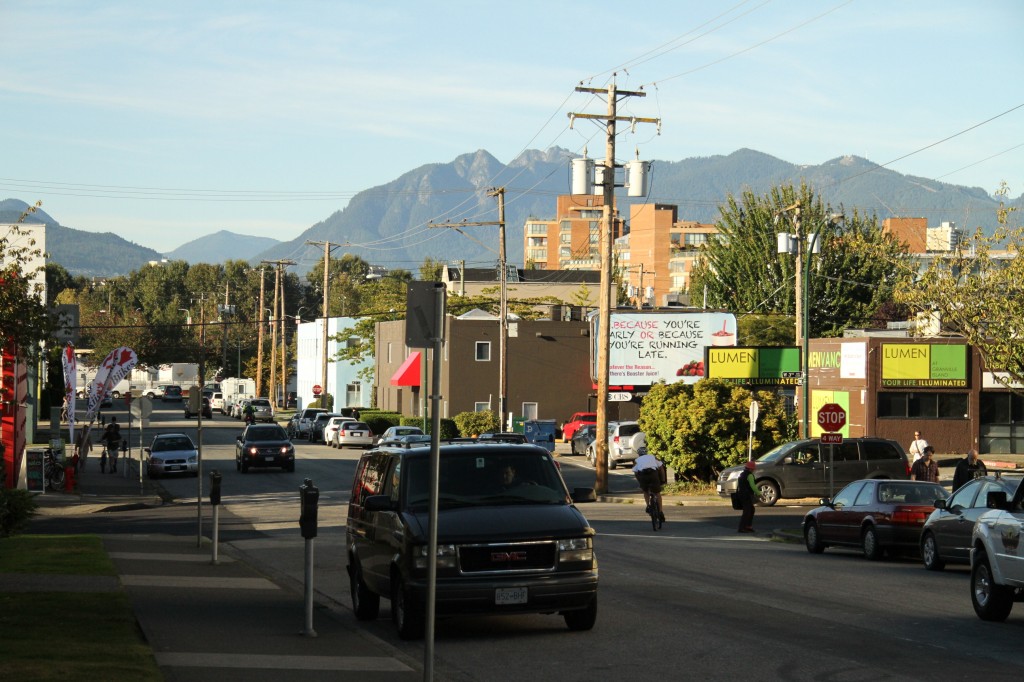 The first stop of the evening was the back alley behind Chocolate Arts where we had to pick up our map and card at the registration tent. It was here where I bumped into my fellow blogging friend Ariane Colenbrander.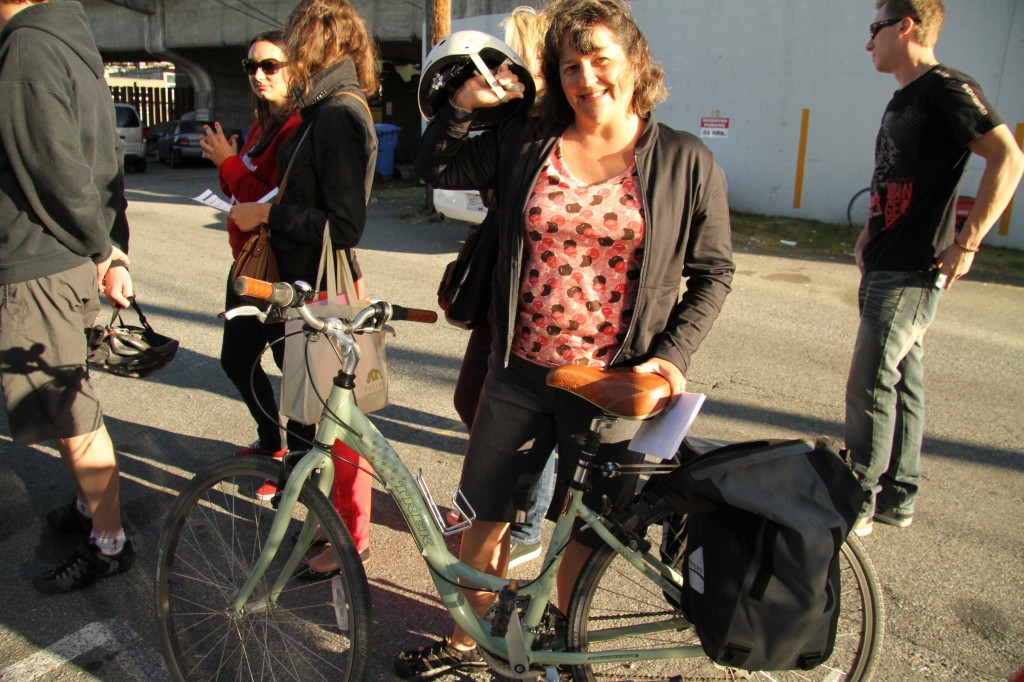 Ariane was planning to cycle between venues, which was a smart idea. There seemed to be three clusters of restaurants – two of which were walkable from the registration tent, but the other cluster required a set of wheels if you wanted to hit all 10 restaurants within the three hour period. Dana and I chose to walk whenever possible, only driving out to the restaurants that were further afield. We had a vague game plan in mind, so as soon as we got our Tasting Plates cards and map, we were quick to get going.
Stop 1: Rocky Mountain Flatbread Co.
Although starting with dessert right there at Chocolate Arts was tempting, the crowds were huge and we were still early, so we decided to make our way over to the Rocky Mountain Flatbread Co. over on W 1st and Cypress. It had been years I had been there, and I was eager to reacquaint myself with this family-friendly pizzeria.
We arrived right at 6, some of the first guests of the evening, just as they were bringing three small pizzas out of the oven: the Naturally Meaty (spicy organic beef, sulfate-free Italian sausage, tomato, green pepper, red onion, asiago cheese & fresh herbs), the Bradner Farm Pizza (certified organic free range rosemary chicken from Bradner Farm with red onions, house made pesto & oven roasted red bell peppers), and the Farmers Market Pizza (tomato sauce, mozzarella, caramelized fennel, beets, green pepper, goat cheese, pesto & topped with grated carrots).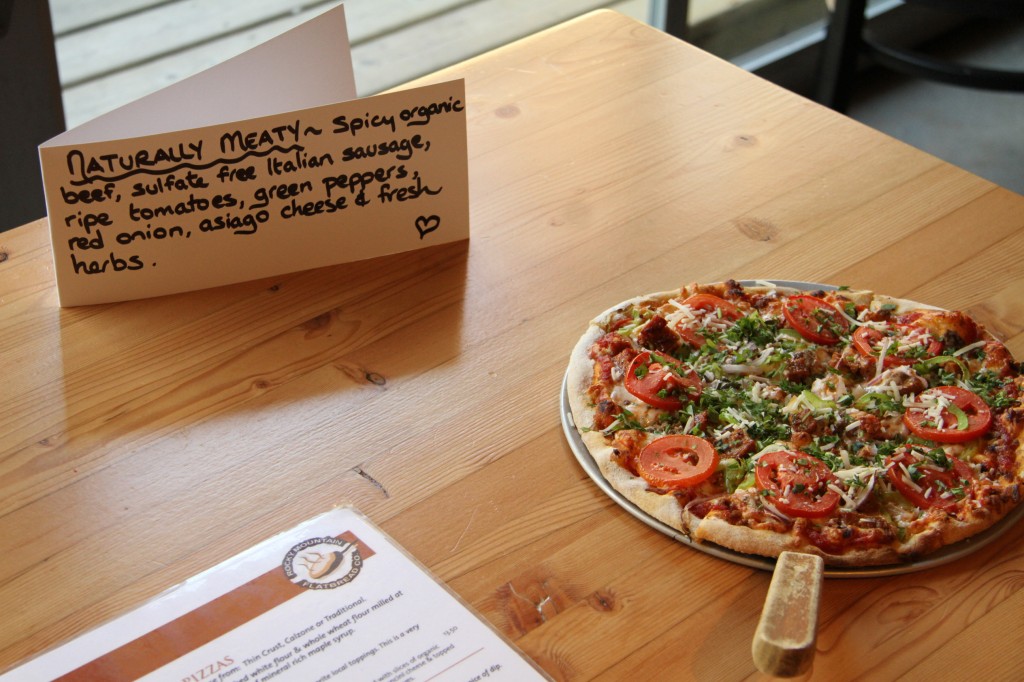 The pizzas were laid out on the tables, and guests were invited to try one slice. Knowing things were going to get a little meat-heavy later on, I opted for the vegetarian Farmer's Market Pizza; its cubes of beets and shredded fresh carrot looked colourfully appealing, plus, I'm a sucker for roast fennel and goats cheese. Well, it was a good choice. The pizza was delicious. While it was too bad our pass didn't allow us to try more pizza, the reality was, we had to get a move on, and this was a perfectly good excuse to come back another time.
Stop 2: The Bibo
Next we meandered up Burrard three blocks to The Bibo on W 4th. This is a relatively new Italian restaurant, having opened in March of 2011. People rave about their Napoletana pizzas, and people in Vancouver love their Napoletana pizzas. It's a thing. Not surprisingly, The Bibo's entrance was packed full of Tasting Plates Vancouver folk.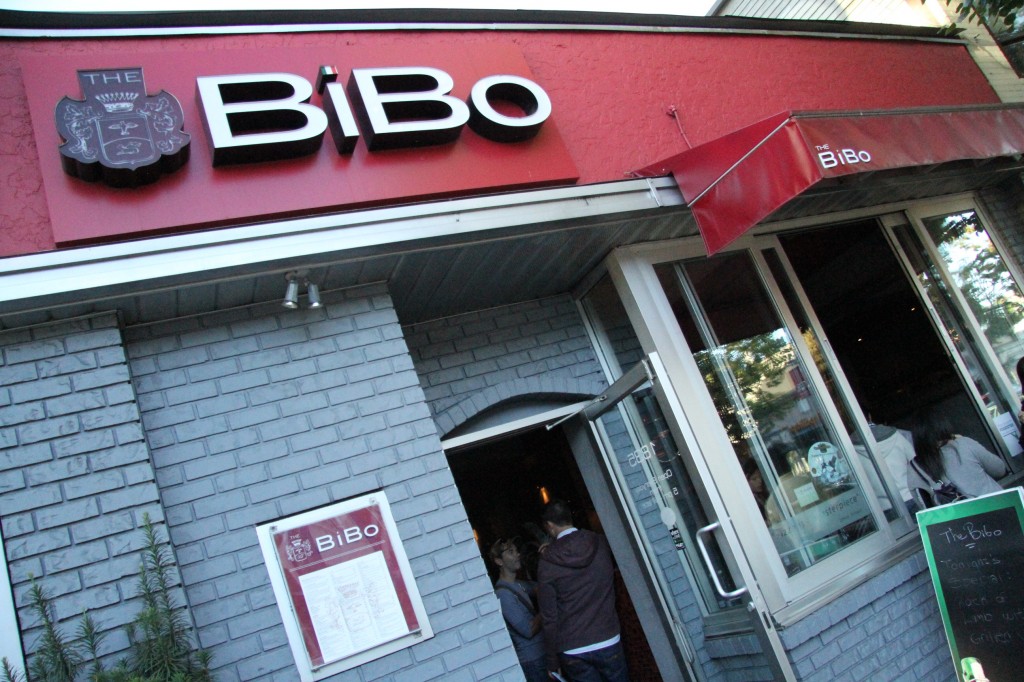 Despite the crowds at the door, Dana and I timed it perfectly and were first in line to be served. At a long table near the window, friendly servers were serving up a variety of Napoletana pizza: Margherita, Diavola, Prosciutto, Funghi, and Marinara. With a pizza slice of our choice, they completed our tasting plate with other Italian delicacies: pasta such as Rigatoni alla Norma, Lasagne al Pesto, Tagliatelle al Ragù, as well as olives, crostini, and artichoke hearts. Wow!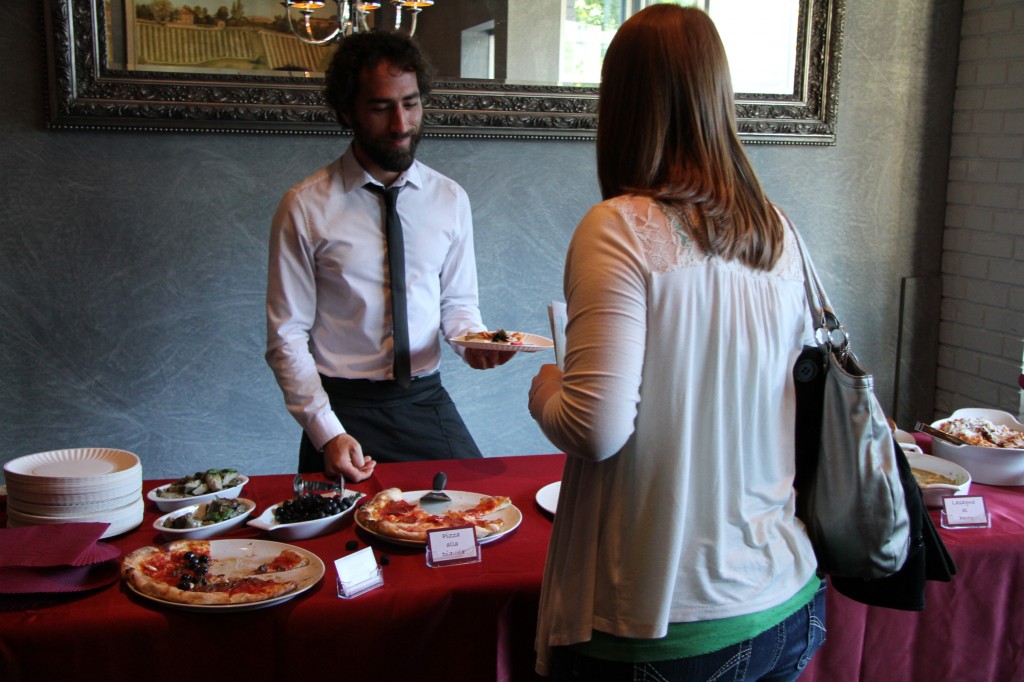 With our plates heavy with food, we took a seat at the bar and began to chow down. Our mutual silence suggested that we were either really hungry or that the food was really good. Or both.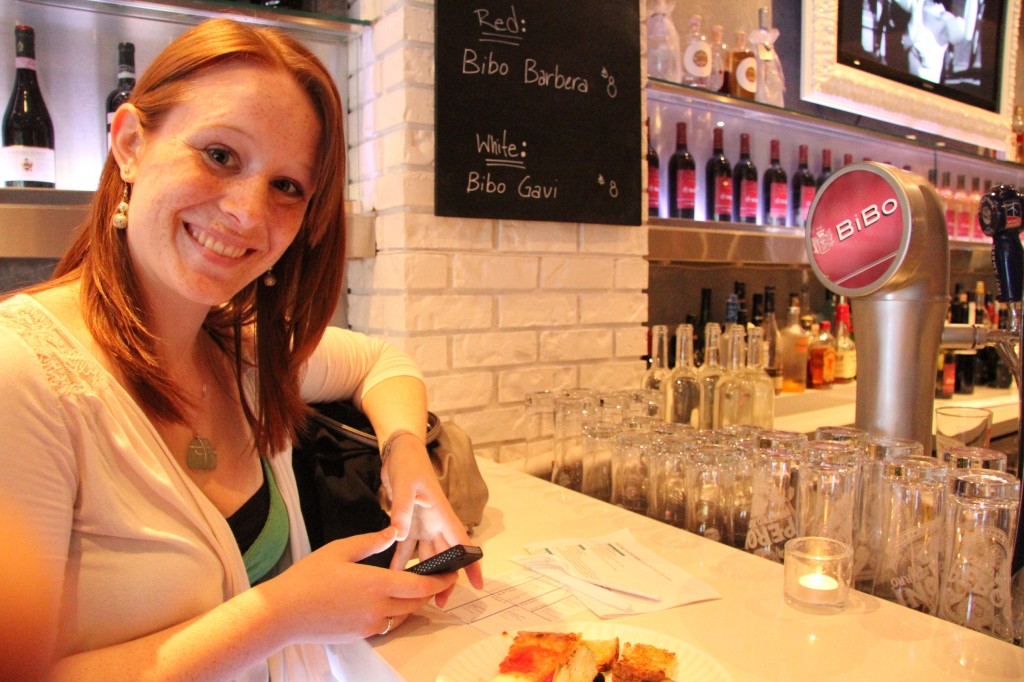 I eyed the bar and considered a Negroni, but figured it was too early in the evening to get comfy. I've been meaning to check out The Bibo for a while now, and I can certainly see myself returning. The interior was cool, with its white-washed bricks and wood-fire pizza. Over the bar and at the other end of the room, classic movies played. It was all very hip and sophisticated, without feeling phoney or pretentious. If you're looking for authentic Italia in a contemporary fashion, this is your restaurant. And the food's great too.
Stop 3: Chocolate Arts
Ready for dessert, we returned back to Chocolate Arts. If the crowds were crazy at 6, they were non-existent closer to 7.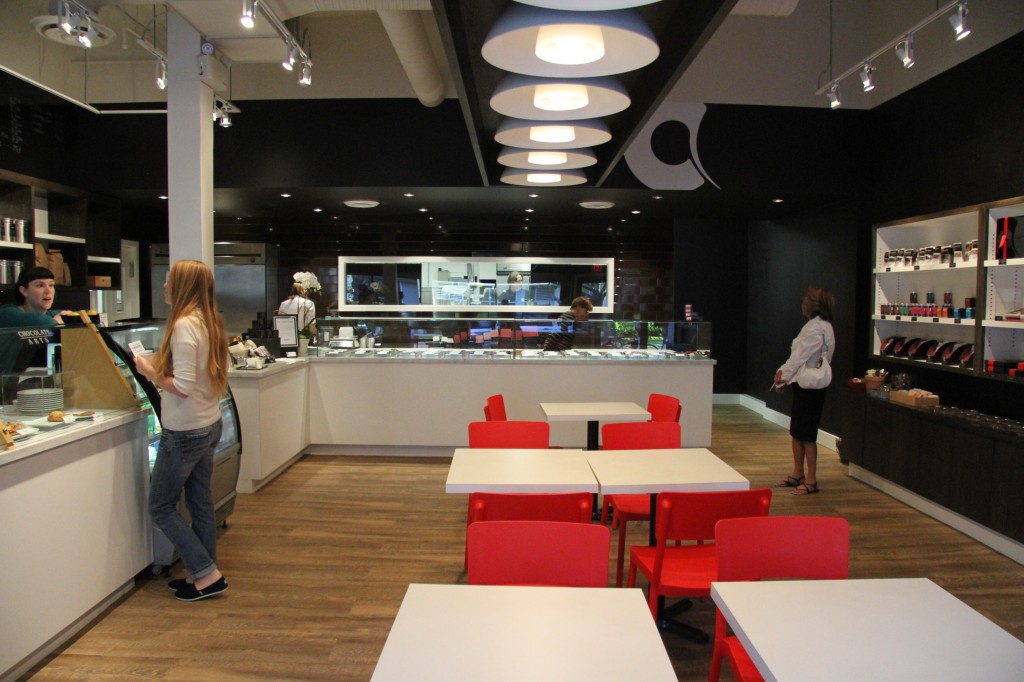 We walked right into the Chocolate Arts cafe and were led to the back of the room around the corner into their open kitchen where chocolate is made. On the counter were the chocolate makers and staff dishing out spectacular-looking treats.
We were first handed a paper cone of chocolate goodies, including a Pumpkin & Praline chocolate. Upon the first bite, I knew this wasn't your average high end chocolate (ha!). This was something more. This intense pumpkin ganache enrobed in dark chocolate was made with roasted local organic sugar pumpkin, blended with spices, Appleton rum, and crunchy almond praline. It was incredible, this seasonal locally-sourced chocolate. Wow.
Then there was a Peanut Mallow Bite: handcrafted vanilla bean marshmallow with candied peanuts and milk chocolate enrobed in 70% dark chocolate. I took a bite and my eyes bulged out of my head and the biggest smile emerged. I was a happy girl. And I was even happier when I discovered the candied almonds at the bottom of the cone. These weren't just any candied almonds, but intensely flavoured slow roasted almonds with deep caramel, dark chocolate, fleur de sel, aromatic spices, and cocoa. It was unlike any candied nut I had ever tasted.
But that was just part one! Part two included a Sweet Corn Ice Cream handcrafted with local organic sweet corn, Avalon dairy cream & free range eggs. They drizzled the ice cream with caramel and fleur de sel, topped with an oatmeal cookie covered in their 70% dark chocolate. This was pure insanity, honestly. And if you thought you were in chocolate bliss, just you wait until you walked back out into the storefront where they were offering a Chocolate Shot as a nightcap, the perfect thing to sip while you contemplated all the chocolates you were coming back to buy.
Stop 4: Establishment
We decided to walk back to the car, drive out to W Broadway and Trutch, and check out this new lounge simply known as Establishment. Well, it wasn't until we parked the car and walked toward the Establishment that I realized I had actually been to that space before, except many moons ago when it was a different place all together called the New Bohemian, and even prior to that, Fiction. Had it really been that long since I last ventured to this part of Kits? Apparently.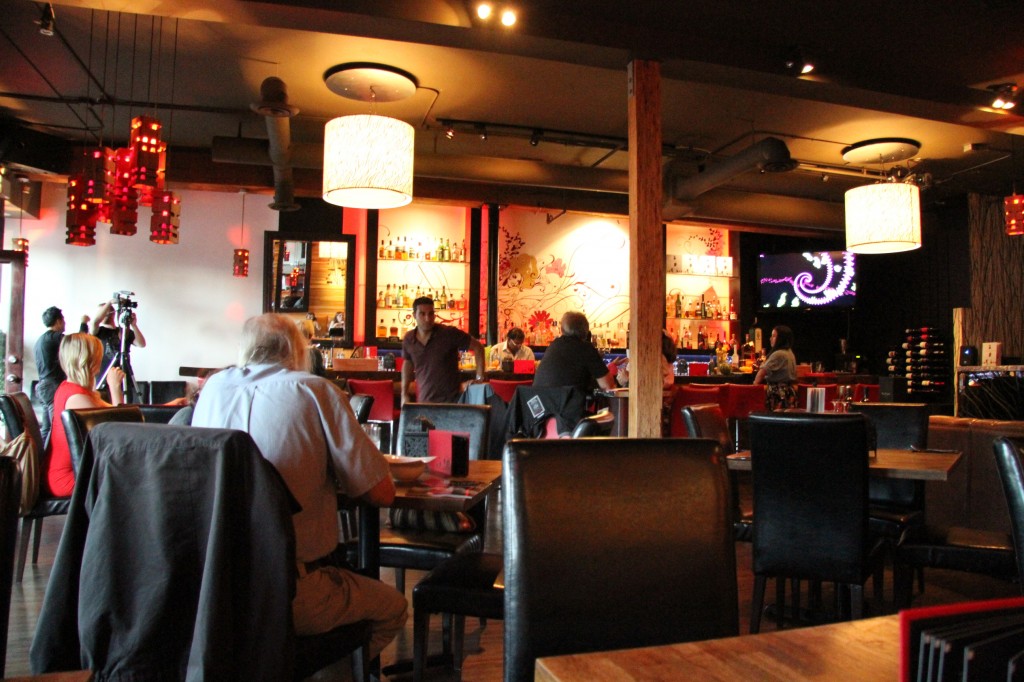 As we walked in, Richard Wolak and a TV film crew were setting up. A doorman greeted us enthusiastically and told us to grab a seat anywhere we'd like, and that a server would be with us shortly. Table service during Tasting Plates? I wasn't expecting that! As for the space, I quite liked the ambiance.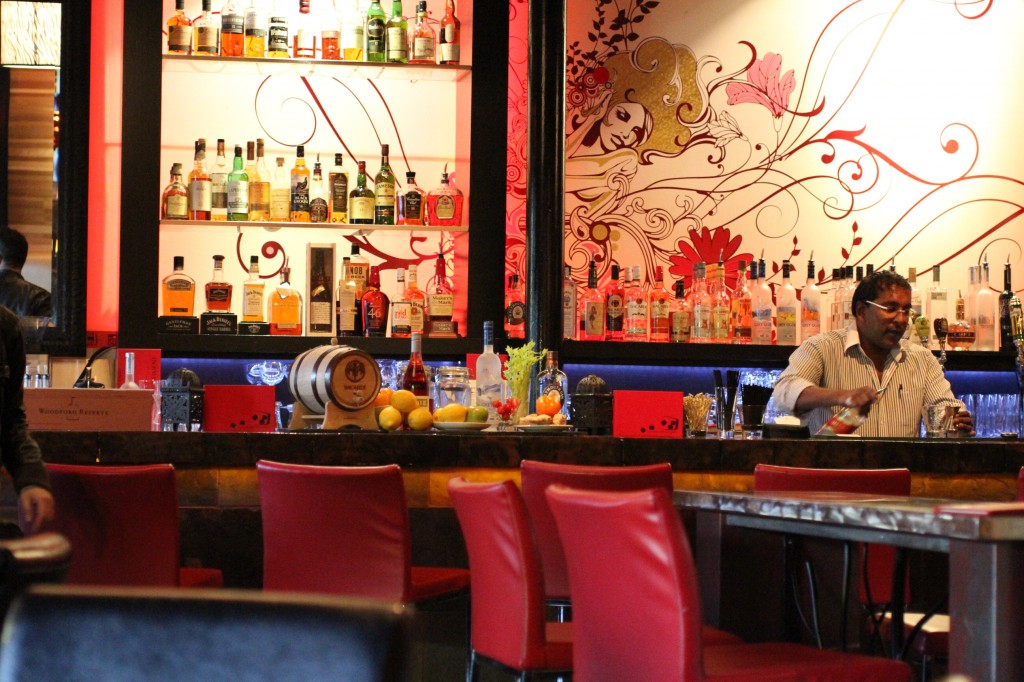 And it's in this kind of environment where you suddenly forget you're on a scavenger hunt of a restaurant quest. Instead, you want to sit back, relax and order a cocktail. So we did. Dana ordered a sangria which arrived in a tall wine glass stuffed with fresh fruit. I opted for the Milano-Torino, an Italian-inspired concoction with Campari, soda, orange blossom water and sweet vermouth. It was refreshing, bitter and aromatic, as I like it.
But the food is where Establishment truly shines. Prepared by chef Victor Bongo,we were treated to a three course tasting plate. The first course was a vegetarian African peanut soup, one of Chef Bongo's signature dishes. Similar in style to lentil soup, it was the perfect balance of being hearty and light yet full of flavour.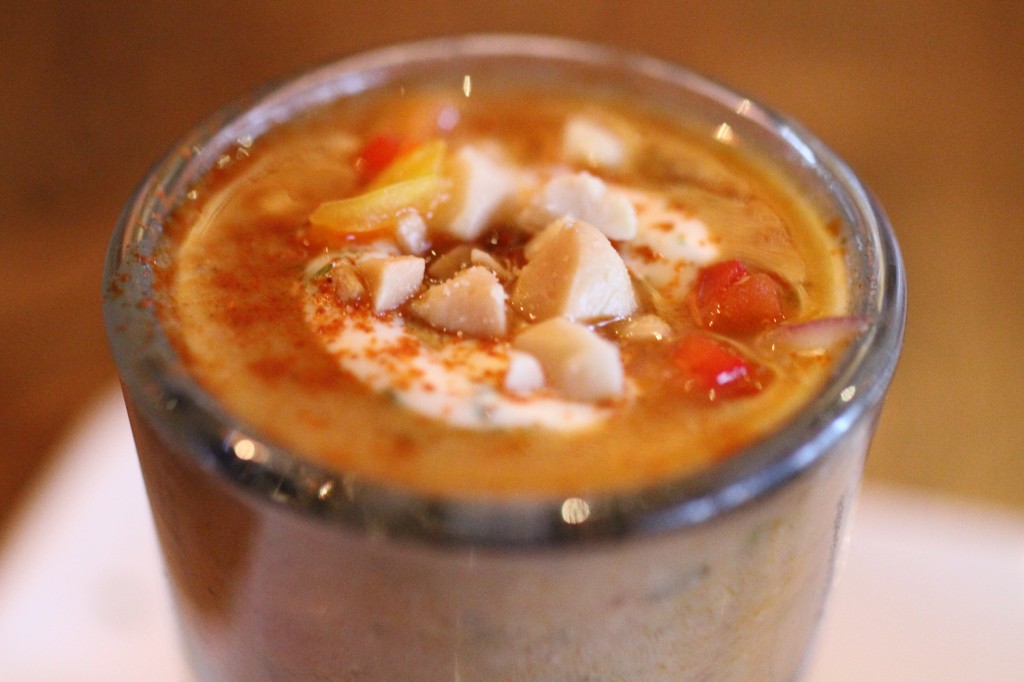 The second course was a delicate black truffle saccottini with a vanilla galliano cream sauce, sweet green pea purée, garnished with merlot micro-greens and fresh pancetta. It was absolutely exquisite and I wanted more.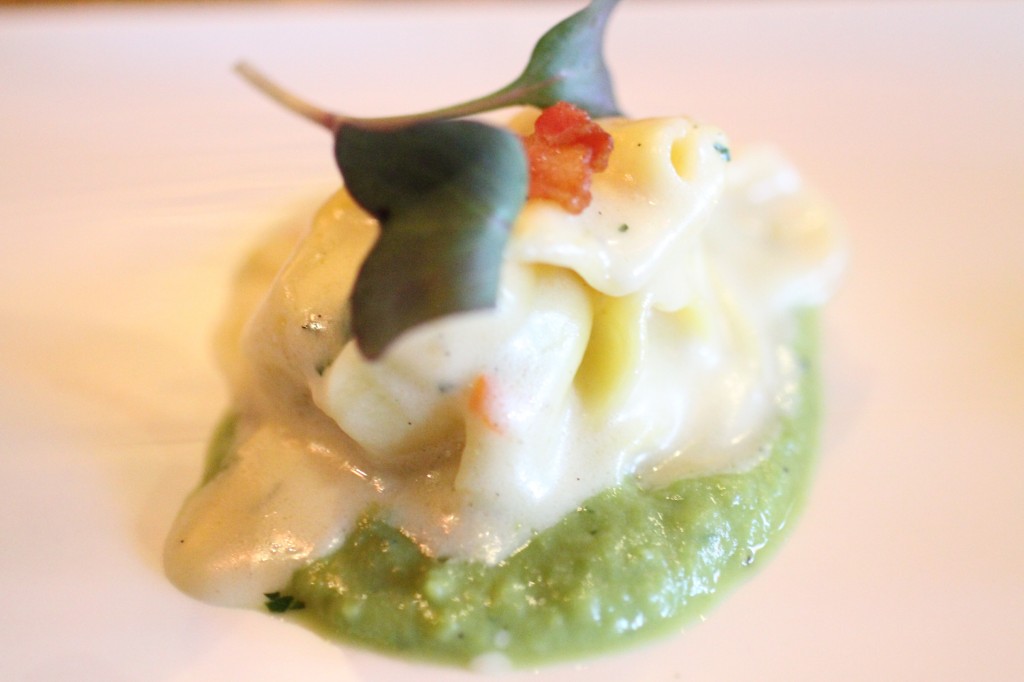 The final course was an almond-encrusted shrimp and lobster cake accompanied with a miso sauce, a chipotle sauce and a jerk aioli, topped with fresh salsa. As a sucker for these kinds of flavour profiles, I was a happy camper.
We had only just finished half of our cocktails when we realized that we needed to get the bill and head elsewhere as time was running out.  Establishment Lounge is just that – a dining lounge where you want to linger and enjoy the culinary offerings. It seemed like a shame to down the cocktails, rush out and head elsewhere, but alas, we still had more places to visit and time was quickly running out.
Stop 5: Vancouver Olive Oil Company
Throw your expectations into the ocean, so said an article I was reading at work earlier that day. I should have adopted that mindset, but I learned my lesson when I stepped into  Vancouver Olive Oil Company – a company who completely exceeded my expectations. I mean, figured an olive oil company would be selling their own olive oil and might be serving it with bread and balsamic vinegar, but I wasn't expecting this! I had no idea such a place existed in Vancouver.
Imagine an olive oil (and balsamic vinegar) tasting bar where all the products are fresher and healthier than you'll get in a grocery store, you're welcome to peruse the dozens of different kinds of products and taste them fresh out of the tap – from the extra vibrant green and pungeant extra virgin olive oils with names like Spanish Manzanillo and California Arbosana, to exotic balsamic vinegars: honey ginger, violet, espresso, and serrano honey, to name but a few.

Although the staff were serving pre-blended oil and vinegar combos with bread and strawberries, they encouraged us to head into the tasting bar and try as many as we wished. "When we're open, we're always a tasting bar" is how they put it. I must have tasted a dozen different olive oils and balsamic vinegars (you let the taps drip onto the biodegradable spoons that they provide).

I've never tasted olive oil so fresh or knew that balsamic vinegars could have so many infused flavours. I figured we'd be in and out of here in five minutes, but it was more like 20 minutes (and that was seriously rushing). It'll be hard to go back to regular grocery store-bought olive oil after this.
Stop 6: The Gramercy Grill
Sadly, I have no photos of Gramercy Grill. When we wandered in, the staff pointed us in the direction of their side patio where the rest of the Tasting Plate Vancouverites were mindling.
Strolling through the restaurant, its warm, intimate, yet casual ambiance reminded me of the types of establishments I'd frequent for happy hour in Seattle; places like The Brooklyn or the Queen City Grill. I liked the buzz of Gramercy Grill; it felt instantly familiar and I knew I'd have to come back when I had the time to properly enjoy it.
This time around my experience of Gramercy City was fleeting. On the sidewalk patio we lined up at a catering table where two girls were pieceing together the famous Gramercy Grill veal and pork meatball sliders. I've actually tasted these meatballs before at EAT Vancouver in 2011, and knew they were delicious, and was great to try them as a slider served simply in a hamburger bun covered in cheese. Hot, tasty, well-seasoned morsels of meat, it was pure comfort food and just as delicious as the first time.
Stop 7: Pete's Meat Butcher Shop & Deli
With warm meatball sliders in our belly, we traipsed over one block south to our next venue, a place I hadn't even heard of before until tonight. Glowing in the night like a Montreal deli was my fabulous new discovery of the evening: Pete's Meat Butcher Shop & Deli.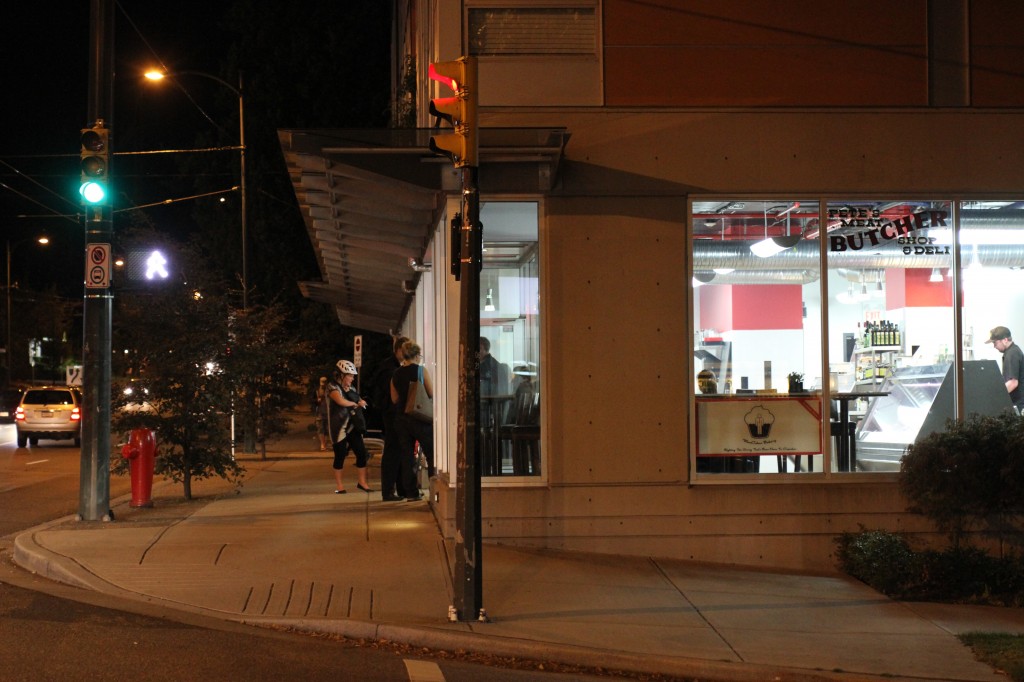 Unpretentious, spacious, and full of quality products, Pete's was a great discovery. And I must say, there was a certain old-fashioned quality to the place that reminded me of Albert's, the long defunct meat shop in Steveston of my childhood. (Albert's has no record, ANYWHERE online – it must have closed in the mid 1980s at the latest). But for Pete's to bring back that type of long lost nostalgia, kudos to them!
But to cement my newfound love for this place, the guys behind the counter presented us with a trio of handmade/housemade sausage: Lamb Merguez (medium spice with a complex flavour profile north African in origin), Sweet Italian (low spice, sweet and savoury – their version of the classic) and Chicken Chipotle Cilantro Lime – a medium spiced sausage that was just as delicious as the other two. Served with a dollop of sauerkraut and a sprig of fresh dill, I now know where I'm sourcing my sausages from next!
Stop 8: Juice Caboose
With five minutes to go, our last stop of the night ended up being the Juice Caboose  – a fresh, local, organic smoothie truck conveniently parked on E 10th and Arbutus. The staff were in good spirits but looked wiped, obviously the end of a long evening. We could relate – we were tired too, and it seemed fitting to end the night with a healthy beverage.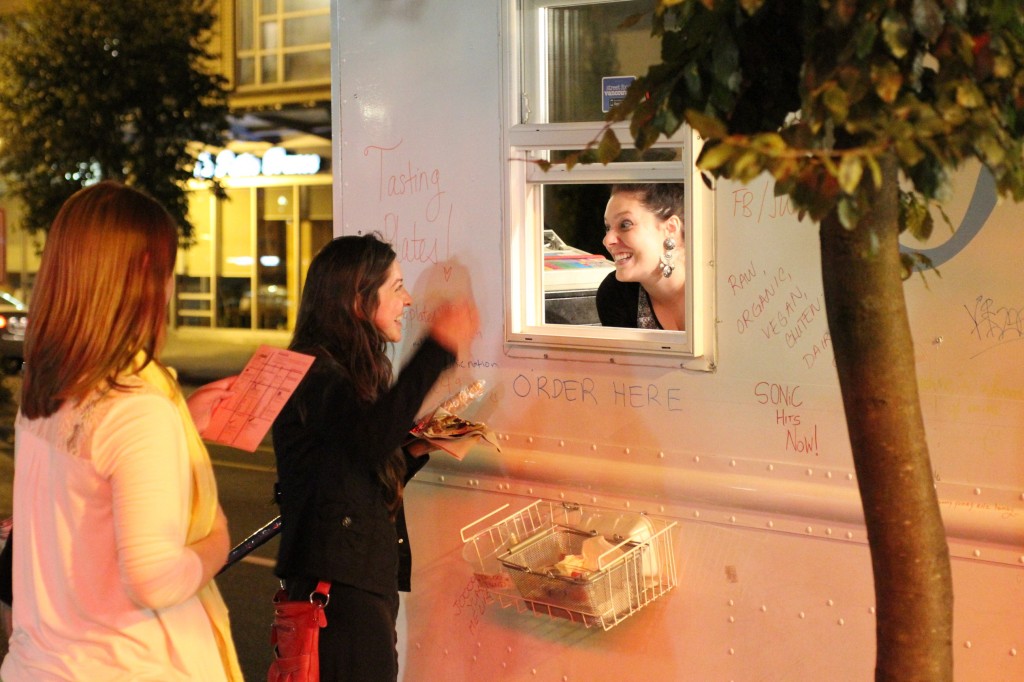 Unlike our other Tasting Plates experiences, the Juice Caboose was offering a cup of our choice of treats: the Midnight Express Smoothie (hemp seeds, raw cacao powder, pure peppermint extract, vanilla bean, agave on cold filtered espresso), the Bandit Smoothie (hemp seeds, strawberries, agave, raw cacao nibs, vanilla bean, coconut butter), or the Raw Vegan Granola Parfait (sprouted and dehydrated buckwheat granola, chia seed, vanilla pudding and fresh fruit).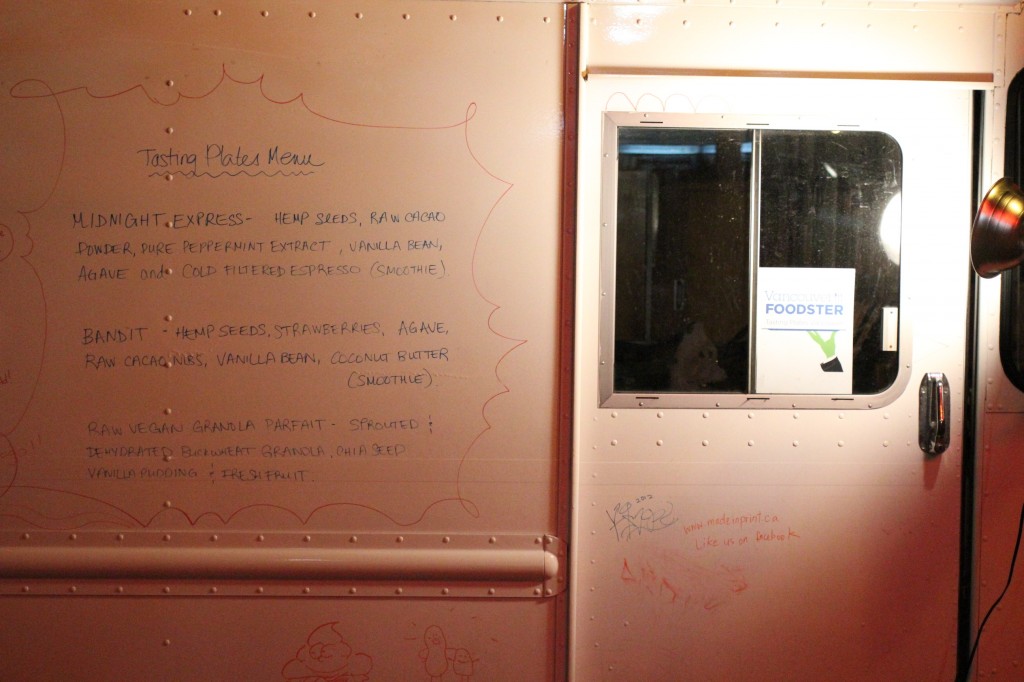 Seeing how I needed the boost of energy, I opted for a Midnight Express, and so did Dana. The smoothie was the perfect way to end the evening – a chocolate treat with the freshness of mint.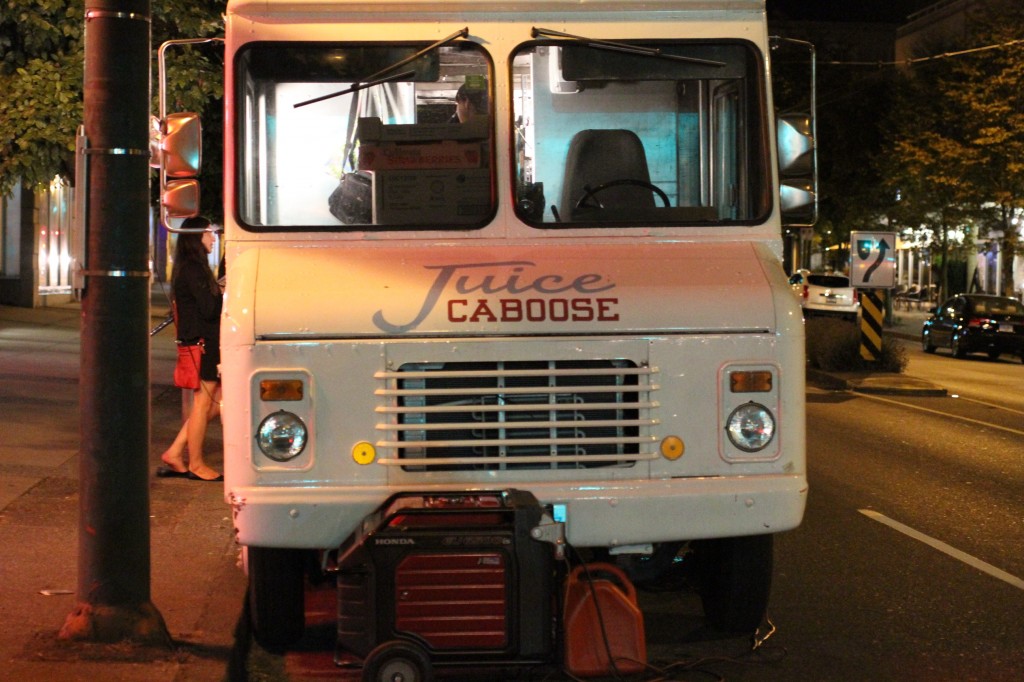 As we drank our smoothies, we wandered back to the car and called it a night. We unfortunately didn't get to the Thai House restaurant or the Indian restaurant, Atithi, although that's okay – Tasting Plates Vancouver was a success for me as it was. I discovered new places and reacquainted myself with others I had forgotten about, and it put Kitsilano back on my radar. If you love food and have a sense of discovery, I do recommend checking out Tasting Plates Vancouver when it happens again.
Thanks Richard for an awesome night!