Update: The Fish Shack closed permanently in March 2018 after five and a half years of operation. I wrote these first impressions after their media launch in October 2012.
Vancouver's Glowbal Group opened their latest restaurant on Wednesday evening to an eager crowd of foodies, industry, and media. Occupying the former space of Sanafir, The Fish Shack brings a quick and casual approach to seafood on the Granville entertainment strip.
It's still the same narrow multi-level space that we've come to love from 1026 Granville, but gone are the beds and the Middle Eastern exotica. In its place is a classy yet unfussy atmosphere; an oyster and seafood bar inspired by the working fisherman's wharf. Whether that's San Francisco or Steveston to you, The Fish Shack evokes the sea shanty spirit with its wooden pallets, rope, and stainless steel. It's unpretentious, refreshing, and it works.
While speaking to a food writer about our initial thoughts, we both remarked that oyster bars have become a thing in Vancouver, more than before it seems – people are always seeking them out. So with The Fish Shack's daily (until 5pm) Buck-A-Shuck promotion and very little oyster competition along this strip of nightclubs and pizza, I see them having an extremely bright future.
Of course, The Fish Shack is more than just an oyster bar. The menu is satisfyingly varied while staying true to their quick-casual seafood concept. Over the span of two hours I sampled the Fish Bites with chipotle tartar sauce; the New England and Manhattan Clam Chowder in sour dough bowls; the Shrimp Cocktail and Dungeness Crab Cocktail, both served with cocktail sauce on shredded lettuce; the Thai Mussels in a coconut, Thai basil, and lemongrass broth; the Sicilian Clams in a hearty tomato, fennel, basil, and red pepper broth…
… and the Kentucky-Fried Oyster Burger with tartar sauce and a tangy coleslaw.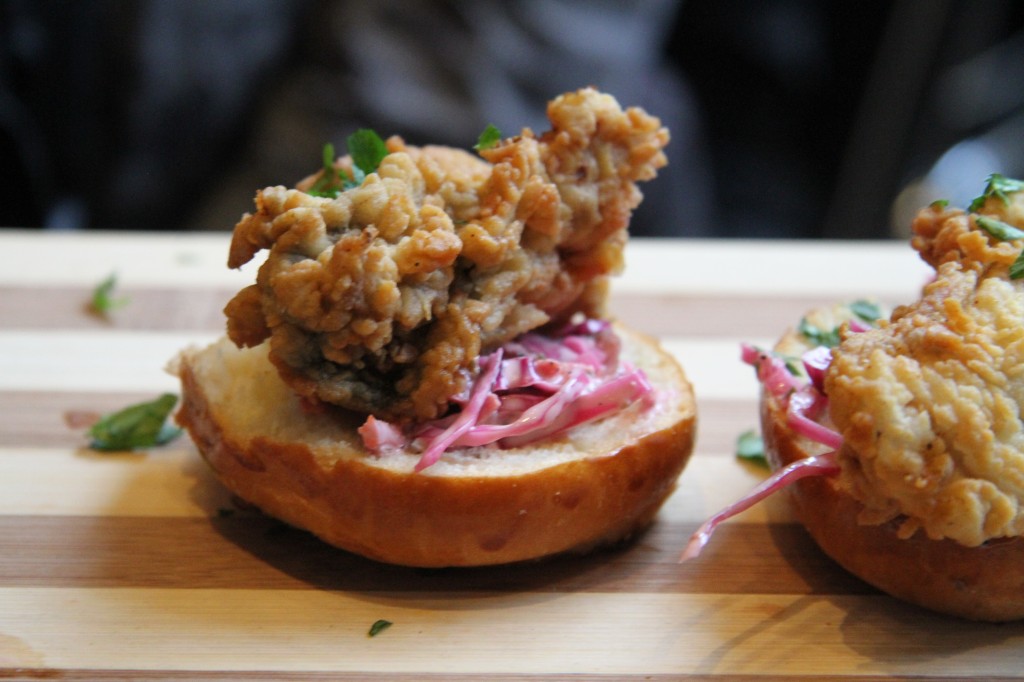 Everything served was fresh and delicious, and I wouldn't hesitate to order a proper portion of everything once more, although the steamed clams and mussels were my personal highlights, their intensely aromatic flavours winning me over.
Fortunately, the drinks were equally as memorable as the food. If you're a fan of Caesars, you'll want to try The Fish Shack's Very Own. Their take on this classic Canadian cocktail includes a generous-sized prawn dolloped in Dijon mustard, partnered with a spicy pepperoni stick. Yowza!
If savoury cocktails aren't your bag, maybe the Shark Bite's for you. Tangy, tropical and sweet, their signature cocktail blends Bacardi limon rum with vodka and Bols Blue, fresh lemon juice, simple syrup, and dash of grenadine.
Though wine and beer also feature on the menu, there's a surprising lack of craft beer, considering its popularity. But as long as those Caesars stay on the menu, I know what I'll be sticking to.
It's always hard to assess a restaurant in the throngs of its opening night, but I must admit, I like what I ate and drank, and the servers were gracious and willing to go the extra step; characteristics inherent of the Glowbal Collection. Although I don't find myself on Granville Street too much, for the times that I do, if I'm seeking a bite to eat before or after a show, whether it's at the Vogue, the Commodore, or who knows where else, The Fish Shack will definitely be on my radar and I look forward to my return.