A 2.5 hour drive west of Winnipeg along the Assiniboine River is Brandon, Manitoba –  the province's second largest city and its agricultural hub. In some ways, unexpectedly, it reminded me of Victoria, B.C. with its 1880s-era brick architecture in its historic downtown core. Brandon's a city that's not too big, yet not too small.
Situated at the top of a hill that overlooks the river, I'd soon discover that the city exists because the site was selected by General Thomas L. Rosser, Chief Engineer of the Canadian Pacific Railway, as the townsite for the railway. It has only ever existed as a city.
My first taste of Brandon was at the Royal Oak Inn & Suites where I was facilitating a social media workshop.  Attending the workshop were many people in the local tourism industry, a few of whom I'd meet with later during my tour of Brandon, including Lois MacDonald, the Manager of Riverbank Development and Tourism Services in Brandon. Lois was going to be my tour guide for the day.
The Chilli Chutney
After the workshop, a group of us met up at The Chilli Chutney in the heart of Brandon's historic downtown. I sank my teeth into some delicious authentic Indian cuisine, including deep fried paneer, chicken vindaloo, and gubab jamun, while enjoying the company of Brandon's finest.
British Commonwealth Air Training Plan Museum
After our hearty lunch, Lois took me out to the British Commonwealth Air Training Plan Museum (BCATPM) so we could get a private tour with the Museum Executive Director, Stephen Hayter.
Located at the Brandon Municipal Airport in one of its original airplane hangars, the museum is dedicated to the preservation of the history of the British Commonwealth Air Training Plan, and serves as a unique memorial to those airmen who trained and served, and especially those who died, while serving their country in World World II. This the only museum that focuses on this particular niche and this particular era of air war history. According to the museum, The Plan was referred to by Winston Churchill as Canada's greatest contribution to the allied victory and referred to by President Roosevelt as the "aerodrome of democracy."
What's amazing is that any aircrew who was a part of the Commonwealth who fought during WWII was likely trained here. They were put through the training plan to see where their skill fit, if they were fit to be pilots, navigators, or riggers, and so on. My paternal grandfather, Carl Hanson, was a navigator in WWII. My dad confirmed that his father indeed trained somewhere in Manitoba. "He wanted to be a pilot, but he crashed landed his training flight, so they made him navigator instead. It probably saved his life." It was a unique sensation knowing that I was likely standing in the exact spot where my grandfather once trained. He went on to be stationed in England where he met my Nana, who became a war bride, and they moved back happily to Canada to start a family. Needless to say, I have an extremely personal connection to all of this.
As we walked through the different exhibits, 1940's jazz and big band music was playing over the air, and it really evoked the era.
One of my favourite stories was about the chalkboard, pictured above. Apparently this chalkboard was discovered in a Winnipeg elementary school by the demolition crew. It had been hidden between two walls since 1943. An incredibly rare time capsule, it ou can see the students trying to raise money for war bonds. Incredible!
What's also impressive is that the workshop, where volunteers build models and restore airplanes to flying status.
I only caught a glimpse of the museum during my brief time there, but I'd love to go back and spend some more quality time. To get a complete sense all the exhibits, you can do a virtual tour online, or better yet, visit for yourself!  For aviation nerds or WWII history buffs, it is an absolute must see.
Daly House Museum
We headed back into Brandon to tour the Daly House Museum, located in the house of Brandon's first Mayor, Thomas Mayne Daly.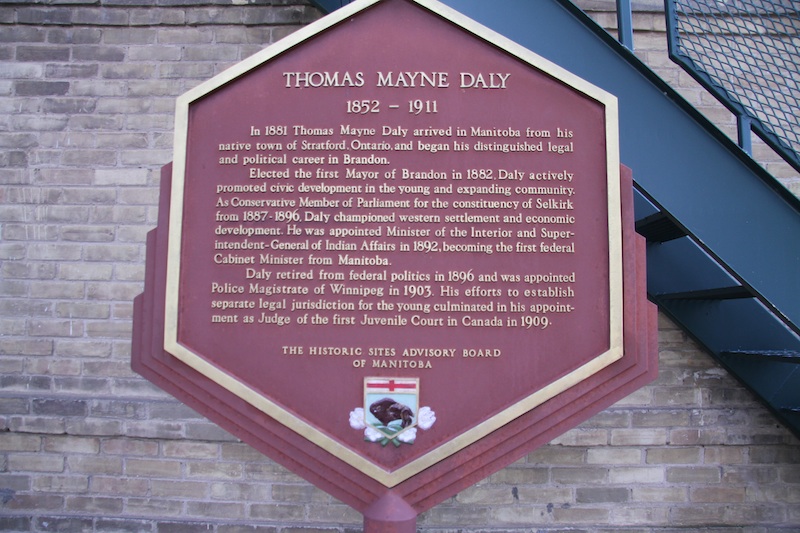 Built in 1882, the house is one of the few surviving structures from the City of Brandon's formative years. Inside, you can explore the four different floors which feature all kinds of artifacts and archives,all set up in exhibits to give a sense of life in Brandon in the 1880s.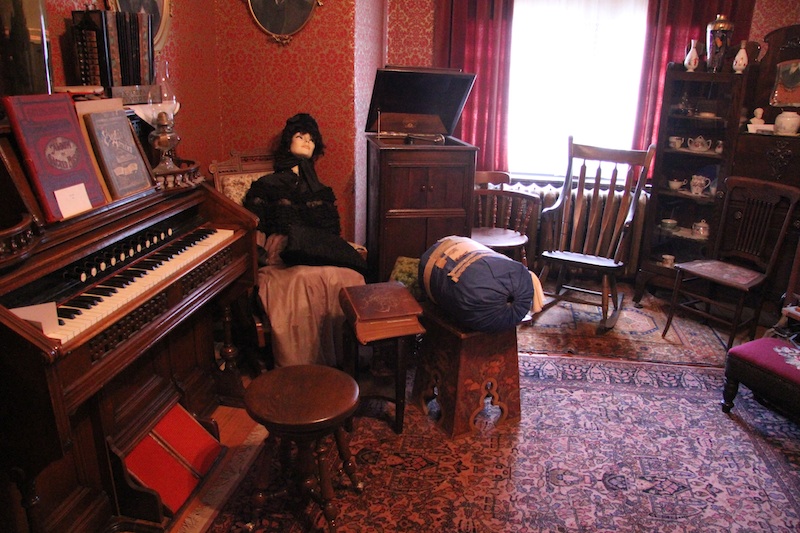 The exhibit, Heritage Lost, was particularly fascinating for me, as it was about Brandon's long-demolished Prince Edward Hotel, the grand dame of the city. Built in 1912, the original furnishings ordered for the hotel went down with the Titanic!
Another exhibit I enjoyed was the general store, especially seeing some familiar brand names in there. Did you know that Old Dutch potato chips is a Manitoba brand? You do now!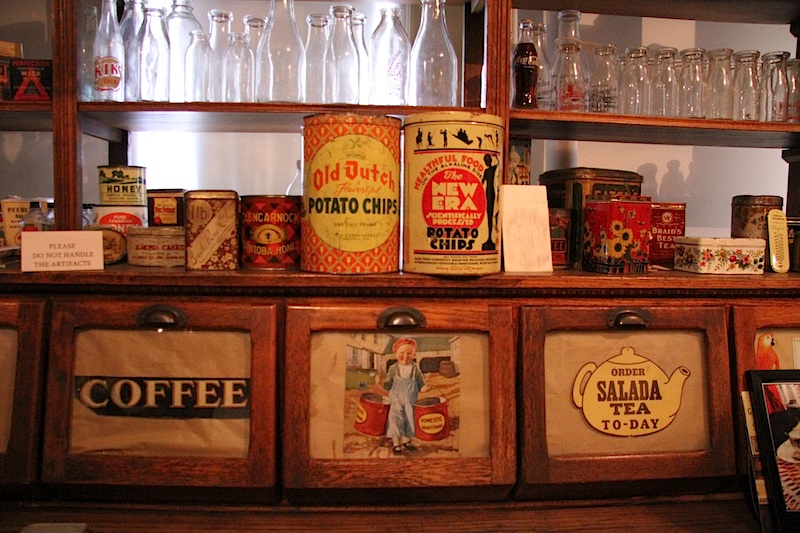 Art Gallery of Southwestern Manitoba
While Brandon has a lot of heritage sites, it's also home to gorgeous art gallery in its historic downtown: the Art Gallery of Southwestern Manitoba.
I had the pleasure of meeting Curator of Contemporary Art, Natalia Lebedinskaia, who took us on a private tour while the museum was closed. We experienced "Catharsis" by Winnipeg-based artist Doug Smith in the Main Gallery, and "Small Mediums at Large", the Manitoba Craft Council's Annual Juried Exhibition in the Community Gallery. Here are just some of the many works that inspired me: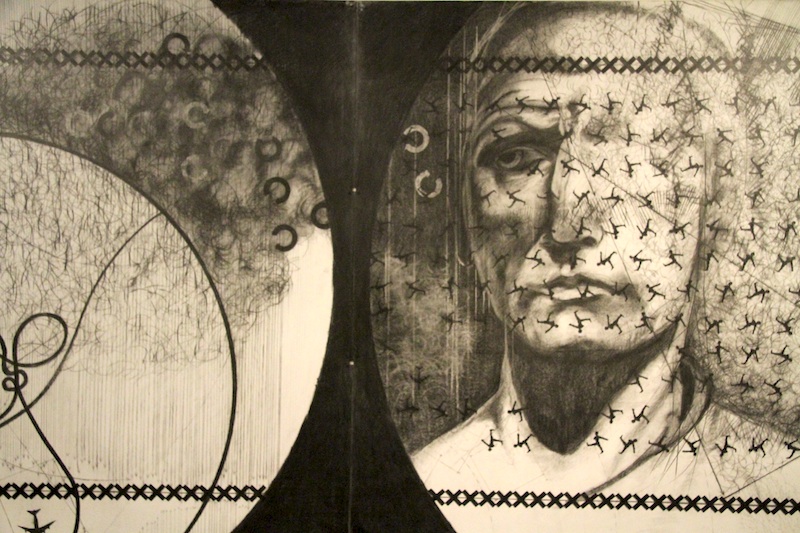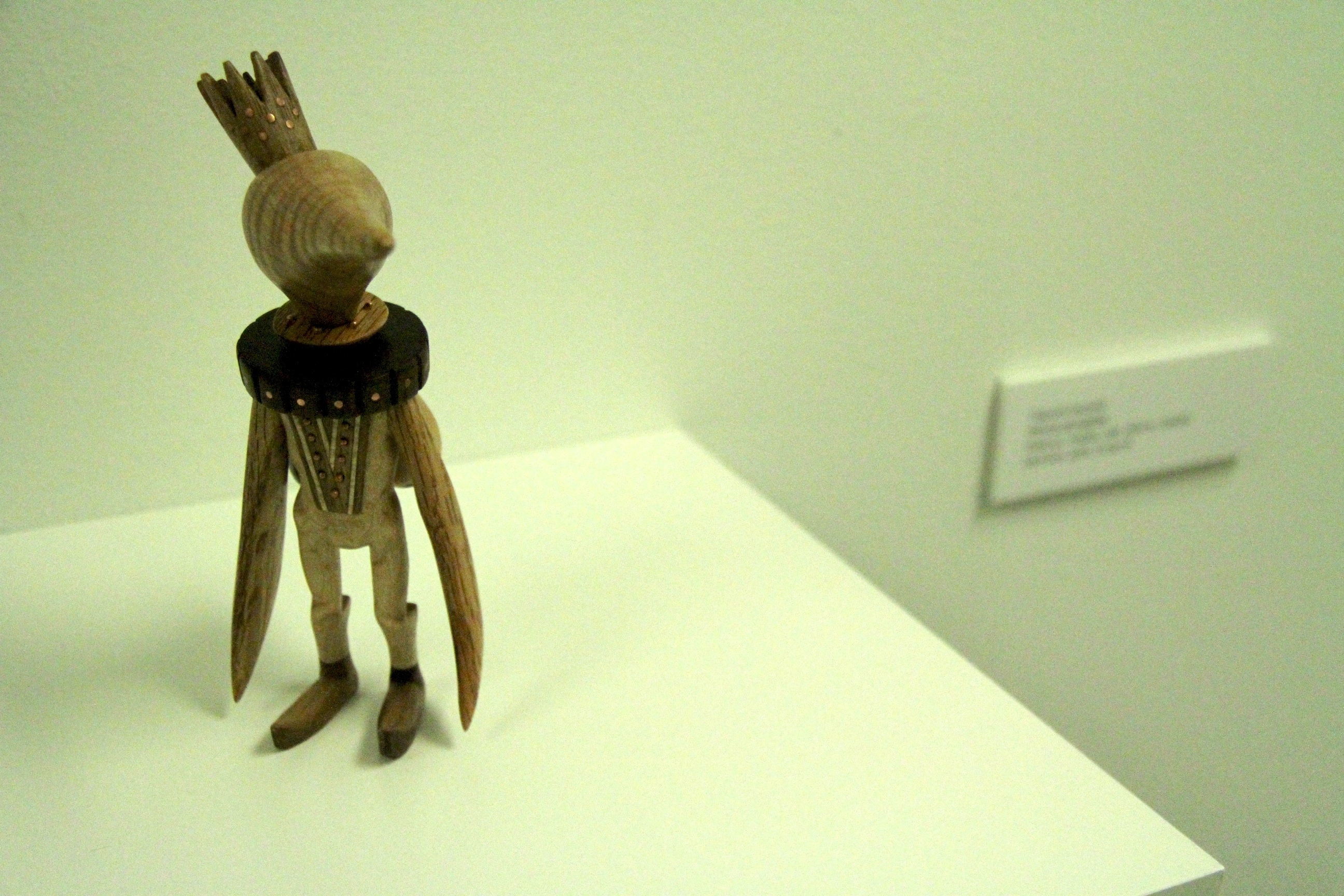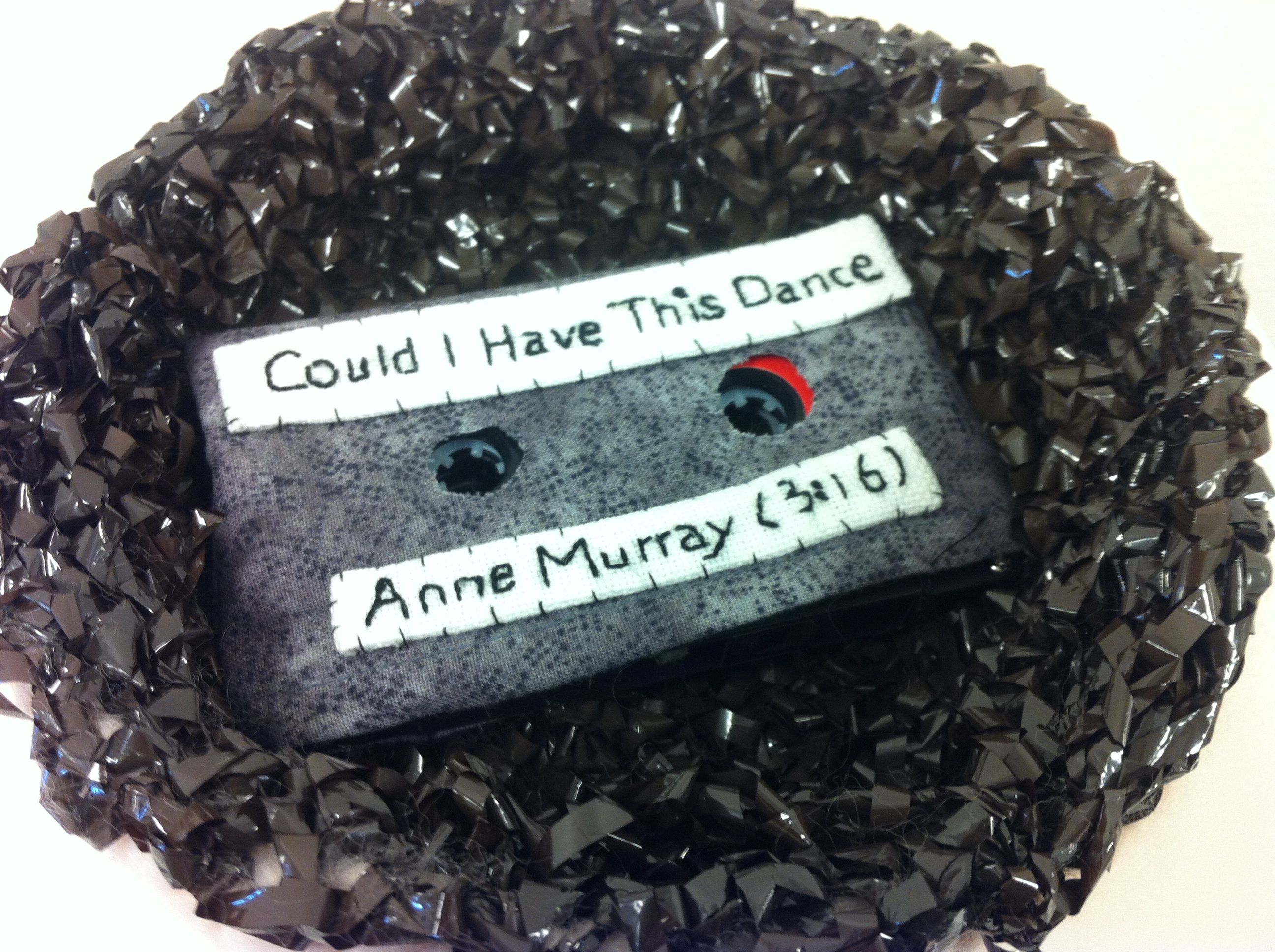 The art gallery plays a larger role than simply an exhibition site. Natalia brought us into the six art studios where locals can attend art classes. From photography and printmaking to ceramics and digital media, the Art Gallery of Southwestern Manitoba offers classes for all skills, and has been doing so for 75 years. All I know is that if I lived in Brandon, I would definitely be spending my time at the gallery, and would probably be taking a class or two!
Riverbank Discovery Centre
Lois and I ended tour at the Riverbank Discovery Centre, home to the visitor info centre (with some great Manitoba souvenirs!), Ducks Unlimited, as well as an interpretive centre about the local Riverbank ecology. It's located north of the city on a beautiful park on the other side of the Assiniboine, and because of its proximity to the river, the grounds were still recovering from the major flood of 2011, when the water rose dangerously close.
The Riverbank Discovery Centre also gives you access to walking trails and the Interpretive Ponds, however some of it's still off limits because of the flood. In any case, the view was beautiful when I visited, and if you're looking for information on things to see and do in Brandon, Manitoba, this is definitely the logical starting point!
Miracles on 34th
Later on that evening, I went to seek out dinner by myself. Some of the Brandon restaurants I had planned to visit were closed, so I had to think of a plan B. And that's when I remembered Miracles on 34th, a restaurant that came highly recommended to me earlier at lunch. Located on 34th Street (get it?), they offer a salad bar, traditional North American restaurant food like pasta and chicken wings, but their speciality is their Korean BBQ. Korean BBQ at a place called Miracles on 34th? I wouldn't have guessed it either, but it was a solid bet. I immensely enjoyed my salad, kimchi, and Korean beef BBQ. Service was wonderful and the food was delicious. Perhaps Korean food isn't big in Brandon yet (the restaurant was extremely quiet when I visited), but I would encourage anyone interested to give it a go.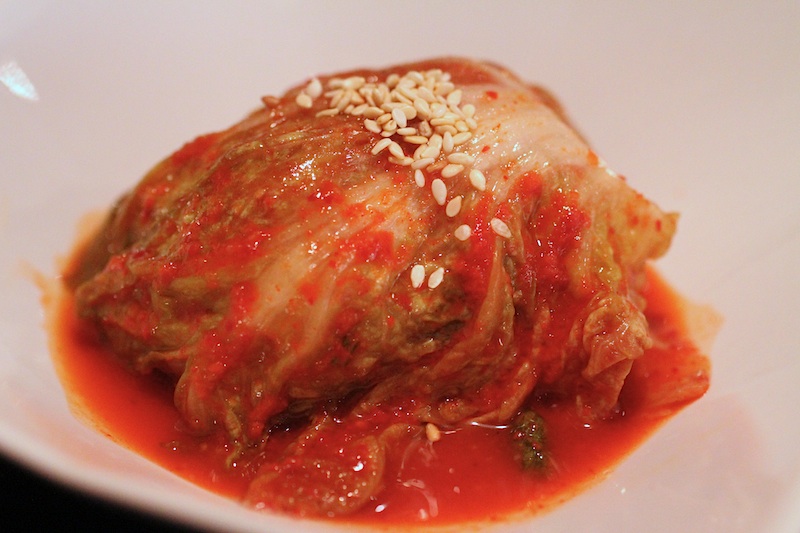 Royal Oak Inn & Suites
That night, I slept extremely well at the Royal Oak Inn & Suites, my cozy room overlooking the swimming pool. I had started off my day here at the workshop, had experienced a lot of what Brandon can offer, and was soon down to my last 24 hours of my month-long trip to Manitoba.
A big thanks to Lois for being my guide for the day. I really enjoyed exploring Brandon with you. Also, thank you to Stephen, Marc, and Natalia for making my visit extra special!