Last updated: February 13, 2021
There's a time and a place for everything. Sometimes you want an exquisite locavore dining experience. Other times, you just want a burger. You can't necessarily compare the two experiences but both are equally valid. Or so I think. And it's with this spirit in mind that I compiled my list of best places to eat on the Sunshine Coast. As a regular Sunshine Coast visitor turned full-time resident in 2018, I've written this list to share with family and friends who visit me in Gibsons looking for recommendations on the best places to eat. Whether it's a food truck, a pub, a cafe, or a full-service restaurant, these are places I would happily dine at again and again.
Note: Due to COVID-19, opening hours and service protocol have shifted to align with pandemic safety standards. Always contact these restaurants ahead of time to confirm the latest opening hours, menus, and policies. Finally, this is a work in progress and I have yet to eat at all restaurants on the coast, but from the restaurants I've been to so far, these are where I'd happily return to.
Gibsons
Buono OsteriA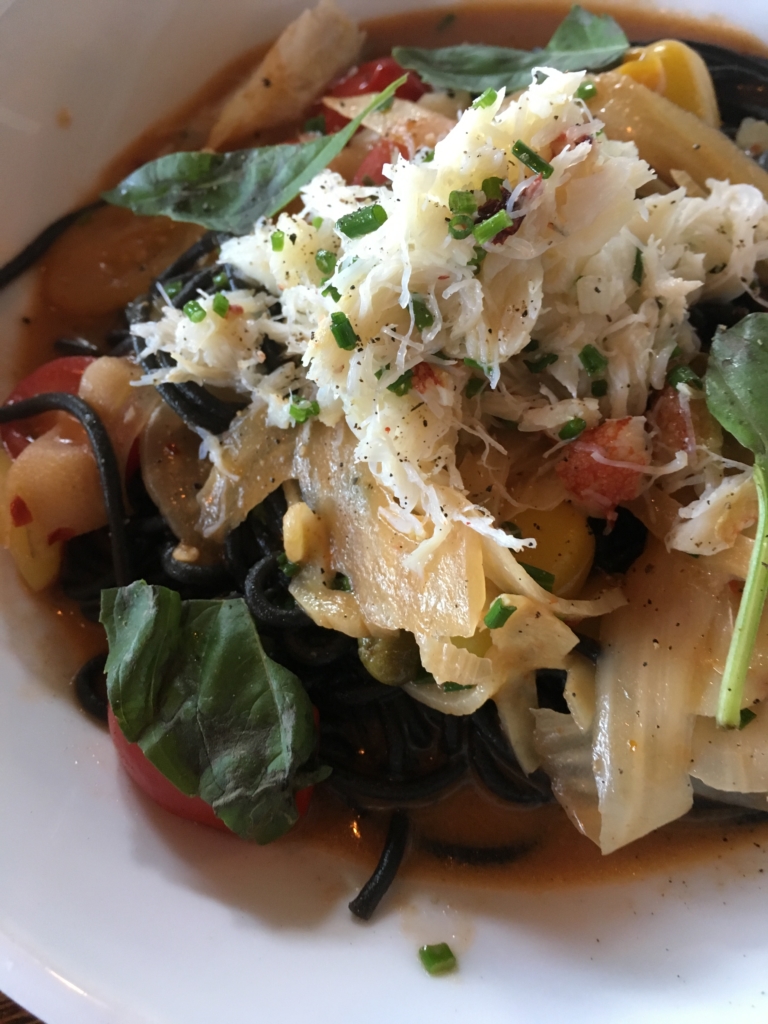 One of my favourite meals on the Sunshine Coast was here at Buono Osteria. Buono serves seasonal Italian cuisine, including Neopolitan pizza, in a warm, rustic, wooden heritage loft that overlooks the Gibsons waterfront. The space is absolutely gorgeous and so is the food. They also have a beautifully-curated list of local craft beer, wine, and spirits. When I dined here with my parents in the summer of 2019, I loved my squid ink spaghetti with Dungeness crab, which was a seasonal summer special. I also enjoyed the charcuterie platter as a starter and was ecstatic they carried Ile Sauvage's Raspberry Sour.  I would happily eat here again for an intimate yet casual fine dining experience, especially if I'm with people who are passionate about food. 
Lunita's Mexican Eatery
Lunita's is a fun, contemporary Mexican restaurant on the Gibsons waterfront. Their space is as vibrant as the food. This is the place to go if you're craving Mexican cuisine that wouldn't be out of place in Mexico City, or perhaps Oaxaca City, which is where they took their staff last winter for culinary inspiration. The street tacos, burrito bowls, and contemporary cocktails are all delicious. I almost always order their beef barbacoa bowl, which is packed with flavour, and as much heat as you wish from the various Mexican hot sauces on the table. Pair your food with a horchata or a sophisticated mezcal concoction – their cocktails are on point.  Regardless, you know you're not getting boring whatever you order.
Oh! Miso
Oh! Miso is a pop-up noodle soup shop operated by Masafumi "Oku" Okuno, formerly of Vancouver's Hapa Izakaya. I discovered them on Instagram and was lured in by some of the best-looking Asian cuisine I had seen on the coast. Items like clam dashi ramen noodle soup. Chicken kara-age bao. It all looked so good! One afternoon I drove myself down to the Gibsons Public Market and ordered the vegan dan dan noodles in a mushroom miso broth. Within 10 minutes, my food was made to order and I can confirm it tasted just as good as it looks. If you're looking for excellent Japanese-inspired miso-based cuisine, I don't think you can go wrong. Be sure to check their Instagram for their ever-changing location.
Smoke on the Water BBQ
Located in an open-air shack at the end of the wharf at Gibsons Landing, Smoke on the Water BBQ serves the best  barbeque on the coast. Everything is perfectly slow-smoked on site. I always order the pulled pork sandwich, which is applewood smoked pork shoulder served with a Carolinan vinegar dip on a Portuguese bun with coleslaw. It's so good, I'm never tempted to try anything else. Tip: If you like smoky flavours, you'll want to pick up a bottle of their  Smokin' Dragon Peach Habanero hot sauce. It's more a BBQ hot sauce hybrid but it's luscious and packs a punch of smokiness.
Note: They close for winter every year from January to mid-March.
The 101 Brewhouse + Distillery
The 101 Brewery + Distillery is the only full-service restaurant and brewery in Gibsons, and they also have the best food options. Everything I've eaten here, including the vegan chickpea burger and coconut curry tomato soup, has been excellent. If you're not vegan, the Hot or Not Fried Chicken sandwich (served with pickled honeydew slices inside) is a particular standout. Their Easy Livin' Pilsner is also tasty. Due to COVID, they have cut back their menu and temporarily close their kitchen on certain days of the week. However, they do bring in Salt & Swine Food Truck to serve delicious Mexican cuisine on those days, and both options are solid. 
Chaster's at Bonniebrook Lodge
Chaster's is a special occasion gourmet restaurant. Think white table cloths and a la carte menus featuring duck breast and rack of lamb. It has been years since I dined at Chaster's but I would love to return. It's formal for the Sunshine Coast, but not stuffy. The food is delicious, gorgeously-presented, and is sourced locally and organically whenever possible. The ambiance is also remarkable, located on an upper floor overlooking the ocean inside the historic Bonniebrook Lodge. 
The Blackfish Pub
This popular pub is authentic to the old school Sunshine Coast community. It's unfussy, it's unpretentious, and it isn't hip. But the Blackfish Pub is warm and welcoming, and its pub food always exceeds my expectations. I'm particularly fond the Breakfast Platter: eggs, buttered toast, hashbrowns and bratwurst. Ask for a side of their homemade habanero hot sauce, too. The hash browns are incredible: baby potatoes fried perfectly crispy on the outside and velvety soft inside. Then the bratwurst takes this diner breakfast to the next level. If you're not craving brunch, the burgers are good. You also can't go wrong with their grilled salmon burger, which consistently impresses me each time I order it.
Baik Mi
Baik Mi is where you go if you're craving Korean food on the Sunshine Coast. This casual family-run restaurant operates under an unassuming location at the Sunnycrest Mall, but don't let the casual facade fool you – the food is authentic. The menu ranges from fried and steamed dumplings, Korean sushi "kimbap", homemade kimchee (which you can purchase by the litre), and a wide variety of Korean noodle, rice and meat/seafood dishes. I'm particularly fond of the pork and kimchee bulgogi, though I'd be happy to try anything here. 
Tapworks Brewery
Recommendation coming soon!
Friendly Thai Restaurant
Recommendation coming soon!
Persephone Brewing
Recommendation coming soon!
The Short Cut
Recommendation coming soon!
MORE Cafe and Bakeshop
Recommendation coming soon!
Salt & Swine Food Truck
Recommendation coming soon!
Davis Bay
Overlooking Davis Bay, the Wobbly Canoe must be the busiest patio on the Sunshine Coast, but for good reason: their craft beer list and their tasty healthy-ish pub food. If you like salad bowls, they do good ones here. The last time I visited, in August 2020, I brought a vegan friend of mine, who seemed to really enjoy the falafel burger. But seriously though, those unobstructed waterfront views are pretty darn sweet. 
sEchelt
PKLS Burgers
In downtown Sechelt, PKLS makes the best old-fashioned diner-style burgers that I've tasted on the Sunshine Coast. Whenever I'm craving a burger, especially after a long hike, I come here and they always satisfy me. I recommend the double burger with cheese and get their homemade sauce and as many fixings as you can tolerate. Be prepared to eat it while sitting on a bench outside (or in your car) – they're strictly take-out due to COVID. While they also have fries and milkshakes (and the fries are good and I have yet to try the milkshakes, though they intrigue me), it's the burgers that keep me coming back.
The Basted Baker
One of the best breakfasts in all of the Sunshine Coast, come for the coffee but especially their eggs benny on their generously-portioned house-made biscuits. Order the half-portion or be prepared to take home leftovers if you order the full.
Lonewolf Bakery
Recommendation coming soon!
Roberts Creek
The Gumboot Cafe
This Roberts Creek landmark is hippy bakery cafe in a ramshackle building, part art gallery, music venue, and part community hub. Enjoy the diversity of hippy dessert bars or their comforting bowl of dal with slices of homemade multigrain bread.
The Gumboot Restaurant
Recommendation coming soon!
Madeira Park
The Grasshopper Pub
Recommendation coming soon!
Egmont
The Backeddy Pub
Recommendation coming soon!